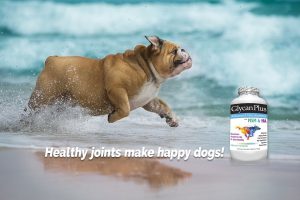 Is this a post about Best Vets Glycan Plus Glucosamine or a product review?
Well, it's a little of both I guess.
There is no shortage of "success" stories when it comes to how much glucosamine has helped both humans and animals. A search of the term will bring up an unlimited amount of information, not only about what it is and its benefits, but success stories from people who have seen their dogs almost transformed as a result.
Where once they had trouble getting off their bed due to the pain of arthritis, they were back to taking long walks and even being able to play.  
Not all glucosamine is created equal
As with so many products, and most definitely supplements, there are variations in terms of quality and price, and of course amounts of the active ingredient which is key.
Why Best Vets Glycan Plus Glucosamine?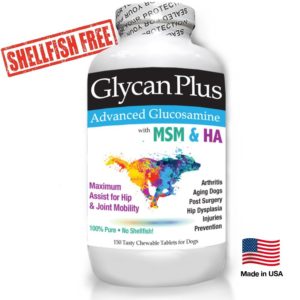 I came across this product recently, noticed some great reviews and got curious. It turns out my friend Rosemary Dowell of German Shepherd Corner has been using it for her German Shepherd Charley who has hip dysplasia, and she loves it.
I asked if she would mind writing a short paragraph about the benefits she has witnessed, to add to the other testimonials I was planning on including. She's had such success with this product, her enthusiasm led to her writing the only review I need (thank you Rosemary!!).
I'm confident only using this one review, because I have never met a pet parent who does as much research into products and treatments for their dogs as Rosemary does.  
Here it is
My German Shepherd has hip dysplasia and I've tried a bunch of Glucosamine products.  I've been using Best Vets Glycan Plus Glucosamine for several months with the best results.  I like this specific supplement for a few reasons.
Firstly, you start your dog on a loading dose for 4 weeks.  This builds up the product in their body producing fast results.  Believe me, when treating HD with natural supplements, small gains are encouraging.  After 4 weeks your dog goes onto a maintenance dose, which maintains the correct levels of the natural supplement in the body.
I've researched many, many natural ingredients and I find the Best Vets Glycan Plus Glucosamine to have the best ratios for optimum support.  And all ingredients are sustainably sourced and toxic free.  All the ingredients in Best Vet Glycan Plus Glucosamine are found naturally in the body.  So it provides support for the body to manufacture and replace low levels of Glucosamine, Chondroitins, Hydrolic Acid, Cetyl M and MSM.
Another important factor for me is that it's shellfish free, again this is sustainable but more important, mercury free.  Also like some humans the vitamin C derived from Ascorbic Acid can be harsh on the stomach and intestines.  So it's great that the Vitamin C found in this supplement is EsterC, which is less harsh.
As I write this my German Shepherd is in surgery for an FHO.  She continues to take the Best Vets Glycan Plus Glucosamine and I believe it will support her in her recovery from her hip surgery.
I can recommend this product to anyone who needs a natural joint supplement for their dogs.  Whether your dog is suffering from joint pain or even for a healthy dog.
My update
I wanted to let you know, Rosemary's dog came through the surgery just fine, and is home recovering.
Is Glycan Plus Glucosamine right for your dog?
That's not a question I can answer. What I can say is glucosamine (especially when combined with chondroitin) has helped relieve the suffering of so many pets with conditions such as arthritis and hip dysplasia. Make an appointment to speak with your vet as soon as possible. You owe it to your dog to make sure he is as comfortable and pain free as possible.    
Have you tried this brand, or any other glucosamine? What kind of results have you noticed in your dog? I'd love for you to share your experiences in the comments section below.