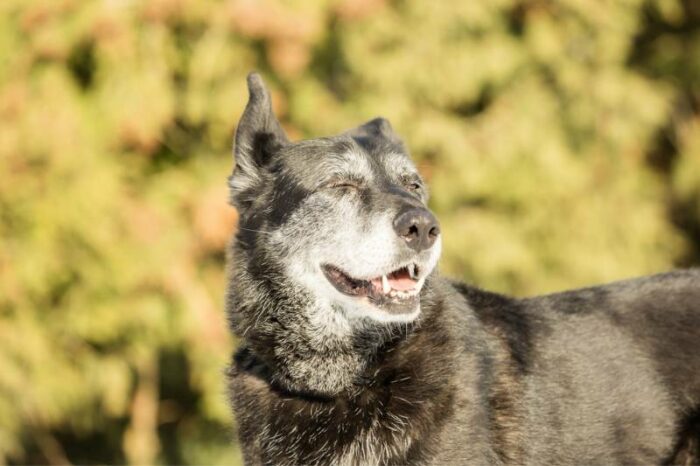 As our senior dogs age, they may face a variety of health challenges. In fact, there are so many conditions we are encouraged to watch out for that it can be overwhelming.
One common condition as they age is Cushing's disease in dogs.
But what is Cushing's disease? What does it mean for your senior dog? What can you do to help?
In this article, we're going to look at the important facts about this condition, including what it is, the signs to look for, how it's diagnosed and how to help your dog if they are given this diagnosis.
Updated: Sept 4, 2023
What Is Cushing's Disease in Dogs?
Let's start at the very beginning… What is Cushing's disease in dogs, and what does that mean for your dog's quality of life?
Cushing's disease is a medical condition that results from an overproduction of the hormone cortisol.
While this hormone is essential for many bodily functions, in an excessive amount, it can lead to a range of health problems.
The development of Cushing's disease can be broken down into the following steps:
The pituitary gland (at the base of the brain) produces a hormone called ACTH
ACTH stimulates the adrenal gland (on top of the kidneys) to produce glucocorticoid hormones/corticosteroids (Cortisol)
Something goes wrong in the pituitary or adrenal glands
Too much cortisol is produced by the adrenals
Cushing's disease develops
The Two Types of Cushing's Disease in Dogs
Pituitary-Dependent
This means the pituitary gland (a pea-sized gland at the base of the brain) is overproducing cortisol due to a tumor or enlargement of the gland.
It is the most common form, affecting around 80%-85% of dogs.
Adrenal-Dependent
A tumor in one or both of the adrenal glands (on top of the kidneys) is responsible for about 15%-20% of cases.
Approximately half of these will metastasize (spread)
A Third Type…
I did say there were two types, but "iatrogenic" Cushing's disease occurs due to high doses of steroids over a long period of time.
Once the steroids are discontinued, symptoms should go away.
If your dog takes steroids, they must be gradually weaned off them over several weeks because it is too dangerous to stop them abruptly.
What Role Does Cortisol Play
If cortisol has the potential to cause so many problems, why is it even present?
The truth is that cortisol plays many vital roles in your dog's day-to-day life. Some examples of the functions that it plays include:
Helps your dog cope with physical and emotional stress
Suppresses inflammation
Helps with wound healing
Supports muscle and ligament health
Controls weight
Necessary for proper brain function
Maintains bone health
Fights infection
Maintains regular blood sugar (glucose) levels
Signs of Cushing's Disease in Dogs
Cushing's disease comes on very slowly, and the first signs you tend to see are your dog having to drink and pee more frequently.
I cannot stress enough the importance of making an appointment with your vet when you notice any physical or behavioral changes.
Unfortunately, these changes are usually just attributed to the natural aging process, but in most cases, they signal a problem.
Other Cushing's disease symptoms in dogs to watch our for include:
Increased hunger
Weight gain
Hair loss
Potbelly/abdominal swelling
Thinning skin
Tired, lethargic, and inactive
Skin infections
Muscle loss
Fat accumulation on the neck and shoulders
Hypertension
Housebroken dogs may start to have "accidents"
May bruise easily
Bladder or kidney infections
Panting
Susceptible to blood clots
How is Cushing's Disease Diagnosed?
It can be challenging to diagnose because the symptoms are pretty mild in many cases, especially in the case of senior dogs.
Often in older dogs, the symptoms are attributed to natural aging and overlooked.
In addition, many of the signs are similar to other conditions, and there is no one definitive test for Cushing's disease in dogs.
During your appointment, your vet will want to hear your concerns and what new behaviors you've noticed.
If you're going to a new vet, they will need a detailed medical history. You may want to have your dog's notes emailed over ahead of your appointment.
Once you have had a chat, your vet will examine your dog. They will then take blood and urine for testing.
Thank about bringing a urine sample with you to make things easier.
Urine should be collected less than 2 hours before your appointment. Use a clean container.
If your vet suspects a Cushing's disease diagnosis is a possibility based on the above, there are further tests they can run for confirmation. They include the following:
Urine Cortisol: Creatinine Ratio
This test measures the cortisol:creatinine ratio in your dog's urine.
If it is high, further testing will be needed because there are other explanations for this result, not just Cushing's disease.
Low-Dose Dexamethasone Suppression Test (LDDST)
The next test would be the low-dose suppression test, which is the most common. It involves taking a blood sample to measure a dog's baseline cortisol level.
A man-made version of cortisol called Dexamethasone is injected into your dog, and then blood cortisol levels are measured after 4 hours and 8 hours.
The pituitary gland should mistake it for cortisol and tell the adrenal gland to stop producing it.
In a "healthy" dog, there would be a significant decrease in blood cortisol levels.
But if the levels are high, it could mean a pituitary tumor that continues to produce ACTH or an adrenal tumor that continues to produce cortisol.
Just a reminder of what ACTH is – Adrenocorticotropic hormone produced in the pituitary gland in the brain that regulates cortisol levels.
High-Dose Dexamethasone Suppression Test
Same as the low-dose test except more Dexamethasone is given.
ACTH Stimulation Test
Blood is drawn before and after a shot of ACTH to see how the hormone affects your dog.
Abdominal Ultrasound
An abdominal ultrasound will allow your vet to see the adrenal glands and whether a tumor is present.
Who Is at Risk of Developing Cushing's Disease?
I have read reports that say it doesn't discriminate based on sex or breed.
Other reports say breeds like Beagles, Boston Terriers, Dachshunds, Yorkies, Poodles, and Boxers are more prone, and females slightly more than males.
I've also read it tends to happen around 6 or 8 years of age, making Cushing's disease in older dogs more common.
Please don't start panicking if you have one of the breeds mentioned because it does not mean your dog will develop Cushing's disease.
Carry on caring for him as you do, and as I mentioned above, see your vet if you notice any changes.
Treatment for Cushing's Disease in Dogs
If your dog has iatrogenic Cushing's disease, we know it is caused by steroid use. So, stopping their use is the obvious way to reverse the condition.
Your vet will help you do that with a withdrawal schedule.
Since there is a strong possibility that the original condition being treated will return, be sure to speak to your vet about alternative treatments.
If your dog has Adrenal Dependent Cushing's disease, the tumor could technically be removed by surgery.
However, they are often impossible to see, may have already spread, the operation is tricky, and post-op complications are a big enough concern that it is not commonly done.
The following information about treatment options was taken from the FDA website:
"Vetoryl (trilostane) is the only drug approved by FDA to treat both pituitary- and adrenal-dependent Cushing's in dogs. This prescription drug works by stopping the production of cortisol in the adrenal glands. Vetoryl should not be given to a dog that
has kidney or liver disease
takes certain medications used to treat heart disease
is pregnant
The drug's most common side effects are poor or reduced appetite, vomiting, lack of energy, diarrhea, and weakness. Occasionally, more serious side effects, including bloody diarrhea, collapse, severe sodium/potassium imbalance, and destruction of the adrenal gland may occur, and may result in death.
Only one other drug, Anipryl (selegiline), is FDA-approved to treat Cushing's disease in dogs, but only to treat certain cases caused by a pituitary tumor.
In the past, veterinarians often used a chemotherapy drug approved for people called Lysodren (mitotane) "off-label" to treat Cushing's in dogs. Lysodren destroys the layers of the adrenal gland that produce cortisol. It requires careful monitoring and can have severe side effects."
"Extra-label" or "off-label" refers to drug use in a way not outlined on the drug's label.
These uses aren't studied as closely as the intended use (which is why they are off-label), which may result in an unpredictable reaction.
Understanding the potential side effects is critical to making an educated decision on whether you are willing to take the risk with your pet.
If you're interested in alternative treatments, there are options for you to explore.
Having said that, please do not stop the treatment your veterinarian recommended without discussing your options.
There may be a way to integrate the two, or if your vet is completely opposed, find a holistic vet and schedule a consultation to discuss alternatives.
What is Your Dog's Prognosis?
So, your dog has been diagnosed with Cushing's disease. Now what? Is Cushing's disease fatal in dogs?
The prognosis will vary from dog to dog depending on several important factors. Therefore, this is a conversation you are going to want to have with your vet.
Some factors that they will consider include:
Your dog's overall health
The type of Cushing's disease they have
Their response to the treatment
If the tumor spread and if it is causing other issues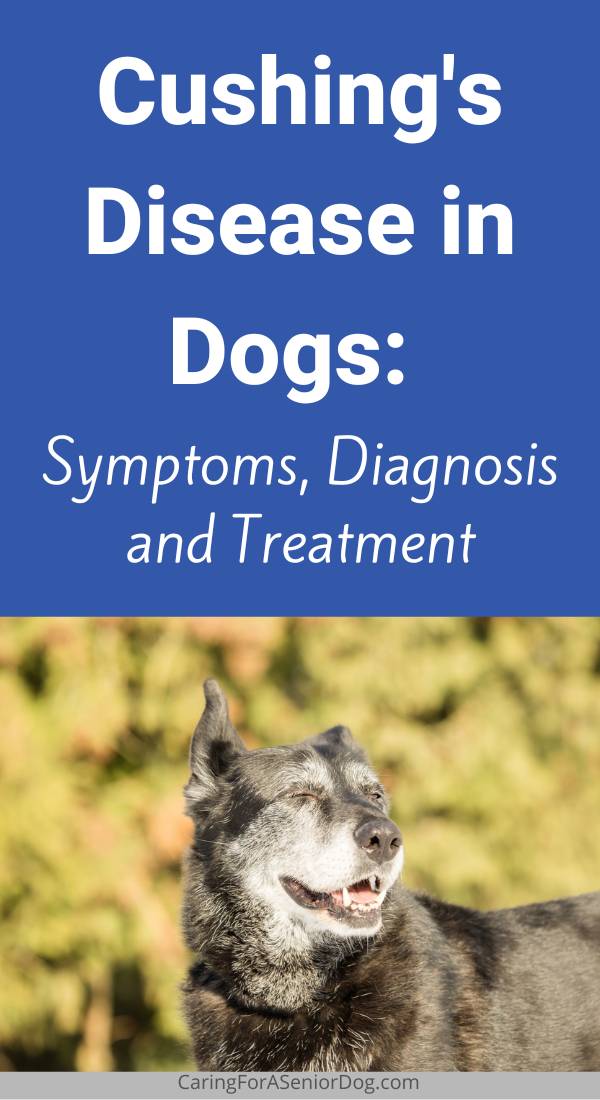 Final Thoughts: Life with Cushing's Disease
Contact your veterinarian if you suspect your dog may be showing signs of Cushing's disease. They will run the necessary testing to reach a diagnosis and recommend a treatment plan.
Follow your dog's treatment plan to the letter, discussing any potential alternative treatments with your vet before making changes. Keep up with regular vet checks and testing to stay on top of any new developments.
At home, focus on providing your dog a low-stress, quiet life.
Feed your dog a high-quality, nutritious diet, paying careful attention to their daily meals and any treats you are giving them.
Watch out for new symptoms or signs of change, and maintain open communication with your vet. This will allow them to adjust your dog's treatment plan as needed.
With treatment and management, many dogs with Cushing's disease will go on to live a long, happy life.
Does your dog have Cushing's? What symptoms did you start to see that had you concerned? What tests did your vet carry out to arrive at this diagnosis? What treatment is your dog on, and how is he doing? Sharing helps others, so please leave your comments below.