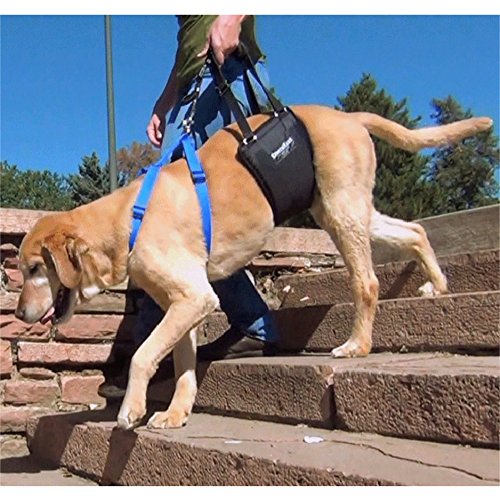 About a year and a half ago my dog Jack suddenly became paralysed. At 7:00am he was walking fine, by 3:00pm he lost the use of his back legs. Long story short, after spinal surgery he needed support until he regained the use of his legs, so I'm very familiar with the incredible benefits of a sling.  
Whether you have a dog who is disabled, has joint pain, balance issues, is recovering from back surgery or just needs a bit of extra support you'll be amazed at how much life will improve, for everyone, when you give him that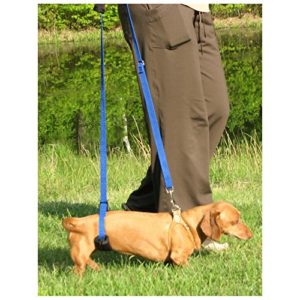 "lift."
Today we're going to be looking at the GingerLead Dog Support Sling. Knowing first-hand what a "must have" item it is, I wanted to share this with you.
Just to let you know, this item is available on Amazon Prime!
Get more information and buy now on Amazon.com >>>
Features and specifications
Six different sizes (x-small male/female; small male; small female; medium (male/female)–large male; large female; tall female)

Patented design integrates a padded belly sling with a leash and handle to maximize control, safety and comfort

The leash can be attached to the collar or a standard chest harness

Great for assisting dogs up and down stairs, in and out of a vehicle, for walks or just going potty

Perfect for dogs that have mobility issues for a variety of reasons including – arthritis – hip dysplasia – back or spinal injuries – rear leg paralysis – recovering from surgery

Adjustable for height

Made in the U.S.A.

Machine washable and dryable

"How to measure" information to help you buy the right size for your dog
Get further details and buy now on Amazon.com >>>
Customer reviews and scores
"This harness has been a Godsend! I have a 13 1/2 year old GSD with degenerative issues in his spine. At times he is weak in the back end and at times he is very awkward and wobbly and will occasionally fall. This helps him walk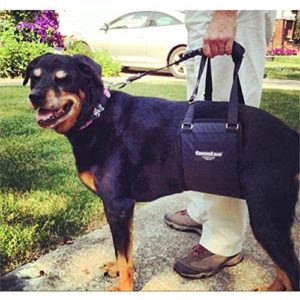 much better with my assistance so he doesn't fall. I would recommend this product to anyone. It is really well made and well designed, nice and padded, and designed perfectly for the male dog so he doesn't pee on it while wearing it. Definitely worth the money. The greatest feature though is the leash part that I connect to his collar so the harness doesn't slide backwards on him while walking."
"This was a HUGE help after our Golden Retriever recently had knee surgery. It would have been almost impossible to help her without this support. It's well-made and has the added bonus of a collar pick up to keep the dog from moving forward in the support. Well designed and made."
"This item has added so much to my dog's life. My dog is 15 years old, and her back legs aren't very strong, causing her to collapse and have difficulty holding herself up and walking. Without the GingerLead I may have had to say goodbye to my best friend, because the quality of her life was so diminished. With the GingerLead we are able to negotiate stairs, go on walks, and she can go potty without falling over. I'm eternally grateful to the inventors of this product!"
"Our sweet boxer is 11 years old and has been diagnosed with myelopathy arthritis. He is slowly losing the use of his back legs. At some point, it became difficult for him to defecate, and he would fall over in the process. It was messy and also tough to watch. We tried two other harnesses that did not work. All of us were frustrated. Then we discovered this one, and it has changed our lives! It's easy to put on and take off, and it allows us to support our boxer when he has to go. No more messes, and our sweet old boy has his dignity back. Some reviews say their dog pees on the harness, but I have not had that problem once, and we've been using it for about six weeks. Our boxer is about 85 pounds, and we bought the tall male sling size. Maybe those who experience issues with it bought the wrong size. I highly recommend this item!"
I found 503 customer reviews at the time of writing, and they had awarded the GingerLead Dog Support Sling 4.2 stars out of a possible 5 on average.
The customer reviews on Amazon are positive overall, but there were a few niggling points raised.
"It covered his male parts not allowing him to urinate."

"Purchased to help my senior dog walk up and down the stairs it slides off of her…."

"My dog hates it."
Not having more details the only thing I can say is that perhaps the user did not buy the correct size, place it correctly on their dog or use the attached leash to keep the sling from moving.
Due to the number of positive comments, how helpful the product has been for countless disabled and special needs dogs, and my own experience using a sling, it makes it very easy for me to recommend the GingerLead Dog Support Sling as well.
Conclusion
In summary, the GingerLead Dog Support Sling is a highly rated product with amazing testimonials from people whose dogs' lives have been significantly improved because of it.  
A dog stuck in the house all day can easily become bored and depressed. No matter the cause of your dog's mobility issues, a sling means you no longer have to leave your dog at home while you're out on family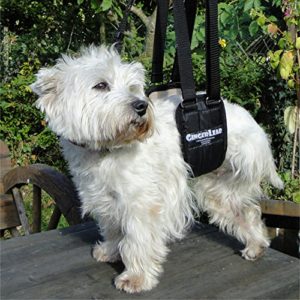 adventures! It also enables him to enjoy some much needed physical exercise and mental stimulation.  
Once you've tried this sling please let us know the benefits you and your dog have experienced. You can post your reviews in the comments section below.
If you share your life with a senior dog I would like to invite you to join Senior Dog Care Club, my Facebook group for senior dog parents. There you will find lots of helpful tips and advice, a place to ask questions and share experiences. I look forward to welcoming you.
*There are affiliate links in this post, which means if you purchase anything I make a few pennies…literally. That money helps me help homeless animals through donations and fostering, as well as keeping this blog running.