Let's kick off this discussion about how to deal with older dog incontinence with a definition of what "incontinence" actually means.
According to the Merriam-Webster dictionary  incontinence is the "inability of the body to control the evacuative functions of urination or defecation: partial or complete loss of bladder or bowel control."
It's hard on your dog too!
Believe it or not, as frustrating as this condition may be for humans at times, it's hard on dogs as well. They can feel embarrassed at these accidents so minimizing them will do wonders for everyone involved!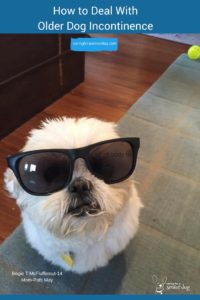 Possible causes of old dog incontinence
Urinary tract infection

Weak bladder

Medications such as prednisone, furosemide and phenobarbital

Diabetes

Cushings

Kidney disease

Arthritis – it's too painful to crouch so she's not always "finished" outside

Canine cognitive dysfunction (doggy dementia) – your pup either forgets his training or just pees or poops when the urge arises, like my dog Red  

Hormonal imbalance

Neurologic disorders affecting the nerve supply to the bladder

Spinal issues/injuries/paralysis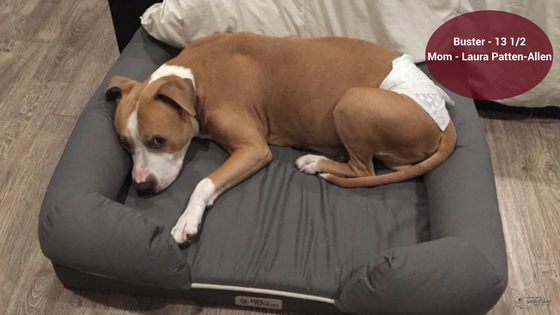 Signs your dog may be incontinent
Excessive drinking (could be a sign of kidney issues or diabetes)

Leaking

Blood in the urine 

Free flowing urine

Halting urine

Licking or excessive licking of the vulva or penis area (irritation or infection)

You notice a urine smell on your dog's bed/find a wet bed or blanket
Is it really incontinence?
It's important to establish whether a dog really is incontinent or just experiencing an increased need to pee. Diabetes, Kidney issues, Cushings, and some medications can increase the amount of urine produced, hence theneed to pee more.
However things like cystitis, bladder stones and stones elsewhere in the urinary tract don't cause an increase in volume of urine but do increase the urge to pee.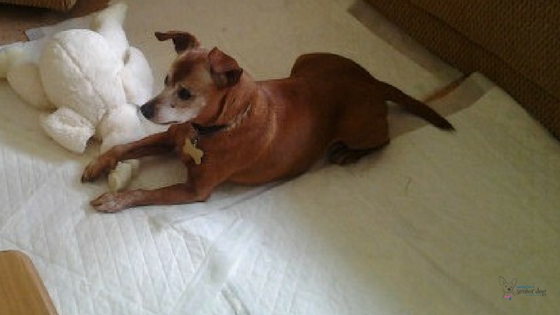 How is it diagnosed?
The only way is for your dog to have a check-up.
During the appointment your vet will want to know things like –
What have you noticed your dog doing that has you concerned?

How long has it been going on?

Is he drinking more water?

Is he going out less often for walks?

Does he pee in larger amounts than usual?

Any blood in the urine?

Any other unusual behaviours?
Once your vet has had a chat he will do a general exam, probably take your dog's temperature, will want a urine sample (maybe fecal if that's also an issue), and likely a blood sample as well. Depending on the results your vet may also want to do x rays and perform an ultrasound. All this will help rule in, or out, various causes.
Before your appointment
I'm a firm believer in making notes before an appointment, if you have questions or concerns. Nerves and limited time with the vet means we have to get straight to the point quickly, so having everything written down ensures we don't forget to mention anything important. In some cases videos can be useful.
It would be helpful if your vet knew how much water your dog drinks in a day, simply measure some into the bowl and keep track.  
I also recommend bringing a urine sample because dogs never seem to pee when you need them to, and that can delay a diagnosis. The sample should be collected within two hours of seeing the vet.


Treatment options
The treatment will depend on the cause. It could be medication, hormone therapy or possibly surgery.
The two most commonly used drugs are phenylpropanolamine (helps strengthen the contraction of the urinary sphincter) and diethylstilbestrol (DES), hormone replacement therapy.
Some members of my Facebook group, Senior Dog Care Club, have had success with Proin, a drug which contains the active ingredient phenylpropanolamine. Another member mentioned a product called "Leaks No More" and she loved it.
Do not limit water intake
It makes sense if your dog drinks less he will pee less…right? Not necessarily. There are causes that have nothing to do with increased water consumption, plus they need water to survive! Discuss your dog's water intake with your vet and see what he recommends.
Living with an incontinent dog
If your dog does not respond 100% to medication, there are plenty of ways to make things more manageable at home. Please have patience and understanding for what your dog is going through. Oh yeah, don't forget the cleaning supplies!!
Take your dog for more walks and pee breaks

If it is medication related, your vet may be able to prescribe an alternative

Pee pads – disposable and washable

Belly bands – disposable and washable

Doggy diapers – disposable and washable

Baby diapers – disposable and washable

Suspenders – to hold the diapers in place
Waterproof cover on his bed
Monitor your dog closely for signs of skin irritation from wearing a wet diaper for too long, or lying on a wet bed or blanket. Irritation can quickly become an infection.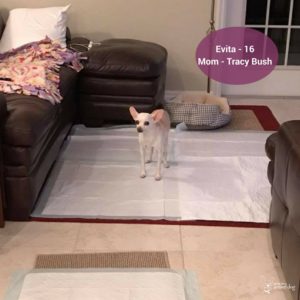 How to deal with older dog incontinence – conclusion
I have come home to more pee stains than I can possibly count, so I feel your frustration. The thing is, it's part of what we signed up for when we chose to become dog parents. It happens in humans, it happens in animals and that's often part of the aging process.
The good news is there are treatments that can help, and if they don't, or don't work as well as we'd like, there are many other ways to manage this condition and still have a happy life together.  
Get your FREE report – Tell Tail Signs Your Dog May Have Dementia
I would like to invite you to join Senior Dog Care Club, my Facebook group for senior dog parents. There you will find lots of helpful tips and advice, a place to ask questions and share experiences. I look forward to welcoming you.
*There are affiliate links in this post, which means if you purchase anything I make a few pennies…literally. That money helps me help homeless animals through donations and fostering.