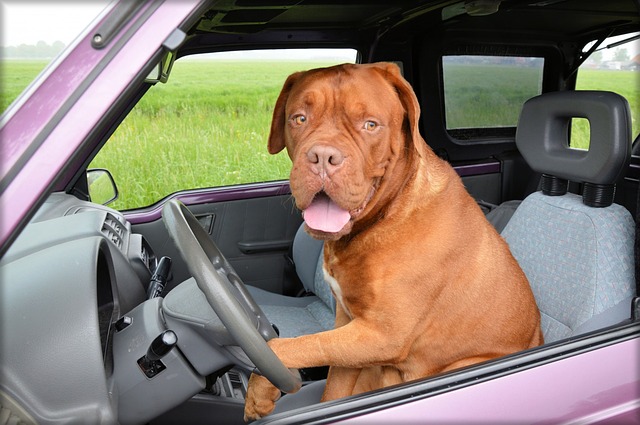 Everyone is excited about the road trip you'll be taking, especially because this time you're bringing the dog.
Please don't wait until the car is packed, to put the dog in and hope for the best. Do you even know if he enjoys car rides?
First things first, does your dog like the car?
If he has reached old age, I can only assume he's spent at least some time in the car. Does he enjoy it, or would hell be more enjoyable? Or perhaps you have just adopted your senior dog (congratulations by the way!), and you aren't quite sure.
If all is fine, skip down to the next steps. If it is not, help is here.
If you know your dog hates the car (perhaps you know the reason, perhaps you don't) then my advice to you is – start the training now while there's still lots of time to prepare.
Helping your dog love the car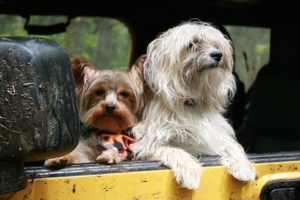 You can get him used to the car, and hopefully even enjoy a ride, using a technique called desensitisation.
What that means is – creating positive associations between one thing and another. In this instance, the use of tasty treats to teach him something really good always happens, when he gets in the car.
Obviously I have no idea at what stage your dog is at – is he fine in the car until you're driving more than a few minutes, or does seeing the car send him screaming into the night?
For the sake of this article, I am going to assume it's the latter. So here's what you do.
Equip yourself with what we call "high value" treats. That would be something he loves, but doesn't normally get. Turkey, chicken… something he is allowed to eat, but only gets on the rare occasion. You want to save that kind of treat for when you need to bring out the serious bribery.
This next statement is obvious, but I am going to mention it anyway – give him very small pieces, you don't want him gaining weight.
Start at the point where your dog is still fine. For example, I'll say he's fine when he sees the car in the driveway, as long as it's through the window of the house. Great, so while he's looking out the window at the car, give him a treat. The next step is opening the door for him to see the car more clearly (keep him on a leash!). If he's still fine, give him a treat. Take a step forward, still fine, another treat.
If the next step causes panic, that's okay – don't say anything, don't give him any treats, go back in the house and be cool, like nothing happened.
Try again later, but start from the point where he was still fine, and slow down the speed at which you move from step to step. You may have gone too quickly. Do this all the way until you can get him sitting in a moving car.
You see where I'm going with this? You will eventually get him into the car, but it may take some time. Keep each session short, and try and leave it on a positive note.
If you are a bit unclear as to the process, need some clarification, or have any questions at all, please contact me through my website. I would be happy to help.
That's all fine and dandy, but we're leaving in two days!
If you are leaving very soon, here are things you can do right away to help:
Start with the desensitisation training anyway – you can't go wrong with teaching your dog new things!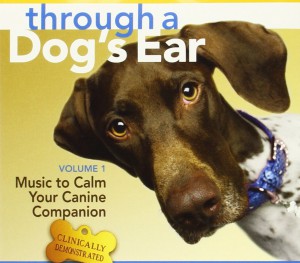 Buy a CD called Through a Dog's Ear – it is bioacoustically designed classical music, proven to help calm dogs with anxiety. One of my dogs has dementia and it works wonders.
You don't have to wait to have it delivered to start playing it for your dog, use the short taster version on youtube. If your CD doesn't arrive in time, at least play the youtube version during the car ride. It was enough to calm my dog until I bought the CD.
Just a couple of things – to begin with, play it for him when he is in a relaxed state. If he gets used to hearing it when he's calm, hearing it when he's anxious should create an association between the music and that wonderfully relaxed state, causing him to settle rather quickly.
It is not guaranteed to work on every dog, but the success rate is 80%, and it works for mine!
Rescue Remedy is a combination of 5 Bach Flower Remedies for anxiety. A drop or two in his water, or directly on his food may help. If your dog has serious anxiety training will help but if your trip is imminent ask your vet if he can recommend a mild anti anxiety medication, or natural remedy that might help. Try it before the big day, to see how it affects him.
Ingress and egress assistance
My fancy way of asking if your dog needs help getting in and out of the car. Getting a small dog in and out is one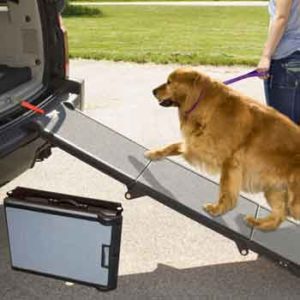 thing, but a big one? I don't know about you, but no way could I lift a lab out of a car, and that's why we are all grateful for the invention of pet steps and ramps.
If you already use pet steps in the house, see if it can help your dog get in and out of the car. If not, a ramp should do the trick. They come in different sizes, and some are adjustable.
The next question is – will your dog use it? Let him have a go before you're packing up the car. If he's hesitant you can try my trick (well, not mine but something I've done that worked) – put a delicious treat at the bottom of the ramp. If he approaches the ramp and eats it no problem, put the next treat a little higher, then the next one a little higher.
If he hesitates at any time, leave it, and try again later. Start at the bottom again, and very slowly work your way up. More effective if you keep all training sessions short.
If you're running out of time, and he's not yet ready to use the ramp, get some help to put him in the car. Bring the ramp with you and practice on the trip.
One other point to mention – if you have been allowing your dog to jump out of the car as soon as the door opens, you might want to stop that. It could be dangerous, especially on a road trip. Teach him to "wait" when the door opens, only allowing him to jump out on your command. It's a good idea to put a leash on him before letting him out, you don't want him taking off after a squirrel, and getting lost, or hurt.
In car safety for the four legged and two legged passengers
It's not safe to let your dog have free run of the car, and that goes for dogs of any size. He could not only hurt himself, but he could distract the driver enough to cause a serious accident.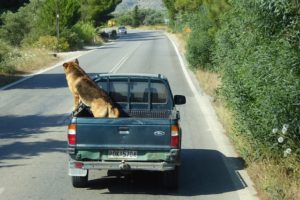 Even if he is perfectly behaved and sits still better than your kids, it is advisable to restrain him in some away. If you have to brake suddenly, or are, heaven forbid, involved in a fender bender, your dog could get seriously injured. All humans are strapped in for that reason, why not your dog. He is a member of the family!
If you are interested in seeing what kind of products are available that can help keep your dog safe in the car, read my article on dog safety products.
Don't let your dog sit in front of an airbag.
You often see dogs with their heads stuck out the window, wind in their fur… they're loving it. But it's not a good idea – he can get hurt by a passing car, or flying debris. Nothing wrong with leaving the window open a bit for the breeze though!
Before you set off…
Feed your dog before you go, but make it a light meal, at least three hours before you leave. You don't want him getting sick in the car.
What to pack for your dog
What, you thought you were the only one that needed to pack a bag?
Here is a list of stuff:
health and vaccination records, including rabies certificate. Even if you're staying relatively close to home, you never know when they'll come in handy.

food

water supply

bowls

leash/harness – even if your dog doesn't typically wear a harness, if he's a bit skittish and you're going to a new environment, a harness might be a good safe option

favourite toys

treats

bed/blanket

anything else your dog really loves
Your dog should be microchipped, and wear a collar with a tag – both should have up to date contact information. In the unlikely event he goes missing, you want to make sure you do everything you can to ensure his safe return. An up to date photo isn't a bad idea to have either.
During the journey
Keep your dog hydrated throughout the journey, particularly if you are travelling in warm weather, and don't have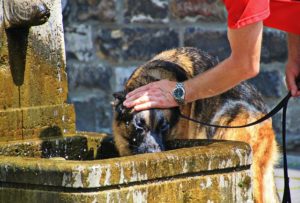 air conditioning.
Stop often enough to allow your dog to take care of business, and get some exercise. If your senior is peeing more often than he used to, take that into consideration. You may need to make a few quick pee stops in addition to your scheduled breaks.
You might be stopping in a busy area, so don't let your dog out of the car on the traffic side.
Designated rest stops have plenty of light from gas stations and restaurants if your journey is taking you through the night, but if you pull over in a dark area, why not put a high viz vest on your dog so you, and others, can easily see him. A flashing dog collar, light up leash and flashlight are also good to have to make him, and you, as visible as possible.
When stopping for a break for the humans in your group, never leave the dog alone in the car, even if you think it will only be for a few minutes. It won't take long for your dog to suffer heatstroke and die in hot weather, or freeze to death in cold. You also never know who spots him alone, and snatches him.
Dogs have very sensitive hearing, so don't blast the radio or movie player.
Car travel with a dog – conclusion
By following these helpful tips about car travel with a dog, you will now be able to include your animal companions in your family road trips. It's never the same without them, is it?
Do you take your dog with you on car trips? How do you keep them calm and safe during the drive? Sharing helps others so let us know by leaving your story in the comment section below, or on my Facebook page if you're traveling with a senior dog.