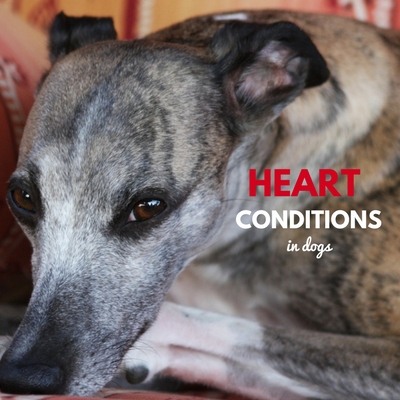 A topic we haven't discussed yet on this blog is heart conditions in dogs.
With up to 60% of old dogs having heart problems, it's about time we covered this topic, don't you think!!
Red and her heart issue
It wouldn't be a post on this site without Red making an appearance, and as it often goes with the territory, she can relate to the topic at hand. She has a heart murmur, has had one for several years, and when it became a 3.5 or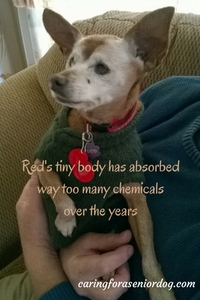 so (out of 5) she was prescribed 2.5mg of Fortekor once daily (at times twice). At some point later (I can't remember when that was), 10mg of Prilactone, twice a day, was added.
To make a long story short, I haven't been happy with the amount of drugs Red was taking. Every time there was an issue, there was another prescription. Since we were re-locating for a few months and needed a new vet anyway, I decided it was going to be a holistic practice.
She is still on Prilactone, but Fortekor is gathering dust in the cupboard, replaced with a supplement. On my next visit this Friday I'm going to get the details on what's in it and will let you know.
I learned something very interesting about heart murmurs the other day
I have had both cats and dogs diagnosed with heart murmurs, but because they were very low on the 0-5 scale, no medications were ever prescribed. Red is the only one that started taking any drugs because her heart murmur was creeping up to 3-4.
I know this post is about senior dogs, but my younger dog Jack (he's around 4 1/2ish) was diagnosed with a small heart murmur probably around a year ago. A couple of weeks ago I asked my holistic vet, Pepe, to take a listen and let me know what he thought. He said it was quite a mild one, but couldn't give more details until he took x rays and an EKG. If this were a couple of the practices I've had the misfortune of being a patient at, I would believe it was simply for the money, but not Pepe.
Anyway, last week we had the tests done and he explained there was a problem with the left atrium. The valve wasn't closing completely, there was no reason to worry, and he graded it a 2.
Here comes the interesting part.
Typically, until a dog's murmur reaches the 3.0-3.5 range no intervention is taken by a vet, and that has certainly been my experience…until now. Pepe explained that a few years ago he heard a lecture by a very well-known cardiologist from France, who recommended treating even the mildest cases in order to prevent them from becoming major cases. It's a philosophy that certainly makes sense.
While heart surgery is a common occurrence in human medicine, the same cannot be said about veterinary medicine. That makes dealing with a heart problem sooner even more important, as not much may be able to help severe conditions.  
Since that lecture, every patient that comes in with even the slightest murmur is started on a supplement. Notice I said supplement, not a drug. If a drug would become necessary at some point, of course he would recommend it.
Jack is now taking a half of the same supplement Red is taking, and we will monitor his condition yearly.
Anyway, that's my experience with heart conditions, but I'm sure you'd like to learn more than this!!
I always do extra research when it comes to an issue one of my pets is experiencing, and this time was no different. I read a very interesting article called "Don't Let Your Dog Be the Next Casualty of Deadly Heart Disease."  I hope you find it as informative as I have.
Heart conditions in dogs – conclusion
You've read about some of the signs that indicate your dog may be suffering from a heart condition (coughing, loss of appetite, difficulty breathing and fatigue to name a few), so if you notice these or anything else out of the ordinary, no matter how slight, call your vet.
Senior dogs can go downhill very quickly and for that reason I never adopt a "wait and see" attitude with any of them.