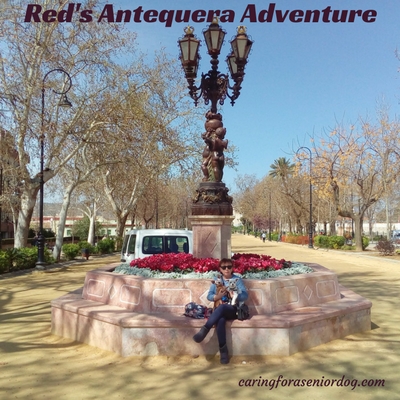 Red is quite a well-traveled dog, something you may not know!!
Adopted by me 8 years ago while living in Florida, Red is (I assume) originally from there, then moved with me to England about a year later. Every year for 5 years we flew back to Florida for 3 or 4 months, then during that time a quick visit to Toronto to visit her Canadian family. That's a lot of frequent flyer miles!!
This past December we re-located to Spain for a few months, and she was on the road again…literally. We hired a pet transport company to drive us from England to Spain, a two day trip and the dogs were superstars in the car.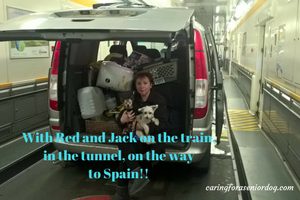 Had I known I would one day have a website about caring for senior dogs, I would have documented her travels from the start. Well I didn't so I'll start now with today's trip to Antequera, a beautiful town 20 minutes from where we live in the Andalucia region, province of Malaga. We took the dogs and saw some sights which Red and I would now like to share with you.
What started out as a quick trip to see the fortress (which I'm getting to) turned out to be something more…a pleasant surprise! We did a few "dog friendly" things, but the heavy duty sightseeing would have to be done "sin los perros" meaning without the dogs.
Yes I'm learning Spanish, a long and slow process.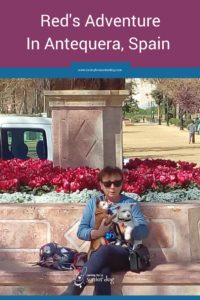 A bit about Antequera
I'm going to quote from the map put out by the Ayuntamiento de Antequera (town hall).
"Antequera, called Antikaria (old city) by the Romans due to the discovery of the great prehistoric richness of the dolmens, has been settled by all the different civilisations which have established themselves on this land. Its geographic location has made it the very heart of Andalusia as well as the ninth city of Spain in the Spanish Golden Age, because of its number of inhabitants and commercial activity, as well as being a cross roads between Seville-Granada and Malaga-Cordoba."
There's a whole lot more, but just know it's a beautiful place to visit with lots to see and do in and around the area. As a point of interest, it has a population of just over 41,000.
Car safety first!!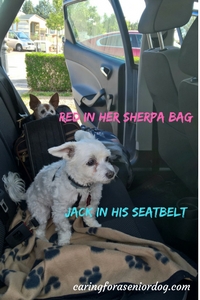 Of course car safety is a priority so Red always stays in her Sherpa bag, and Jack has a seatbelt we hook onto his harness. I'll be honest, he much prefers sitting on my husband's lap, but after being pulled over by the Guardia Civil last week and fined 40 euros (for an unrestrained dog in the car), I learned my lesson, and Jack will have to as well.
Our first stop – Alcazaba Fortress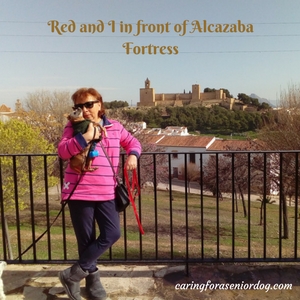 The first time we spotted this fortress was a few days ago on the way to El Torcal. We were quite high above the city and had a beautiful view, so we decided to go back on a separate trip to spend more time enjoying the scenery, hence the purpose of today's outing. Once we had a good look from above we decided to try and find our way down to see it up close.
If you've ever driven in Spain (or I suppose that applies to lots of places), big city or small village roads are narrow, terrible signage and you can't just "go around the block." Once you've passed your target, it's very difficult finding it again.
This is not a complaint just an observation from my months here!
Anyway, we got there but there was absolutely no place to park the car, and I mean no place, and that includes within walking distance. At least we got some snaps with Red, even though it was only in the background. We'll probably attempt a close up visit another time, but there are so many other things to see and do here I don't know.
Next stop – La Peña De Los Enamorados (or Indian head to you)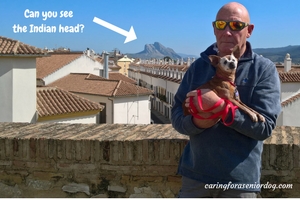 Also known as Lover's Rock or Lover's Leap (the translation of the Spanish), it was first pointed out to us the first time we came to Spain in June, when looking for a holiday place. On the way from the airport to Antequera (which is where we were staying for the 2 days we were here), the driver pointed out the rock formation that looked like an Indian head. Of course hubby saw it right away, of course I had no clue what they were on about.
I finally saw it on the way back to the airport!!
Here's a very interesting read about it, taken from thecultureclique.com
"Several legends surround this mountain, but the most well-known is that which inspired its name. A story of forbidden love, dating back to the time of the Moorish ruling in the 14th and 15th centuries, in fact pre-dates the original version of Shakespeare's Romeo and Juliet in the 16th century. In this legend, the star-crossed lovers were the beautiful Moorish princess, Tazgona, and a young Christian soldier, Tello, who was a prisoner of her father. Forbidden to fraternize between cultures (let alone princess-soldier) their relationship was doomed to an unhappy ending. It all culminated in a desperate escape, rushing across the countryside, pursued by Christian and Arab soldiers alike to find that their only route was to go up the mountain. Once at the top the lovers decided that they would rather die together than live a life apart, and thus they jumped to their fate from the summit of the Peña.
The legend has it that the dismayed fathers of the pair, who had led the chase, now left helpless at the top of the mountain, decided to put aside their difference and their fight for the ruling of the city in order to live in relative peace (at least until the next battle).
Today, standing proud on Plaza Castilla in Antequera, there is a statue dedicated to the couple, with an inscription that reads:
"Viendo imposible su amor, Cenidos en fuerte abrazo
Se arrjaros los amantes, Desde lo alto de la Peña."
"Since love was to be imposible, As one in a strong embrace,
The lovers threw themselves, From atop of the Rock."
Next stop on the day's adventure…coffee time!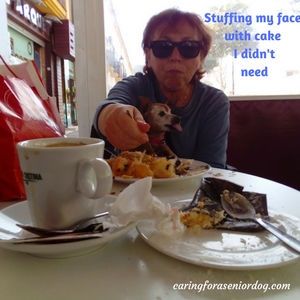 I don't drink the stuff, as a matter of fact I can't stand it but my husband must have his 2 cups in the morning before 12:00. Thankfully it was 11:50 when we sat down at a café, just in the nick of time. I had cake that I didn't want, a visit to the "loo" that I did want, and we talked about where to go next.  
I am a planner, but we were winging it which was kind of nice for a change. Our most enjoyable times are often the spontaneous ones.
Off to Paseo Real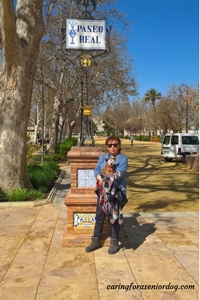 Our next couple of stops were a few steps apart, and right near our favourite indoor parking garage. It's right as we enter the town, it's quiet, cheap and convenient. We don't even bother looking for street parking if we're planning on being in the centre.
Anyway, Paseo Real is a lovely esplanade about 200m long (656ft) and 40m wide (131ft), with trees on each side, benches and monuments. It was such a warm sunny day we took advantage, sat and enjoyed the hustle and bustle around us. We live in such a quiet place, which I love, but I can handle the hub bub since it's only temporary!!
Picture taking at the arch (Estepa Gate as it is officially called)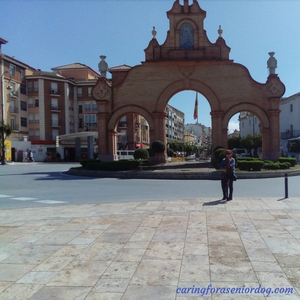 A lovely arch but apparently not the real thing! From what I've read the original was built in 1749, had a central arch for carriages to pass through and a smaller arch on either side for pedestrians. When cars couldn't fit through it was knocked down in 1931.
In 1998 they (I don't know why "they" are) decided to re-build based on the original design, using stone from the Torcal region just outside of town. They built it on a roundabout so cars drive around it, rather than through it.
Our second to last stop – the bullring

A landmark used often when given directions, I thought we should have a look since we were right there on our day out. Sadly this ring hasn't lost the legal right to hold torture sessions and cater to the bloodthirsty, and hosts several bullfights a year. Since it was empty I took the opportunity to have a look inside, as that would be be my only chance. My first thought was that it was smaller than I expected it to be.
Called The Plaza de Toros, it is surrounded by beautiful parks, very close to the city centre, and built using locally manufactured bricks. It opened on August 20, 1848 (my birthday – the month and day not the year!!), and was renovated in the early 1980s. In addition to the ring it houses a museum, bar and restaurant.
It is considered to be one of the most beautiful bullrings in Spain. I wouldn't describe a torture chamber as beautiful, but what can I say I'm against cruelty to animals. Okay I'm off my soapbox now.
Our last stop of the day – some r&r in the park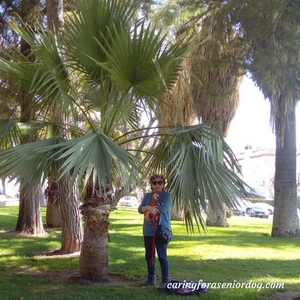 The dogs needed a walk in some grass for a change (hard to find where we live!!), and next door to the bullring was a lovely park, so they enjoyed a few minutes tiptoeing through the tulips as it were, and some shade.
And so concludes Red's tour of Antequera. I hope you enjoyed it, and the next time you're in Spain remember…there's more to see then just the coast with bars, restaurants and English speakers.