Liver disease in older dogs is incredibly common. However, it isn't talked about as often as kidney disease or diabetes.
We know it exists. We know dogs are afflicted with it.
But we rarely hear it mentioned until we're faced with a diagnosis and trying to navigate this challenging time.
While dogs of any age may be affected due to genetics or external/environmental factors, we most commonly see liver problems in older dogs.
Last Updated: Nov 28, 2023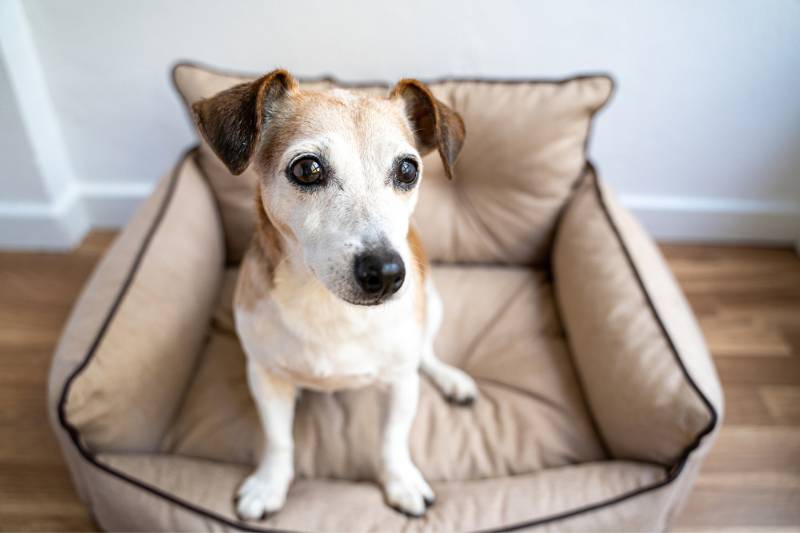 What is the Function of the Liver?
I have heard the liver referred to as the "workhorse" of the body.
This vital organ performs an essential role by regulating many chemicals in the body necessary for performing regular bodily functions.
This includes:
Producing bile to aid in digestion
Metabolizing fats, carbs, and proteins
Supporting blood to clotting
Breaking down drugs/medications
Removing toxins from the body
Storing important vitamins and minerals
With so many vital responsibilities, your senior dog's liver health is an important topic to understand.
What is Liver Disease in Senior Dogs?
Liver disease is a term used to describe any medical condition that affects the liver.
This could refer to primary liver disease, meaning that it directly affects the liver, or secondary liver disease, where the damage results from another underlying condition.
Mild stages of liver disease in older dogs may go unnoticed for some time.
However, when you do recognize signs of trouble, it needs to be addressed as quickly as possible.
Not all forms of liver disease can be cured. Some may require ongoing supportive care and management to give your dog the best quality of life.
Left untreated, it can cause permanent organ damage. In the most severe cases, it can be fatal.
Common forms of liver disease in dogs include:
A portosystemic shunt, or liver shunt, happens when blood bypasses the liver, either due to a congenital condition or damage to the liver later in life. This prevents the liver from filtering toxins out of the blood, causing those toxins to build up in the body.
Cirrhosis refers to a condition where the functioning tissue of your dog's liver is replaced by scar tissue.
Copper storage disease involves excessive amounts of copper in the liver. This could happen due to a diet high in copper or a genetic predisposition.
Liver cancer can occur in dogs in several forms. The most common is hepatocellular carcinoma. Cancer may originate in the liver or have started somewhere else and spread to the liver.
Hepatic lipidosis, or fatty liver disease in dogs. This occurs when fat cells collect in the liver, preventing it from functioning properly.
Fulminant hepatic liver failure is characterized by sudden loss of liver function.
Symptoms of Liver Disease in Dogs
Many of the signs of liver disease in dogs are the same as for other illnesses, making it difficult to know for sure that the problem is related to the liver.
Signs of liver disease include:
Increased urination
Dark-colored urine or blood in the urine
Pale-colored bowel movements
Vomiting
Diarrhea
Loss of appetite
Enlarged abdomen caused by fluid build-up
Jaundice (yellowing of the skin, gums, or whites of the eyes)
Temporary Blindness
Weakness/lethargy
Apathy
Confusion
Dogs with advanced liver disease often suffer neurological and behavioral changes.
This is due to the high levels of toxins in the body that would usually have been filtered out and removed by a healthy liver.
Signs of neurological trouble include:
Excessive drooling
Seizures
Disorientation
Restlessness
Pacing or wandering
Skin disorders may also occur in dogs with advanced liver disease.
If you notice that your dog is showing any behavior changes or signs of feeling ill, no matter how slight they may be, contact your veterinarian.
It's better to be safe than sorry!
The 4 Stages of Liver Disease in Dogs
When diagnosing liver disease, your veterinarian will categorize your dog's illness in one of four stages based on how advanced it is.
The 4 stages of liver disease are as follows:
First Stage: Early onset of the disease is characterized by liver inflammation. It can usually be treated easily with dietary changes or medication if diagnosed at this stage.
Second Stage: As the disease progresses, the liver begins to harden. This moderate liver damage, known as fibrosis, may still be treatable without long-term effects.
Third Stage: The disease has progressed far enough that, even if it can be treated, there will be permanent liver scarring or Cirrhosis.
Final Stage/Fourth Stage: At this point, the liver is failing. It can no longer function as needed to maintain necessary bodily functions.
What Causes Liver Disease in Dogs?
One reason there is such a wide variety of symptoms is that there are many possible causes of liver disease in older dogs (and younger dogs, too).
Some causes can be prevented or addressed, while others are entirely out of your control.
The most common causes of liver diseases in dogs include:
Infection
Medication
Trauma (such as an accident or heat stroke)
Ingestion of a toxin (plants, herbs, some mushrooms, pesticides)
Exposure to blue-green algae
Long-term use of painkillers
Fatty foods
Other underlying diseases and medical conditions
Some breeds are genetically predisposed to liver disease.
This doesn't mean that it is guaranteed all dogs of these breeds will develop liver problems, but they are at higher risk.
The following breeds are considered high-risk:
Australian Shepherd
Australian Cattle Dog
Bedlington Terrier
Bichon Frise
Chihuahua
Cocker Spaniel
Dandie Dinmont Terrier
Doberman Pinscher
German Shepherd
Havanese
Irish Setter
Irish Wolfhound
Keeshond
Labrador Retriever
Maltese
Old English Sheepdog
Samoyed
Skye Terrier
Springer Spaniel
Standard Poodle
West Highland Terrier
Yorkshire Terrier
If your dog's breed isn't on the list, it doesn't mean you are free and clear.
Learning to recognize the signs of liver failure in dogs could mean the difference between getting the treatment your dog needs or saying goodbye.
Diagnosing Liver Disease in Dogs
In your first appointment with your veterinarian, you will be asked many questions, including details of your dog's diet, any medication they are taking, and any changes (behavioral and physical) you may have noticed.
They will also ask questions meant to understand if there was any chance your dog could have ingested anything they shouldn't.
Blood and urine tests are a standard "starting point" in many vet offices.
Further testing will depend on the result of these tests and the potential cause of your dog's liver disease.
This could include abdominal radiographs, x-rays, an abdominal ultrasound, or a CT scan.
If your veterinarian suspects that you may be dealing with liver cancer, they will likely recommend a liver biopsy. Biopsy samples can also be used to test copper levels or check for infection.
Treatment of Liver Disease in Dogs
As with every medical condition, treatment will depend on the diagnosis. How quickly was it caught? How advanced is it?
Some of the common approaches for treating liver disease in dogs include:
Supportive Care (IV, Antibiotics, Etc.)
If it is suspected that your dog is suffering from a treatable condition, like a bacterial infection, your veterinarian may focus on supportive care.
They may be prescribed antibiotics or steroids to take at home. In other cases, IV or subcutaneous fluids may be provided while in veterinary care.
The goal is to ease symptoms and help your dog feel better as they heal from whatever ails them.
Your vet may also make recommendations to prevent the condition from worsening as they go through treatment.
Ongoing medication may be required to support liver function.
Diets for Liver Disease in Dogs
Specific dietary changes may be needed to set your dog up for success.
If excess copper levels have caused liver disease, you may need to focus on a low-copper or copper-restricted diet.
Recommended diets for liver health are low fat and low protein.
Often, veterinarians will recommend purchasing specialty food for liver disease in dogs. This ensures they are getting exactly what they need.
However, if you make your own food, you can work with a nutritionist to adjust their diet and prioritize your dog's liver health.
Advanced Medical Intervention
Depending on the cause, your vet may recommend surgery or chemotherapy – especially if your dog is suffering from liver cancer.
If caught early, there is a chance that cancerous tumors can be removed, allowing for full recovery.
In more advanced cases, these treatments may be recommended to slow the disease's progress, giving you more time with your pet.
Hospice Care for Dogs with Liver Disease
Treatment may no longer be a viable option when faced with end stage liver disease in dogs.
At that point, canine hospice may be the best option. This will ensure they enjoy the best quality of life until it is their time.
Prevention of Liver Disease in Senior Dogs
As already mentioned, many cases of liver disease are not preventable.
But you can take steps to potentially reduce the risk while improving your old dog's overall health and well-being.
Senior dogs should have twice-yearly check-ups unless your vet is monitoring a condition and more frequent trips are needed. Routine blood tests, for example, can detect elevated liver enzymes so prompt action can be taken.
Take your dog to the vet as soon as you notice any changes in behavior, no matter how minor you think they are. Early diagnosis means early treatment and can prevent liver damage.
Provide your dog with a healthy, nutritionally balanced diet. Avoid feeding fatty foods (including just for treats).
Ensure your dog always has access to fresh, clean drinking water.
Give your dog appropriate daily exercise.
Familiarize yourself with your area's poisonous plants or insects, including the common signs your dog may have ingested them.
Keep dangerous substances safe and secure out of your dog's reach.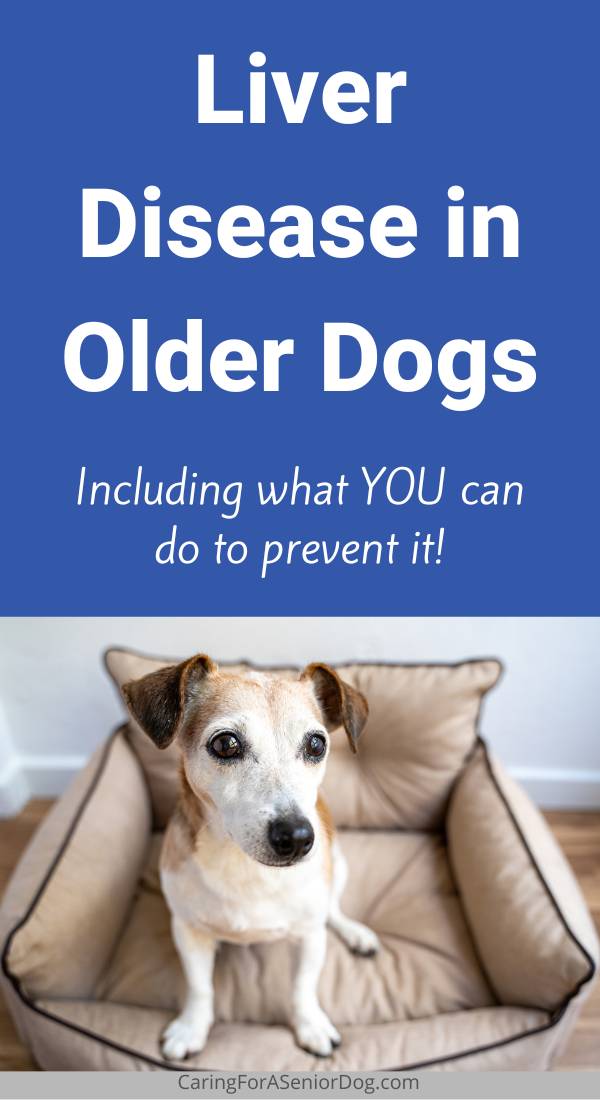 Final Thoughts: Liver Disease in Older Dogs
If you suspect your dog may be showing signs of liver disease, make an appointment with your vet as soon as possible.
Older dogs can go downhill very quickly, so time is of the essence.
Even if a large percentage of the liver is diseased, it has a remarkable way of still working.
While liver disease can't always be prevented, you can take steps to reduce the risk, including feeding your dog a healthy diet and prioritizing daily exercise.
Has your dog been affected by liver disease? Was it a result of age or environmental factors? Sharing helps others, so I invite you to share your experiences in the comment section below.