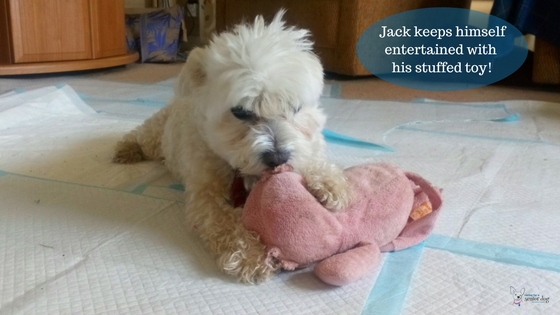 What do you mean, how to entertain a bored dog? Mine isn't bored she's old and prefers to spend her days sleeping.
Are you sure that's what she prefers?
Do dogs get bored?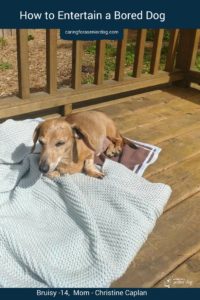 Research says they do, and there's quite a bit to back that up. At the end of this post I've included a few links to some interesting articles you may want to have a look at.
What about senior dogs?
All dogs get bored if they do nothing all day.
The thing is there are an awful lot who live with people who just don't believe they need to go out other than to pee and poop. They see their dog lying on their bed all day and believe it's where they prefer to be. They don't realise how much of the time it's because they're bored out of their minds!
Having said that, I also know in many cases mobility and other health issues (both for the dog and sometimes the parent) mean they aren't able to get the exercise they need.
What to do about it
Whether your dog isn't getting out because of arthritis, hearing and vision problems, illness or simply a matter of the weather not cooperating, there are tons of boredom busters for dogs of all abilities. Even if your dog is unable to move much, you will find plenty of ideas to perk him up!    
Here they are!
Physical exercise
Your dog needs to go for walks every day. They may only be around the block, a few steps around the garden or in front of your house but at least he's out. It will give him the chance to get fresh air, sniff the grass, see other people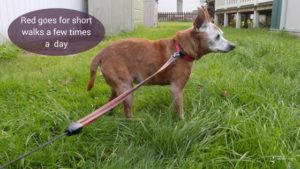 and dogs and experience life again. Do this 2 or 3 times a day and you'll notice a difference.
If your dog is in too much pain from arthritis for example, I am sure you're doing your best to change that. Have a look at this article "How to Treat Arthritis Pain in Dogs Naturally" for some very helpful options. 
Change up the route and give him new areas to explore. I do this for my dog Red thanks to our pet stroller. I can take her further, let her walk for a bit then put her back in when she's had enough.
Is your old dog as energetic as ever? Take him out for longer walks and if you are not able to, for whatever reason, hire a dog walker, put him in doggy day care or find a helpful neighbour or family member to help out when they can. Perhaps someone has a responsible teenager who loves animals and could lend a helping hand?
Make meal time fun
I never recommend free feeding – leaving food out all day for an animal to eat whenever they want. I believe in schedules and routine, plus it turns meal time into an activity.
How about making it into a game and really keeping your dog entertained!  There are plenty of ways to accomplish that including –
Cover the food bowl with plastic or paper bowls, and let him figure out how to move them off to reach his food. Don't make them too heavy or he won't be able to do it and he'll get frustrated. 


slow feeder bowl
Stuffing a Kong with part of his meal
Scattering some of his dry food (if he eats it) in a snuffle mat
Filling a treat dispensing toy with part or all of his dinner
Vary his toys
Dogs get bored with toys, something you've probably witnessed in your own home! You buy him something new, he plays with it for a couple of minutes then walks away. Don't leave too many toys out at once, just a couple and rotate them to keep his interest.
I added a couple of links at the end of this post that explain why they get bored.
Name that toy
I remember the first time I baby sat my neighbour's dog Major. His mom was going on vacation and asked me to look after him. She brought over a huge bag of his stuff, as you do, and she gave me a list of all the toys he could name – there were 12. Very impressive!
Why not teach your dog the name of some of his toys! You don't have to go overboard, one or two will get him using his brain, and it's easy to do. When he plays with his duck for example, say "duck" every time. Then say "where's your duck" when he's about to pick it up. Then say "where's your duck" when he's not showing any interest in it, but it is close by. Each time reward him with a treat and he will make the connection between the word and his toy.
Take the training slow, keep sessions short and make it fun!  
Hide and seek
Hide a treat or a toy he can name and ask him to "find it." Let him see you hide it at first, then make it more difficult. If your dog has mobility issues, hide it close by and it will still be fun for him.
Let him watch television
No I don't mean another episode of Orange is the New Black! I mention that show because they just started showing it in England where I live and I'm enjoying it!! Check out the tv channel created specifically for dogs.
Doggy day care
While this option may not be right for every senior dog, it is definitely an option for many. When you do start looking, ask the owner if you can visit to see how active the dogs are, what the setup is, and if there is a quiet area where dogs can take a break if things get too playful. Unless of course your dog is a live wire and will be right in the middle of the melee!
Obedience training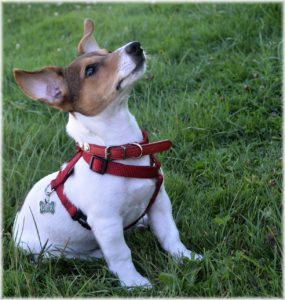 Okay you're thinking "what's wrong with that girl, my dog is 15 and she knows how to sit and stay." Of course she does, but that doesn't mean she won't be interested in learning something new. Does she know how to give you her paw when you ask? How about practicing "stay" or "leave it" while you're holding a delicious treat in your hand. It's great for mental stimulation.
Make your own treat dispensing toy
Cut a hole in the side of a plastic bottle and add some treats. As your pup rolls it across the floor it will make noise which is fun in itself, and leave a trail of treats for him as a bonus!
Games
Here are a couple of easy things a dog of any ability can do.
The cup game
Take 3 cups that are easy enough to knock over, and put a smelly treat under one of them, move them around and ask him to "find it!"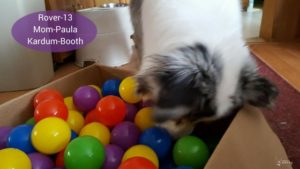 The muffin tin game
Grab a muffin tin, put a smelly treat in a few of the cups, cover each cup with a tennis ball or other toy and let him figure out how to move the ball to get at the treat.
I found this post with some cool "make your own" games called "4 creative DIY brain games for dogs – 5 minutes to make."  
I'm sure you can come up with some simple game ideas too!
Hide a Squirrel
I'm mentioning this particular toy by name because of its popularity, and the almost 10,000 reviews it has gotten on Amazon.
Make some frozen treats
Whether you freeze dog treats, buy doggy ice cream or make your own, it will keep your dog entertained for quite some time. You can even freeze it in a Kong and see how much fun he has trying to lick every last drop!
Play dates
Your dog may not be well enough to venture to the dog park, he gets bothered too much or you don't have one near you. In any case why not invite someone over for a play date? If he's not up to playing or running around, he may enjoy hanging out with a friend just for the company. Even if they just sit next to each other and enjoy a bone while the humans have a chat.
Water fun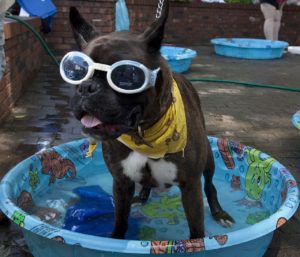 Swimming is great exercise for dogs of all abilities. How about a day out at the lake or a paddle in your pool? The exercise is gentle and will help rid him of some pent up energy. Even a splash in a kiddie pool in the backyard on a hot day will keep him entertained.
Build a dog sandbox
What a fun thing for your senior dog to have a go at! Hide toys in the sand and let him go dig for them. Does your dog have trouble standing up? He can lie down while looking!
Puzzle toys
They do come in varying degrees of difficulty and are a great way to provide mental stimulation. Start off easy and see how he gets on, some dogs take longer than others to figure out the puzzles. If it's too complicated from the outset your pup may get frustrated and not bother.   
Go for a drive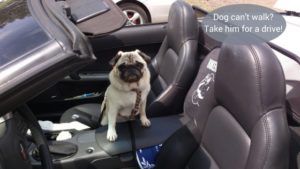 Whether your dog can't walk far, isn't feeling up to it or the weather isn't cooperating, a drive is one way to break up the day and get your dog out and about. Looking out the window at some new scenery could cheer him up, and you might even pop in at your local dog friendly café for a drink and a treat!
For blind dogs
A lot of these suggestions are perfect for blind dogs, or can be tweaked slightly if necessary. Their nose will lead them to the treats in the puzzle toy, and being blind won't stop them from enjoying a food or treat stuffed Kong.
Here are a few toys that talk, make sounds and have smells to help your blind or visually impaired dog find, and have fun with.
Ethical Pets Sensory Ball Dog Toy 
MultiPet Deedle Dudes Mouse that Sings
What are your "boredom busters?" Share them in the comments section below, or please join Senior Dog Care Club, my Facebook group for senior dog parents. There you will find lots of helpful tips and advice, a place to ask questions and share experiences. I look forward to welcoming you.
Resources
"Lonely dogs' brains shrink due to 'bestial boredom', scientist warns"
"Dogs And Pigs Get Bored, Too"
"Science Proves Animals Are Totally Bored"
"Why dogs find some toys boring"
"Fascinating Insight into Why Dogs Find Some Toys Boring"
Get your FREE report – Tell Tail Signs Your Dog May Have Dementia
*There are affiliate links in this post, which means if you purchase anything I make a few pennies…literally. That money helps me help homeless animals through donations and fostering, as well as keeping this blog running.