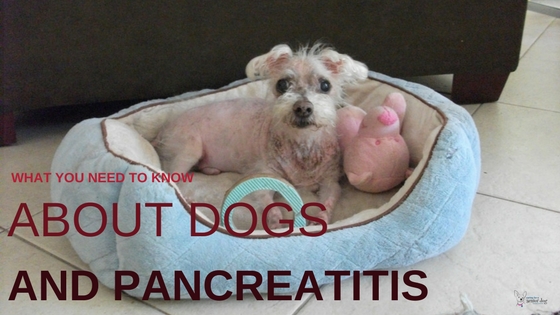 The most important thing you need to know about dogs and pancreatitis is, they could die if left untreated.
My dog Bailey died, not because he wasn't treated but because he was in the "care" of incompetents who decided feeding him a can of dog food after being at their clinic just one day was a good idea. Actually that sounds like "untreated" to me. I had no previous experience caring for a dog with pancreatitis, so blindly trusted they would help him.
I would hate for you to have to experience this kind of loss because of something that is almost always treatable. Knowledge is power, to quote a cliché, and this article will give you all you need to ensure your dog has a better outcome than mine.
What function does the pancreas serve?
The pancreas produces and secretes digestive enzymes which, as the name suggests, is essential for food digestion. It also produces insulin which helps control metabolism and regulate blood sugar levels. The digestive enzymes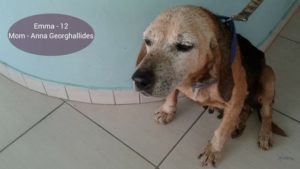 usually lie dormant until they reach the small intestine where they start doing their job. However if they are activated prematurely, before they reach their destination, they cause the pancreas to digest itself.
What is pancreatitis?
Simply put pancreatitis is an inflammation of the pancreas, and it is painful. Not only that but it can progress quite rapidly, to the point where it is no longer possible to treat.
There are two types – acute and chronic.
Acute
Acute means it comes on suddenly and lasts for a short period of time. It can be nothing more than mild discomfort or full blown life threatening. It typically happens around the holidays (but not exclusively) when we're eating tons of high fat food and the dog gets his fair share of table scraps. It can also happen when he's out walking and picks up something he shouldn't.
Chronic
Chronic means ongoing and is often a result of having a bout of acute pancreatitis. This too can range from mild discomfort to deadly serious.
Signs of pancreatitis in dogs
Loss of appetite

Vomiting/projectile vomiting

Difficulty breathing

Stomach ache

Diarrhea

Lethargy

Dehydration

Fever

Swollen abdomen

Elevated heart rate

Restlessness

Hunched posture
The most common signs are loss of appetite, vomiting, and abdominal pain. Signs for both acute and chronic pancreatitis are similar so don't try and guess which one your dog has.
A good rule of thumb to follow and one I talk about a lot is – If you notice any changes in your dog's behaviour, even if it seems slight, call your vet. If they brush you off but you know there's something wrong insist on an appointment. You know your dog best and treating something early can mean the difference between life and death, and that is certainly the case with pancreatitis.
My experience with dogs and pancreatitis
I tell this story years later with a lot more experience under my belt, and without the naïve belief that vets have all the answers.
The first experience I ever had with pancreatitis was with my dog Bailey. He was old, no idea how old, and a foster we never gave back. Foster failure anyone!! Sadly this condition struck after we had moved to a new city, and hadn't yet found the amazing vet I have now. I know this would have had a happy ending if we had.  
Long story short, he started throwing up so I took him to a practice recommended by a neighbour. They said he had pancreatitis and kept him in overnight on fluids. After one day they fed him a can of chicken dog food and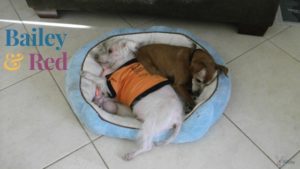 sent him home. He started throwing up not long after, and when I called to tell them, they assured me he was fine when he left. There are vets who believe a dog needs 3 days on fluids, they believed 1 was enough.
After a torturous night of him being in pain (yes he had medication) and me watching the seconds tick by, I took him to see the vet in our old city, and he immediately admitted him for 3 days of fluids. Unfortunately by that time his pancreatitis was too severe to save him.
I lodged a formal complaint with the veterinary governing body, even though they told me it's unlikely I would win. They all stick together don't they, even at the cost of a life. I didn't win and was forced to pay the vet bill. Imagine how that felt!
That experience made me even more determined to demand the best care for my animals, and to learn as much as possible about every condition so I stay on top of all treatment. I've always taken vet care seriously, and done the best I could to find great professionals, but sometimes it takes a serious illness to show how skilful, or not, someone truly is.
Which brings me to my current situation with the love of my life Red
Red has had a few bouts of pancreatitis, the first attack coming after eating coconut oil. I started adding it to her diet because I had read it could possibly help with dementia, which see suffers from. Of course I consulted my vet first and even gave her half the recommended dose. I've learned when the diarrhea starts it's time to leap into action, no hanging around to see if it clears up on its own. It can be so dangerous in old dogs I won't take a chance. 
This past November she was slammed with a very bad case, and despite fluids and medications she showed no sign of improving after 2 ½ weeks. All she did was sleep, and a few times a day I would wake her so she could eat (which she barely managed), pee and poop. That is not the life I wanted for her so I made the decision to let her go. Wouldn't you know the next morning when we were about to leave to the vet's office she perked up!
What caused that horrendous episode?
I was shocked when I realised the same food she'd been eating for a long time, was the very thing that caused it!
Red has been eating k/d for at least a couple of years, but for a period of several months I switched her to a home cooked diet created by my holistic vet. I eventually went back to her prescription food (it's a long story!!), incorporating her home made food into it.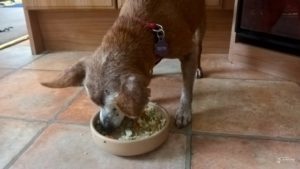 When my k/d order was cancelled the morning it was to be delivered, and a new batch not being available for 3 days, she had to rely exclusively on her homemade food again. After a couple of k/d meals she got diarrhea and things went from bad to worse. I assumed it was a bad batch because she had never been affected by it before, so I sent it back and ordered it elsewhere.
It turns out that although her kidney diet doesn't contain much fat, being off it for just 3 days was enough to cause an attack. I know to slowly introduce a new food to a dog, but this wasn't new!
So what was she going to eat?
I am dealing with a dog with several conditions, two of which are kidney insufficiency and pancreatitis. My vet told me the diet for one is not good for the other so I decided it was more important to feed her for pancreatitis.
I was given a can of Hills Prescription Digestive Care i/d (low fat) to try after another recent bout about a month ago, and to my delight she loved it. I am sticking with it and I add boiled chicken breast, quinoa, whole grain rice, peas, squash, carrot and some broccoli for interest and added benefits.
Red's treatment protocol
When she has an attack there's always at least 1 day at the vet's on fluids, sometimes 2 but she never stays overnight.
She is prescribed –
Rinitidine .5 ml 2x day 7 days (a histamine blocker to treat stomach issues, soothe inflammation)

Metrobactin

Imodium 1.7 ml 2x day max of 2 days

Nutritional support

Royal Canin Rehydration support powder mixed in with about 1 ½ pints of water

Pain relief at the vet
Her normal routine is her diet, medications for her other issues as well as –   
½ capsule of Pro Enzorb twice a day
½ sachet of Pro-Kolin Enterogenic per day (both of which help with digestion)
Rehydration support mixed in a 700ml bottle – it's perfectly safe for your other dogs to drink as well
Causes
The exact cause of your dog's pancreatitis may not be known (idiopathic), but there are several known causes that include but are not limited to:
A side effect of certain medication including Prednisone, anti-seizure drugs such as Potassium Bromide or Phenobarbital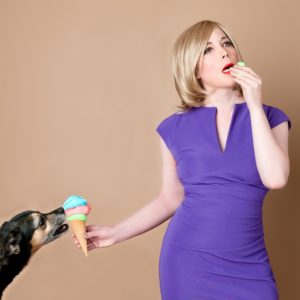 Eating fatty/greasy foods (like when people slip their dogs food at holiday time)
Regular diet high in fat
Eating from the garbage
Found something on the street or in the park during his walk
Hypothyroidism
High levels of fat in the blood (lipemia)
Cushing's Disease
Trauma to the pancreas/hit by a car…conditions that may affect blood flow at the thoracic-lumbar junction, the region that supplies blood to the stomach and pancreas. That weakens the pancreas and increases the chances of pancreatitis
Abdominal surgery
Older dogs
Overweight dogs
Diabetes mellitus
Genetics
Dry food/ processed foods/high carbs mostly grains
An interesting fact
Just because your dog is on a low fat diet, doesn't mean he can't develop pancreatitis. Simply eating a large amount of fatty food at one time can cause acute pancreatitis, which is why it's so important to watch what your dog eats and discourage family and friends from sneaking him table scraps.
How to diagnose pancreatitis
Your vet can get a pretty good indication of whether or not there is a possibility of pancreatitis based on what you tell him about your dog's condition and symptoms.
Because Red has chronic pancreatitis, she is treated right away because we know what it is. A blood test is done, if I want, to confirm whether the pancreas is affected although that particular test cannot tell you to what extent.
The steps your vet will take to make a diagnosis may depend on the vet. What do I mean by that? I used to go to an animal hospital in Florida where the staff would always order the most expensive and invasive tests first. Other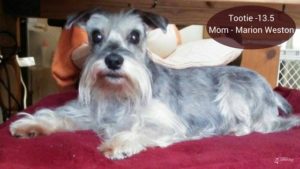 vets prefer to start simple and depending on what, if anything those initial tests reveal, more complex tests would be needed.
Your vet will typically start with blood and urine tests as many can be done in house with relatively quick results. Depending on what he finds, or doesn't find in some cases, x rays and/or an ultrasound may be needed.
It is possible your vet may wish to repeat some of the tests at a later date to monitor your dog's recovery.
Treatment
Whether the cause is known or not, your vet's primary focus will be on keeping your dog comfortable, free of pain and hydrated.
I discussed my vet's treatment protocol for Red, but things may differ in your dog's case.
Treatment is based on dealing with dehydration and restoring electrolyte balances through IV and fluid therapy, controlling other symptoms such as nausea, diarrhea and pain with medications, and providing nutritional support.
If pancreatitis is due to a side effect of medication, your vet will discontinue the medication immediately.
At home
You will be given medications to administer at home over the course of a week or two depending on what's needed. You may be given antibiotics, anti-nausea medications and a nutritional support paste until your dog is back to eating normally.
Some rehydration support may also be recommended for a few days.
A low fat, bland diet will be prescribed, the length of time to be determined by your vet, depending on your dog's condition. It may be just until he recovers, or a permanent move. 
If you follow a more natural or holistic diet and the recommended one is not, voice your concerns, learn what ingredients should be avoided and why. Bring the packaging of the food you prefer, to see if it's suitable.
Will your dog need to be hospitalised?
It depends on how severe the pancreatitis is and your dog's overall health. A few hours of fluids at the practice may be enough, while some dogs may need 3 days. If the practice does not have overnight staff, or you know your dog will not do well being left alone, it is possible you may be allowed to bring him home overnight and go back in the morning. Your vet will discuss your options with you.
Prognosis for recovery
Pancreatitis can be unpredictable, and the prognosis for recovery can depend on a variety of factors, the number one being how quickly it is diagnosed and treated. Dogs can usually recover from mild cases. Even those whose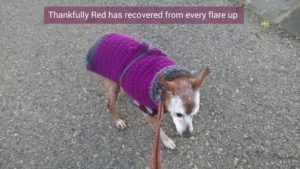 cases haven't been caught quickly have a chance for a good outcome, but a lot will depend on the experience of the vet and the treatment plan prescribed.
Managing pancreatitis
It's great to know the condition can be managed, and your dog can lead a normal life. However it does require vigilance and cooperation from other household members.
Pancreatitis is not a "one off" condition. It is very possible your dog can be affected again, which is why it's so important to follow the prevention guidelines and the advice of your vet. You want to do what you can to decrease the likelihood of another attack, but if it does happen you'll be better prepared.  
Prevention
You won't necessarily be able to prevent pancreatitis from ever happening, but there are precautions you can take to minimize the likelihood:
Keep your dog at a healthy weight

Avoid high fat dog foods and treats

Don't let anyone give your dog human food or table scraps

Make sure your garbage is out of reach

Be sure your vet is aware of all medications your dog is taking

Since many cases happen over the holidays when rich fatty food is in abundance, be extra vigilant about what your dog is putting in his mouth, and keep an eye on anyone slipping him food.
Ask your vet about digestion support
What is the best diet for a dog with pancreatitis?
As I mentioned earlier I had a real struggle trying to find the right diet for my dog, particularly because her kidney issues are such a factor. Red is now eating Hills Prescription i/d (low fat version) along with boiled chicken breast and a mixture of whole grain rice, quinoa, peas, broccoli, carrots and squash.
Before I settled on what I am now feeding Red, I did a lot of research
There are a lot of vets, like mine for example, who highly recommend prescription diets. Things like…
Hills Prescription Digestive Care i/d

Royal Canin Veterinary Diet Low Fat Gastro Intestinal

Purina Pro Plan Veterinary Diets Canine EN Gastroenteric
On the flip side, others prefer a homemade diet of good quality protein and carbs consisting of ingredients such as…
Skinless chicken breast/Rabbit/Turkey/Eggs

Whole grain rice

Quinoa

Sweet potatoes

Pumpkin

Squash to name just a few
I read coconut oil is recommended because it is a medium-chain triglyceride (MCT), a fat that does not need pancreatic enzymes for digestion. Remember Red's first pancreatitis episode was from tiny amounts of coconut oil!!
Whatever direction you decide to go in please remember – LOW FAT and consult with your vet or holistic vet.

Dogs and pancreatitis – Conclusion
Sometimes your dog being sick is just your dog being sick, and other times it is much more serious. If your dog is vomiting, has diarrhea or lost his appetite, call your vet's office immediately. Let them know of your concerns, and be sure to mention anything your dog may have eaten. Pancreatitis can attack fast, and attack hard, so the sooner you start treatment the better your chances of a positive outcome.
If you have a dog with pancreatitis, or have experience with this condition, we would love to hear your experiences, just leave a comment below.
Get your FREE report – Tell Tail Signs Your Dog May Have Dementia
I would like to invite you to join Senior Dog Care Club, my Facebook group for senior dog parents. There you will find lots of helpful tips and advice, a place to ask questions and share experiences. I look forward to welcoming you.