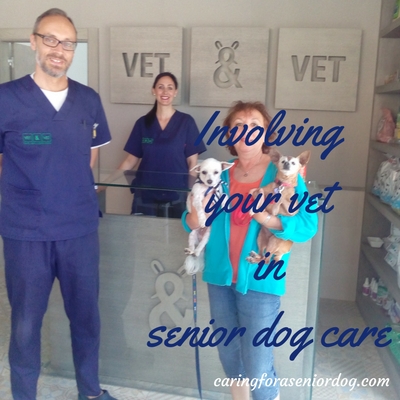 I cannot overstate the importance of involving your vet in senior dog care.
I rely on my vet so much to help me care for Red, at times I feel like my life revolves on him and his schedule. I'm so worried when he's not around, I'm terrified of what will happen to Red since there's not much choice where I live, and I wouldn't trust her life in his colleagues' hands.
Okay enough of that, let's begin.  
Your first step
If it's been awhile since your dog has been to the vet I strongly recommend you make an appointment for a health check. I know you haven't felt it was necessary because your dog is fine, but the reality is – subtle or even obvious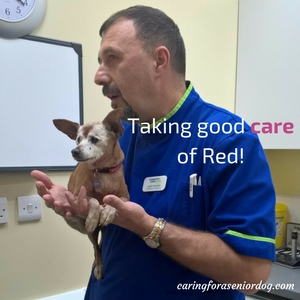 signs are often missed because they are attributed to the natural aging process. Also, dogs are very clever at hiding pain so he could be experiencing a fair amount and you may not realise.
During the check up your vet will have a listen to his heart, feel for lumps, bumps and abnormalities, check his teeth, eyes and ears and likely take blood and a urine sample.
I advise you to bring a urine sample with you so they don't have to try and squeeze it out of him if he doesn't feel like peeing on demand. It's true!! The urine sample should reach your vet within two hours of collection, and be caught mid-stream. Don't refrigerate it!
The next step
At your appointment your vet will discuss his obvious findings, then wait for any test results to come back before he can present you with a treatment plan.
Some of the obvious issues may be your dog's weight and the state of his teeth. Fat and obese dogs are at greater risk of serious health issues, not to mention increased pressure on joints, leading to pain.
It is often the case that dogs' teeth are in terrible condition. For some reason we tend to ignore, or are simply unaware of, the importance of good oral hygiene and the impact dental disease can have on their overall health. The problems may be minimal, or will require dental surgery, your vet will give you his recommendations.
The "plan"
Your vet will create a health care plan based on your visit and test findings, and it is critical you follow it, otherwise what was the point?
[bctt tweet="What's my secret to keeping Red as well as possible? It starts with amazing vets I trust." username="petcrusader"]
At home care
In addition to following your vet's advice, there are lots of things you can do at home to offer your senior dog the best care possible.
Brush your dog's teeth daily, or as regularly as possible. If that's not going to happen, water additives, dental powders sprinkled on food, dental chews and toys are all helpful. It's a case of doing the best you can and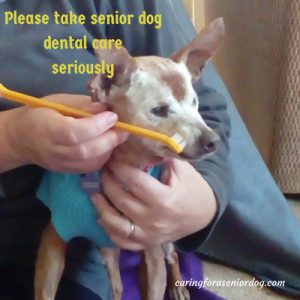 something is better than nothing
Dehydration can be a problem in senior dogs, and dangerous if ignored. Have clean, fresh water available at all times, and if your dog has trouble moving around put a few bowls around the house so he's never far from a water source. Go to him and offer water if he doesn't seem to be drinking enough on his own
Follow the weight loss program your vet has provided you with, and do not sneak him treats on the side
Pay attention to any changes in behaviour, no matter how slight, and alert your vet immediately
Give your dog the recommended supplements and/or medications, and if you feel he is recommending too many drugs have a chat about alternatives, or visit a holistic vet
Make sure your dog is getting some physical exercise, appropriate to his abilities
Provide mental stimulation in the form of puzzles, interactive or treat dispensing toys 
Include him in family outings as long as he's feeling up to it. Mobility aids such as ramps and strollers are wonderful products that will be a big help
How much I rely on my vet to help me care for my senior dog Red
A bit of history
As Red got older and her medical problems increased, so did the amount of drugs she was prescribed. It got to the point where every time I brought her to the vet with a concern, she was put on another medication. Of course if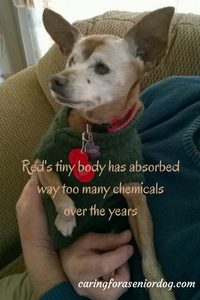 it's necessary it's necessary, but surely alternatives can be effective as well! The problem is, I've never had a holistic vet or any that offered alternative treatments.
She was put on a prescription heart food many years ago, but when kidney problems developed she was switched to a kidney diet. If you read the ingredients it's shocking. Where's the nutritious food?
My wonderful holistic vet Pepe
You may not be aware we spent the past four months in Spain, where I had the pleasure of meeting a wonderful holistic vet to help me care for Red and Jack. I had wanted holistic care for Red for a long time, but distance and circumstances prevented me from making that a reality. Before we left I did my research, so we were ready to get started not long after we arrived.
Our first meeting

 
I immediately liked him – his obvious compassion for the suffering of animals in Spain, dedication to his patients, philosophy about pet care, availability 24/7 and house calls to boot! 
During our first meeting he spent over an hour getting to know me, Red, asking about my concerns and discussing how I care for her. I had sent him a list of her medications in advance, as well as the name of the food she was on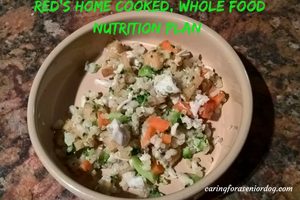 so he would be prepped.
He was truly horrified by the number of drugs she was taking each day, and sad because of the stress and damage it was causing her little body. He was also less than pleased with the diet she was eating.
In order to get a clear picture of Red's medical condition he took blood tests. In addition to checking for the "usual" he also runs more specialised tests to gather information vets don't typically look for. Once he got the results back, he created a recipe for a whole foods home made diet tailored specifically for her needs, not a generic one he recommends to every patient.
The next thing he did was replace three of her medications with supplements. He wanted to take things very slowly which is why he chose only three. He also asked me to stop giving her two he felt were not necessary, and we left the rest as is.
Another aspect of caring for a senior dog Pepe believes very strongly in is acupuncture, as he feels it is critical in helping get the body back into balance. He recommended twice weekly to start, with a view to reducing the frequency. I was concerned how Red would handle it given that she's blind and wouldn't know what was going on,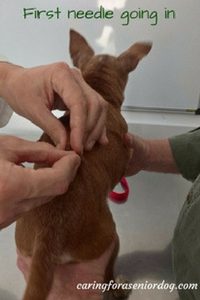 but she was okay. He played her favourite calming music, Through a Dog's Ear, which helped. We went twice a week for about 3 months.
Pepe's attitude about the role of a veterinarian in our pets' health
Contrary to the recommendations of yearly checks, twice yearly for seniors, or the "once in a blue moon" visit for a problem, he believes it takes:
Kind and caring pet parents

Better relationships between people and their vets

People following the vet's advice

A whole foods home cooked diet

Acupuncture

Supplements

Medications when necessary
Involving your vet in senior dog care – conclusion
I hope I managed to convey how important it is for me to have a vet I trust, and how much I rely on them to help me care for all my animals, but especially my 16 year old, the love of my life, Red.
I don't believe she would still be here if I wasn't so diligent in her care, and didn't have the standards I have for her vets.
How much do you involve your vet in your senior dog's care? Sharing helps others so leave your comments below or on my Facebook page.