As the years pass, it's more important than ever to keep your older dog active, yet the opposite seems to happen! As our dogs age, many of us get a bit lazy about keeping them active.
I guess we figure that they're happier just lying in their bed sleeping, so we leave them to it.
Trips to the dog park have dwindled, and you can't remember the last time you taught him to do a trick.
Time to stop that right now! They're old but still here, and if you want to keep them here as long as possible, some physical and mental stimulation can be a big help.
Let's get cracking and start figuring out how you're going to keep your older dog active, physically and mentally.
Exercise
Just because your dog can't run like she used to, doesn't mean it's an all or nothing deal. Don't tell me she doesn't get a bit depressed sitting around the house! Okay, she's not jogging with you anymore, but she'd probably still like a walk. Just watch your pace! Let her enjoy the sights, sounds and smells of the great outdoors. Bring along a dog stroller, so when she's had enough she can be wheeled home in style.
She may not be chasing balls anymore, but how about a game of tug?
Did she love to play with her doggie friends, but now she's in isolation because she's slowed down? Invite some "calm" dogs over to play, or arrange to meet somewhere. I bet she misses them!!
If your dog really has a hard time walking, keep it short and sweet. How about taking her swimming? It's great exercise, easy on the joints, and perfect for a dog with arthritis.
Teach your old dog new tricks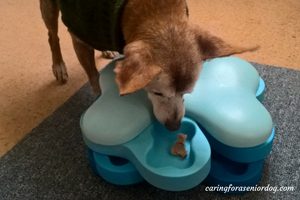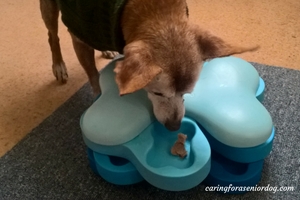 Not only do senior dogs needs physical exercise, but they also need mental stimulation to try and stave off cognitive cognitive decline, not to mention protecting them from depression and boredom.

Set up mini training sessions, teach her tricks she already knows, and come up with a few new ones.

Surprise her with new toys, but give her only one at a time, make them last.

Try some interactive or puzzle toys – hide treats your dog has to find, by moving levers or sliding open little doors.
Buy her a rubber toy and stuff it with some tasty treats, or part of her meal. It will take her longer to eat, and keep her busy figuring out how to get it all out!

I assume you have always had a routine for your dog, but if you haven't now is the time to start. A predictable schedule will help reduce anxiety and confusion.

Hide healthy treats around the yard, and let her figure out how to find them. It will keep her mentally stimulated, and give her some exercise, at her pace.

Take her travelling or on day trips. Let her see and experience new things.
So it's decided!! Help your dog stay active and you'll improve your dog's quality of life, and yours.
What are you doing to keep your older dog active physically and mentally? We'd love to hear your helpful ideas so please leave them in the comment section below or my Facebook page.