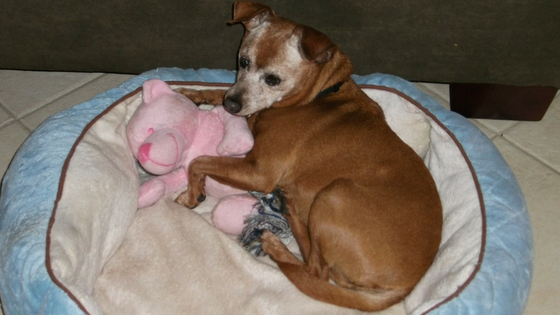 As many of you know, I foster and adopt senior and special needs dogs so I've learned a thing (or more!) about keeping them comfortable.
Things change as they age, just like they do for us, and what worked when your dog was 3 or even 9 may need some tweaking today.   
UPDATE: Red, the star of this article, this website, and the love of my life died April 18, 2018, three years after this post was originally written. I have updated it to the present tense.  
*There are affiliate links in this post, so if you buy something I may receive a commission. This has no effect on the price for you*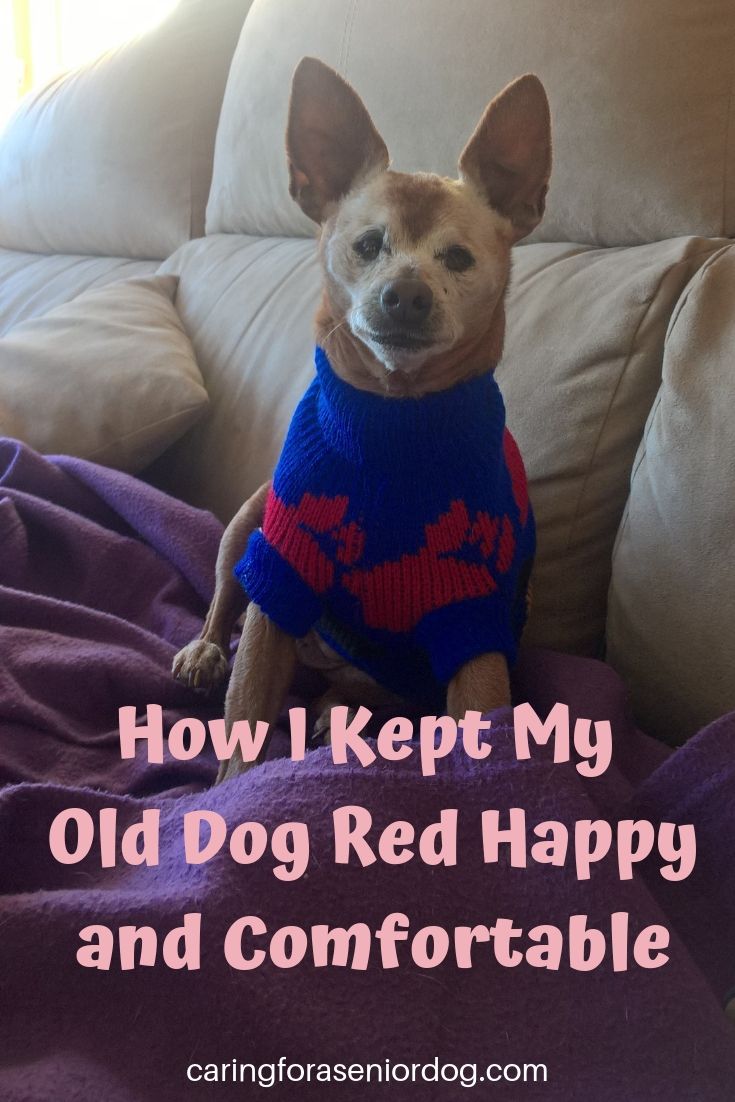 How Red came to be the love of my life 
When my husband and I lived in Florida I volunteered in the "oldies room" at Tri County Humane Society, and that's where I met Red. She was a Chihuahua/Min Pin mix, with a hint of Rhodesian Ridgeback! That's right, there is that telltale ridge down her back, even though I can't convince my husband of her lineage. We actually met a couple in the park a few weeks ago who had a Ridgeback, and I pointed out the similarities. Still no luck but that's okay, because I know the truth!
Anyway, she was around 8 years old at the time, obese and blind but with the sweetest nature you'll ever meet. What can I say, we fell in love with each other, and every Sunday when I went to volunteer she would jump around, so excited when she heard the sound of my voice. I would always walk her last so we could spend a long time cuddling outside.
As soon as we brought her home we took her to the vet to start her on a weight loss program, and an eye specialist to find out if her blindness was reversible. Sadly it wasn't. We were told it was due to glaucoma, a very painful condition. Her eyes were about to pop out of her head, and I mean that literally, so to relieve the pressure and kill the tissue an injection (I wish I could remember what it was) was given in each eye. You could see her eyes start to shrink quite quickly, and knowing she was out of pain was a huge relief. 
Sleeping arrangements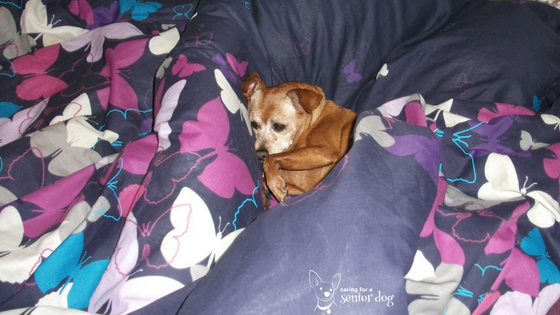 I absolutely must have animals sleeping in bed with him, otherwise it feels too empty. Yes my husband is there but let's face it, it's not the same!
For the first few years Red slept tucked under my arm, and we would stay like that all night. When we adopted Saffy, a puppy mill rescue, she was so terrified she only found comfort with Red, so she left our bed to keep her company. After Saffy died and Red started having to pee more frequently, it was safer to have her sleep in her own bed, the floor covered in pee pads. Naturally her bed was on the floor right next to my side, how far away do you think I would let her go!!
One winter she discovered the joy of sleeping on a comforter (duvet to some!), so that became her new bed. We had one in the living room, another in the bedroom. She loved the extra padding it gave her, and they were light enough she could scrunch them into any configuration she liked. Although she wore a sweater for warmth in the winter, I always kept a fleece blanket on her beds in case she got cold. It was too cute watching her wrap herself in one, like she's in a cocoon.
The type(s) of bed that suits your dog at one stage of life may not suit at others, so it will probably be a case of trial and error finding the next favourite.  One thing I do look out for, especially if a dog has arthritis or some joint issues is, if you're looking for a bed with raised sides so your dog can rest his head against it, be sure the front is low for ease of access.
Bathroom breaks and accidents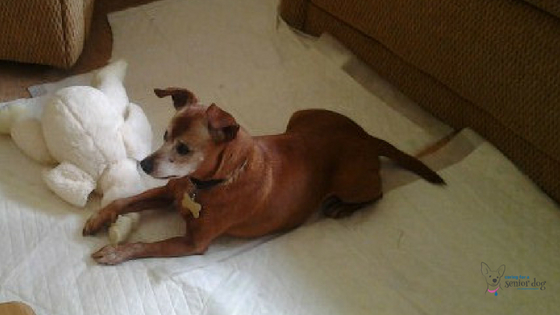 With age comes more frequent pee breaks, and with certain medications, even more! I took Red out quite often, and at night I covered the area where she slept with pee pads. The fact that Red was blind meant I couldn't just put a couple down and teach her to find them. Sometimes, no matter how many times they go out accidents still happen, and no matter how many pee pads you put down, they find the one tiny exposed spot!! Not much to do but blot the stain and use a good cleaner…and overlap them even more!
Many people have successfully used diapers, whether they are doggy diapers or those made for human babies. Sanitary pads can be put inside and suspenders attached to keep them up. They are available in washable and disposable versions. I don't have any experience with them, but I know many people who do and they're very happy. 
Visiting the vet
I have had some wonderful vets over the years, and I've had the misfortune of meeting others who did not deserve the title. I am extremely fussy about the vet I choose, always have been, and even more so after several unfortunate and two deadly experiences. My current vet is a rock star whom I trust completely, and I don't think Red would have lived as long as she did if not for him. At one point I was also taking her to a holistic vet for acupuncture treatments, and supplements/herbal remedies that replaced drugs when possible.
Because a small thing can become a big thing very quickly, particularly in old dogs, I went to the vet at the slightest change. I knew Red extremely well so anything out of the ordinary, no matter how minor it seemed, merited a phone call for an appointment. The thing is – I was never wrong when I suspected a problem.
Nutrition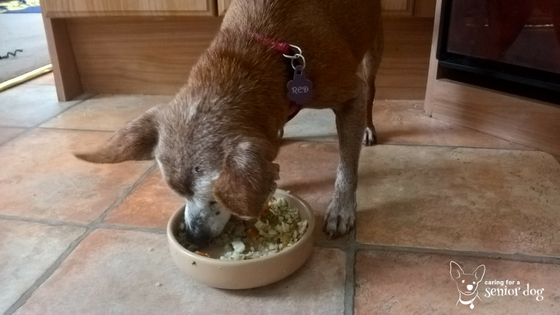 This to me is the most complicated topic of all. There is so much conflicting information, how do you know who or what to trust? Many vets believe in prescription diets, while others see no nutritional value. Raw food? Dehydrated? Freeze dried? Wet? Dry? Wheat free? Added omega 3s? Senior dog food because my dog is a senior? Yikes!!
For many years Red was on a prescription diet, first for her heart than her kidneys. My vet believes very strongly in the science behind them, and in their efficacy. To be honest, I too saw first hand how much they helped Red.
I had always wanted to take her to a holistic vet, but they just don't exist where I live. When we went to Spain for 4 months I needed a vet and found Pepe!! He was so amazing, and the approach he had to pet health care was not something I had ever experienced. Our first appointment was over 1 hour long, and we talked about everything from Red's health conditions and lengthy list of medications, to how she was as a "being" – her personality etc…
Anyway, it goes without saying (although I'm saying it!) my holistic vet was not impressed with her prescription food. After taking blood tests, he created a recipe for a home cooked whole foods diet tailor made for her based on her results. Her meal consisted of boiled chicken, cooked broccoli, brown rice, quinoa, raw apple, raw carrot and olive oil. 
I kept Red on that diet once we returned home, but sadly it wasn't sustainable. It became too difficult to follow two vets with wildly different approaches, when one lived in another country. The decision to not rely exclusively on that diet came when her urea levels rose, which is a measure of kidney function.  My vet believed it was because she was not eating her prescription k/d, my holistic vet said it was a coincidence!! I compromised and fed her both!!
The absolute best advice I can give you when it comes to deciding on what to feed your senior dog is to do your research. Learn about the various options available, including pros and cons.
Speak to other dog parents to find out what they feed their pups and why

Consult a canine nutritionist

Find a raw food expert like Dr. Ian Billinghurst 

Join a FB group but be wary if it is sponsored by a pet food company, or one brand is being promoted

Have a chat with your vet
Eating and drinking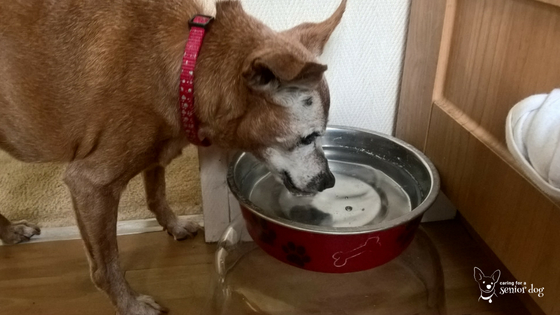 At one point I decided to raise Red's food and water bowls off the floor. She didn't look like she was having any trouble reaching them, but I got this thought into my head that it might be more comfortable for her if they were elevated, and I do believe it was.
You can find some beautiful adjustable bowls out there, but I went the DIY route and put the water bowl on top of an upside down glass casserole dish, and at meal time I held the bowl for her. Believe me, using the casserole dish as a stand was the best possible use for it!!
Medication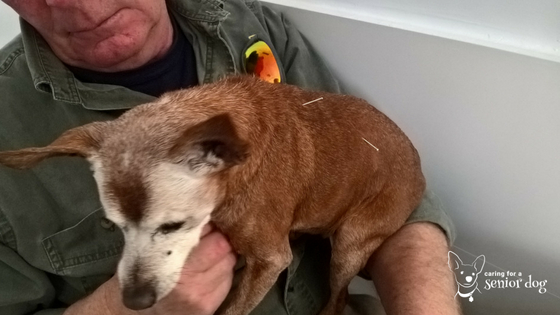 As Red got older, the amount of medication she was on increased. It seemed like every time I went to the vet with a problem, I came out with more drugs. Obviously I was grateful there was also something I could do to help, but sometimes I just wanted a natural option. At least my vet is always open to hearing about natural and will advise when he can. 
Not surprisingly, my holistic vet was shocked at the amount of drugs my little dog's body was expected to process. Of course there are times when drugs are necessary, and I will without hesitation use them, but in many instances a homeopathic remedy or herbal supplement can do a good job, if not a great job. For about a year I was able to replace her heart medication with a supplement, which I was very happy about. Just like with the homemade diet, once we left Spain and returned home I kept it up for awhile, but it wasn't sustainable long term. 
Acupuncture
As you can see in the picture above, Red had acupuncture. As part of Pepe's approach to natural pet care, he believed regular acupuncture was important for an animal's overall well being. Red went twice a week for almost 4 months. To be honest I never noticed an obvious difference while we were doing it, but once we got back home and the treatment stopped I noticed a massive difference. She seemed a lot more frail, like she had lost vitality.
I finally found a holistic vet to do acupuncture here. She was too far away for her to be our only vet, but we turned the appointments into day trips. Her practice was in a small town we loved anyway so it was an outing for us and other dog Jack. Red got both needle and laser acupuncture but she was never as relaxed as she was with Pepe. I stopped it because the stress it caused her wasn't worth it. 
Dental care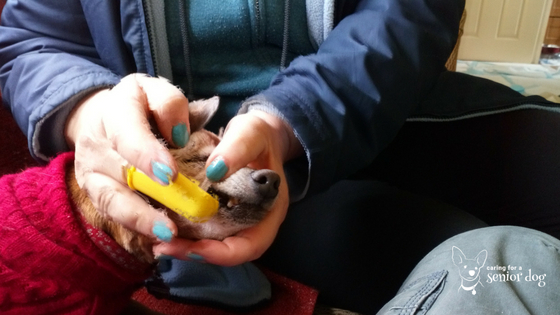 Good oral hygiene is critical for overall health, and yet Red made it impossible for me to do a decent job. I should say any job! She weighed just under 10lbs, but when she clamped her jaws shut nothing was prying them apart. Even my vet needed back up!
The thing is, if your dog has bad breath you know there's a problem so I suggest you visit your vet sooner rather than later. Your dog may be in pain (you know what a tooth ache feels like!!), and really bad dental disease can lead to organ problems. Your vet will let you know what's going on, and whether or not surgery is recommended. Discuss the risks and see if he can give your dog the mildest anesthetic available. 
It's really good to know how many dental care products for dogs there are on the market, so no matter how difficult your dog is, there should be something you find that will work.
I used a cotton pad wrapped around my finger with some dental gel on it, and while it was still an epic battle it was easier to get my finger in her mouth than a toothbrush. Since she got so stressed I could only do it for a few seconds, but it was better than nothing. I also sprinkled Plaque Off powder onto her food. Other options are dental chews, bones, chew toys, water additives and the like. I try and go with the more natural products rather than chemical laden ones.
Wardrobe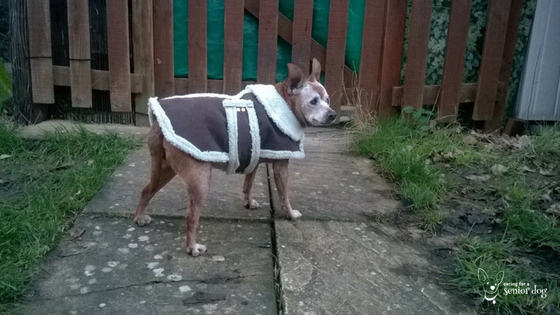 I'll be honest – I don't like when people dress their dogs up like dolls. However I do believe in dogs wearing coats and sweaters for protection in the cold and rain. Red felt the cold more than she used to, and a Florida dog living in England definitely had to get used to some chillier weather. She wore a sweater indoors several months of the year, and a coat on top of that when she went out in the really cold months. I bought a lot of her sweaters in WalMart, and I crocheted a few of her coats. Because of her size I can make one from scratch in an evening. I've included the video if you want to give it a try, and you don't have to have any crocheting experience to do it!! 
Grooming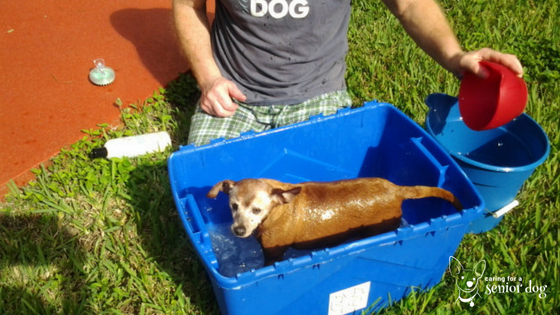 Red's fur didn't grow so all she needed were baths (which my husband did) and her nails clipped, which we had done at the groomer or vet's office. No matter how old a dog is they still need to be groomed, but of course you have to be careful of painful joints which can make it hard for them to stand for long periods of time. Failing eyesight may make them nervous when they never used to be, and lumps and bumps mean greater care taken when shaving them. Having your dog groomed is also a good chance to check for any growths or changes that would otherwise go unnoticed.
If you'll be taking your dog to a new groomer and he does have some issues, be sure the groomer is comfortable with whatever  is going on. We had a deaf and mostly blind dog and it was impossible for us to find one who felt comfortable grooming her. I ended up buying clippers and doing it myself while my husband fed her constant treats. Anti anxiety medication, for both of you (LOL) may help if it's become stressful. 
Be careful of slippery flooring
Dogs of any age can easily injure themselves sliding across an uncarpeted floor, but an older dog who may be suffering joint pain or be unsteady on their feet can have a hard time getting around. Our kitchen is not carpeted and when Red was jumping around waiting for her food, she did tend to slip so I had to watch her until she got the bowl in front of her. 
Area rugs, yoga mats, interlocking foam or rubber mats, anti slip socks and Dr Buzby ToeGrips can all help your pups get traction on slippery surfaces.
How I exercised Red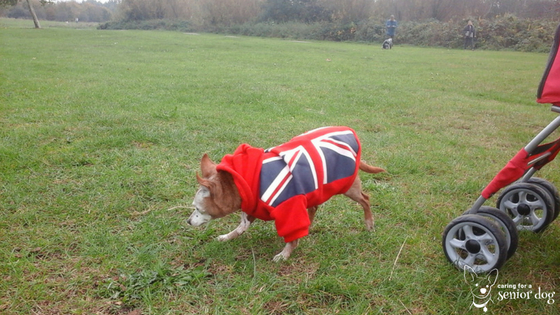 Dogs of all ages and abilities need some form of exercise, the type and frequency will of course depend on the individual dog. Red went out several times a day, sometimes just for a quick pee, but about four times a day for a walk. She walked well but I kept each outing to about 10-15 minutes or so. If I joined my husband when he took our other dog Jack out, or we took a day trip, I brought her stroller. She walked for awhile, then rode the rest of the way. The bonus is there was room for Jack if he got tired, needed a break, or for safety in large crowds.
If any of you have a dog with mobility issues, exercise is still important although I know it can be challenging. A sling or harness can offer your dog the extra support to help get him moving. Don't forget all the treatment options available as well!
In addition to physical exercise, all dogs need mental stimulation. Keeping the brain active staves off boredom and behaviour problems, and can help with the effects of doggie dementia. Interactive puzzle toys, treat dispensing toys, Kongs and games are all great ways to provide mental stimulation.
How I kept my old dog Red happy and comfortable 
As our dogs age we're always looking for ways to ensure their comfort. Well, now you know what I did for Red and I hope you have found some of my tips helpful for your dog as well.
What types of things do you do for your dog? Sharing helps others so leave a comment below.