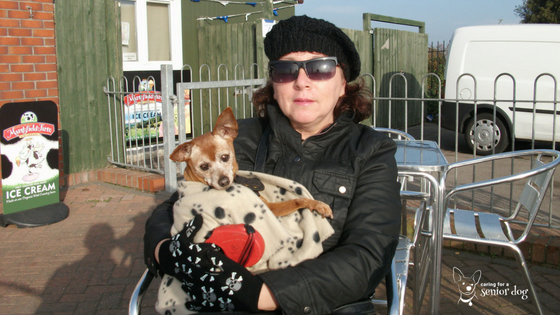 You never know how you're going to grieve, or what you'll find the hardest to cope with, until that time when you say goodbye.
I knew Red's time with me was drawing to a close, and I used to think about what life would be like without her.
Having spent almost every moment of the past 9 years with her (except for when I was on vacation), I couldn't imagine a life that didn't include her. She was around 8 when I brought her home, and being blind she did require some extra care. Of course as she got older and her health issues started she became my entire focus, and every day revolved around her.
I also have another dog named Jack, so between his long walks, feeding both (Red multiple times a day), making sure she ate on those days she wasn't interested, and keeping her comfortable as she snuggled next to me on the couch, my writing was done in the quiet moments in between.
Naturally I knew I would be heartbroken and devastated. I knew I wouldn't be sorry to see the pee pads off the floor, and I assumed I would be churning out articles like a machine with all the free hours (yes hours!!) I would have.
And then she died….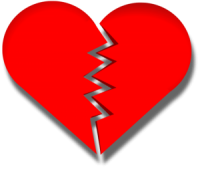 I am heartbroken and devastated, and as predicted I'm thrilled to not see pee pads covering every square inch of my carpet, but the rest of it is a surprise.
I'm lost.
Every day consisted of a routine 100% dedicated to Red's care, and now I have all the time in the world and I don't know how to fill it. It's been almost 2 weeks so I'm slowly starting to write again, and popping into my FB group to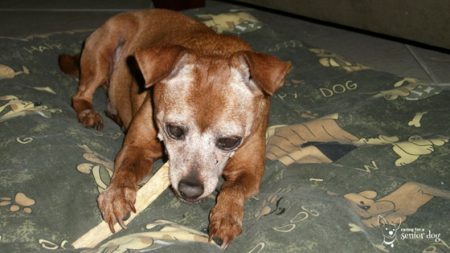 comment, lend support, welcome new members, but it's a struggle.
I've lost my muse and the inspiration behind my articles. I feel like a phony, writing about senior dogs and their care when I don't have one anymore. The experiences are still there, my desire to help is still strong but the passion has faded. I'm sure when I welcome my next old dog into my home it will return, but for now I'm just going through the motions.
The kindness of strangers
The support and genuine outpouring of emotion from fellow bloggers and group members has been overwhelming, and I don't seem to have the perfect words to express my gratitude. Take note – this is all from people I've never met.
Where is the kindness from people I know?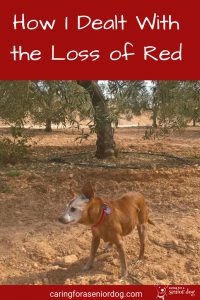 Remember when I said you don't know how you'll handle things until they happen? I'm experiencing rage, something I never could have predicted. Don't worry not the dangerous kind where I'll do something stupid, but a slow simmering disgust and bitterness at every single person I know who has not bothered to say "I'm sorry."
It makes me feel like Red didn't matter. Boy did she matter.
What's interesting is, most aren't people I call friends so I'm surprised I care so much. Having said that they certainly are at the very least acquaintances, people I've known for years who I chat with when I see, which is almost daily. So yes I absolutely expect it. Not a word!
I don't care if they're uncomfortable, I care even less if their "reason" is because they don't want to upset me. I lost Red, I couldn't be more upset. A simple "I'm sorry" is all it takes…but nothing.
Of course death is a very uncomfortable subject and no one knows what to say, but I can't imagine chatting with someone I know who suffered a loss and pretending nothing happened. I'd feel like crap.   
I'm as uncomfortable as the next, but the first thing I say is "I'm so sorry" and then I say "I know there's nothing I can say that will help." It breaks the ice, it eliminates the awkwardness, and most of all I've offered some comfort to someone who is grieving.
My two so called friends who I met because they're neighbours…the silence from them is deafening. Yes they offered condolences when I saw them, but that was it. Yes they both know I like to be alone, but how about a text?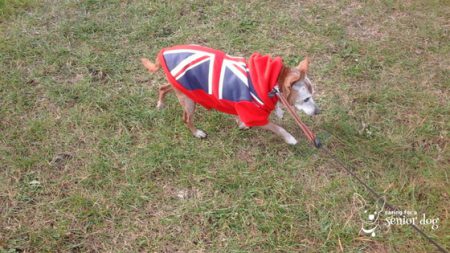 No awkward encounters, just a kind gesture. I intellectually know I matter to them, but that's nowhere near enough for me to ever have anything to do with them again. They know how much I loved Red, but if that isn't enough they certainly saw my support for them when they had surgeries. I'm afraid them telling me I can talk to them when I'm ready isn't enough, not by a long shot.
Do you know two of the people I'm talking about are nurses, one a health care worker? Isn't their behaviour even more outrageous!
My vet's office was no better
My vet is amazing, and I know for a fact Red would not have been with me all these years without him. I also know they dropped the ball. I don't know if Red's ashes arrived yesterday when I called to find out where she was, or were sitting there a day or two. Ashes come in you call, that's it.
You send a condolence card within a day or two, and take a minute to make it sound heartfelt.
My previous vet would send a handwritten card, signed by him, the next day. You can't imagine how much that always meant.
The card I received from this practice would have been okay (barely) for someone they've only seen a handful of times…but us! I couldn't even count the amount of time we spent there and how well they knew both of us, yet not a message from the vet or anything remotely personal.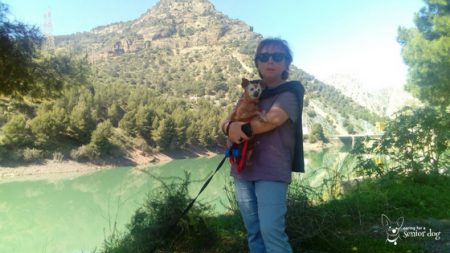 When I picked up Red's ashes yesterday I brought the card along. I spoke to one of the staff (Helen) who knows me a long time (as they all do) and calmly expressed my opinion about the lack of effort or anything heartfelt. She told me it was their "standard" response, but she also agreed we deserved better. I told her not to bother asking them to send me another because it would have no meaning.
Let me back up a bit.
When I first walked in yesterday Helen gave me such a warm and genuine hug. She loved Red, as they all did, but wasn't there when it happened, so it was the first time she had seen me. That hug showed me compassion and that Red and I mattered. She told me she had wanted to call the next day, but the staff told her not to because I was too upset.  
I know they were trying to be considerate of my feelings, I just wish they had realised how much her gesture would have meant.  
Am I being too hard on people?
I suppose some may think I am but I don't care, I will not make excuses for anyone in this situation. Even if the attitude is "she was just a dog" it's about the person grieving, me in this case and what I need, not about them and how uncomfortable they are.
Is it possible to know what will make someone feel better in this situation? I would say the answer is no, but that doesn't mean we don't appreciate knowing you cared enough to offer some form of comfort. How about a card slipped through the mailbox? Some flowers left on a doorstep? A text letting them know you're thinking about them?   
A lesson to be learned
I now know the greatest lesson Red was here to teach us is compassion.
Not just by people seeing the worth of a senior dog, how much joy she brought me, or the way I cared for her. I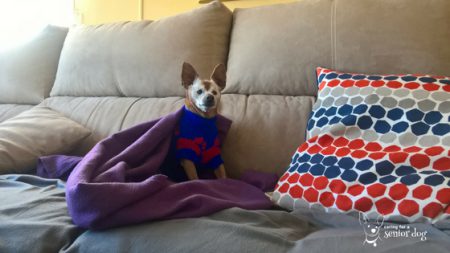 now clearly see it will be to teach people to reach out to anyone who is grieving. I don't suggest knocking on peoples' doors, goodness knows I wouldn't answer, but offer your condolences. It won't take away their pain, but I can assure you they won't be any more upset by it then they already are. What it will do is show them who they lost mattered in this world, and so do they.
My final words
No amount of comfort can mend my heart, but boy do the messages of support make me feel like Red and I matter.
I can't imagine ever looking at any of those people with anything other than the disgust I currently feel and I'm okay with that, although it makes me sad to be in that position.
Thank you Red for teaching all of us a very important and painful lesson about compassion.
You did good in this world!