Product: Lost My Doggie (National Lost Dog Recovery System)
Price: 3 packages available (FREE, from $54.95 and from $94.95)
Where to buy: lostmydoggie.com
Product specifications: Helps locate lost dogs through a variety of methods
Guarantee: It's never possible to guarantee the return of a missing pet
Refund/cancellation policy: No refunds are given on packages ordered, but there is a 100% money back guarantee on any add on service purchased if pet not found in 30 days.
My rating: 9.5/10
Lost My Doggie Service Overview

Lost My Doggie is a national lost dog recovery system, set up to help you find your missing dog. They have been in business since 2008, and their service is available throughout the U.S.
They claim to have helped reunite 40,000 dogs with their families. They believe the number could be even higher, but are unable to confirm that, because not everyone updates them when their dog is found. They admit it is not possible to determine if all the dogs were found as a direct result of their service, but they do know each one had used their service as part of their search.
They offer a choice of 3 animal alert pet packages, one of which is FREE, with the option to add more services if you choose.
Registration is simple: 1)choose the package you want 2)select "add ons" if you wish 3)fill in your contact details and information about your missing dog and within the hour, your information is out there.
They also offer a service to find missing cats.
Features
I have listed, in detail, prices and features of each package, however I will give a quick list here. Remember, not everything listed is available in every package.
*They will create a professional looking lost dog poster, and email, fax, and mail to vets, shelters and other pet related businesses
*An automatic system calls neighbours with an audio recording containing details about your missing dog
*A flyer generator means the family can quickly create and print posters to start handing out immediately
*The missing dog will be added to their database
*If a match (or potential match) is found, a text will notify you
*Posts on Twitter and Facebook
*Phone alert broadcastings take place Monday-Friday 10:00 a.m.-7:00 p.m. Saturday & Sunday 10:00 a.m.-6:00 p.m.
*There is a package to suit any budget.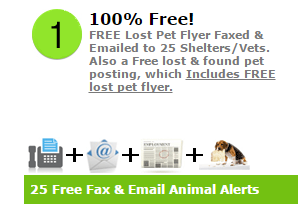 Package #1 – FREE
*a professionally created lost pet flyer, faxed and emailed to 25 shelters and veterinary offices, in at least a 20 mile radius.
*free posting on website database
*can upload one dog image to add to posting
*lost pet flyer generator to create your own professional flyers to start posting right away 
*automatic matching to lost or found postings
*email alerts when new matching found pets are added to database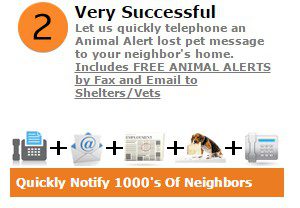 Package #2 – starts at $54.95
*includes everything from the FREE package plus…
*250 neighbours will receive a tailor made, automated audio alert broadcast to their phones, usually within one hour. Listen to a sample audio message here.
*The calls go out once. If additional calls are required, it is considered a new order.
Depending on the population of where you live, here are the costs to reach a greater number of neighbours by phone
*500 – $84.95
*750 – $119.95
*1250 – $149.95
*2000 – $209.95
*3000 – $299.95
*5000 – $399.95
(The amounts listed are not in addition to the $54.95)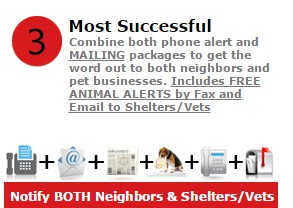 Package #3 – starts at $94.95
(calculation: 25 mailings $40.00 + 250 neighbours called $54.95)
*includes everything from packages 1&2 plus…
*mailing of flyers to 25 vets, shelters, animal hospitals, groomers and other pet related businesses.
If you would like to reach more pet related businesses with your mailings, here are the added costs
*50 – $60.00
*75 – $80.00
*100 – $100.00
*150 – $150.00
*200- $195.00
*300 – $275.00
If you would like to reach more neighbours by phone…
*500 – $84.95
*750 – $119.95
*1250 – $149.95
*2000 – $209.95
*3000 – $299.95
*5000 – $399.95
For example: if you wanted to have 100 flyers mailed, and 2000 neighbours called your total would now be: $309.95
(the amounts listed are not in addition to the $94.95)
Benefits
I know the sheer panic when you realise your dog is missing, and the realisation you will do everything you possibly can to get him back. Who wouldn't want the extra help of a professional service?
Obviously Lost My Doggie is doing as much as they can, as a company, to promote their service. The more people that are familiar with them, the more people will post on their board, the more likelihood of your dog being found.
You already have your emergency plan (if you don't, read this article to find out how to create one), so you'll be focused on implementing that. How wonderful to have a national company doing their part to help.
Most lost pet orders are processed within one hour.
They can very quickly reach hundreds, even thousands of neighbours by phone
Hundreds of vets, shelters and other pet related businesses will be notified by email, fax and mail
They have an up to date database of neighbours and pet related businesses in the U.S. (over 225million)
They have a database of over 210 million U.S. telephone numbers, with over 90% accuracy. It is maintained monthly to keep it updated and accurate
If you want proof that flyers were sent and calls were made, you can request a list and they will send it to you. If you need further proof, you can contact some of them to confirm they did receive notification.
I love the fact that, no matter your budget, you can get the help of this incredible resource. It isn't an all or nothing deal. If finances are an issue, you can get that much needed help and it won't cost you a thing. If you're able to spend a lot of money, then you take advantage of extra services.
Additional product information
The prices are one time fees. You pay for the service, and they implement the package. If, heaven forbid, your dog goes missing again, you start the registration from scratch, and pay again (if you choose anything other than the free option).

Calls go out once, and listings remain on the site until the dog is found, or the subscriber asks for it to be removed.

If an answering machine picks up, a message with missing pet and contact information is left. The number appears on caller ID so many people do call the number back.

Don't worry about those with no landline. The system calls the main emergency number on file with credit bureaus or utility companies.

Lost My Doggie is registered as an exempt organisation, so they have access to phone numbers on a Do Not Call Registry.

Pet related businesses refer to: animal hospitals, veterinarians, animal shelters, rescue groups, pet stores, pet groomers, dog walkers, trainers…
Testimonials from very happy (and relieved) clients
Kierstyn L. (PA) We found our dog Siri thanks to your site. We paid for the package that sends fliers and calls people and thanks to your calls we were able to find our dog! THANK YOU SO MUCH!!!!
Julia M. (LA) "This website does a great job with flyers! They are very effective! I found my dog after 8 and 1/2 days!"
Joy B. (NC) "I'm so happy to have found my dog. Please keep this site going, it's wonderful."
Stacy R. (VA) "I am absolutely amazed at this service. I had no idea it even existed and a friend told me to go to the website and use it when she found out my dog went missing. It is absolutely worth the money! I chose the 2nd option as to where faxes are sent out to local pet businesses and where it calls neighbors within a 5 mile radius of your address. Just a few hours after I had reported it to this service today, I received a call from a gentleman saying he saw my dog about 6 miles from my house but was not able to catch him. I headed to the location he gave me and there was my dog, laying in the middle of the road, exhausted, dirty and just waiting for me to find him. Thank you so much for this service. I would highly recommend it to anyone who loses their pet."
Brad H. "Dear Lost My Doggie I can't thank you enough for offering such an amazing service for Dog owners. Yesterday my dog (Kane) escaped the yard and was missing for nearly 6 hours. I was frantically searching the neighborhood. As you know dogs are like children to some and this is the case for me. I placed nearly 100 flyers up all over. Within 15 minutes of your calls starting I received 3 calls about my dog and he was returned to me 🙂 Thank you so much Brad"
Drawbacks
I found it very hard to understand exactly what each package offered. Even after reading them several times, things didn't make sense to me.

I had quite a list of questions, and ended up sending 4 emails for clarification.

They responded very quickly, and couldn't have been more helpful. All the answers have been included as part of my product review.

Maximum exposure is extremely costly, running into the hundreds, but I really believe choosing whatever package you can afford, even if it's the free one, in combination with your search efforts, will greatly increase the likelihood of your dog being found.

Only works in the U.S.

If the order is received during messaging times, the calls will go out immediately. If it is after, they will go out during the next broadcasting time. So if your dog goes missing at 8:00 p.m. and you choose to have calls made, the alert won't be sent until 10:00 the next morning. Having said that, the call service obviously can't be available 24 hours a day, so a cut off time had to be made.

Local, non pet related businesses, don't get notified.
Lost My Doggie is a lifesaver – literally!
I highly recommend lostmydoggie.com and I wouldn't hesitate to use it as a resource should, heaven forbid, one of my dogs ever went missing. To be honest, I can't think of a single reason not to!
Of course there are no guarantees that your dog will be found – no one can guarantee that, but don't you want to do everything possible to increase your chances? After all, your dog is a cherished member of the family. Wouldn't you do anything to get him back?
Don't wait until you hear someone you know has a dog or cat missing. Consider sharing this link widely and often, so in an emergency, action can be taken quickly.