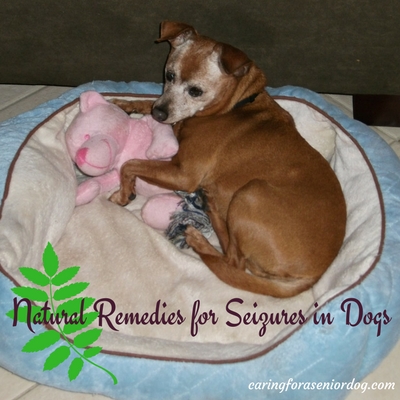 Did you know there are natural remedies for seizures in dogs?
I have to say something up front, and yes I know it's obvious but I'll say it anyway. Don't stop giving your dog his medication or add supplements without the advice of a vet or holistic vet.
Now that I got that out of the way…
A little background info
When it comes to my own healthcare I have long preferred a more homeopathic whole person approach, and I am extending that philosophy to the care of my animals as well.
Red, the love of my life, is a 15 ½ year old (approx.) Chihuahua/Min Pin mix. For too long she has been on more medication than I was happy with. Yes my previous vet was absolutely amazing, and yes the drugs were helping,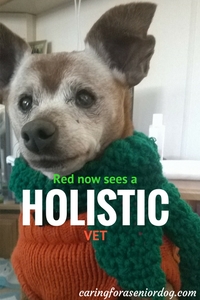 but I couldn't help but feel they may have been hurting as well. I have wanted to add a more natural element to her care, but that was not possible…until now.
She is being treated by a holistic vet, and I'm feeling really good about it. He replaced 3 of her medications with supplements, and has taken her off a prescription diet in favour of a homemade, whole food diet he created specifically for her needs. He has also recommended acupuncture, which Red will be starting this coming week.
While he agreed she has been extremely well cared for by my previous vet, he was saddened by what her little 9lb body was forced to cope with.  
Red and seizures
Red started having seizures around 2 years ago. Thankfully they are few and far between and last only seconds, so no medication is required. Having said that, I am interested in what holistic treatments are being used to treat/manage this condition.
Holistic options
I know from my relatively new experience, holistic care never consists of "one thing" as it seems to in traditional veterinary medicine. What I mean is – when Red had a problem, a drug was prescribed for that problem. Now a multi-pronged approach is being used and that has, and will include: supplements, a homemade wholefoods diet and acupuncture.
The same approach can be taken for the care of dogs with seizures, with remedies, acupuncture and chiropractic care part of the plan.  
Remedies
One article I found of interest called "8 Natural Remedies For Your Dog's Seizure" was published in Dogs Naturally Magazine. I have re-printed the recommendations below (with permission of course!).  
Aconite
Useful for both attendant and patient! The sudden onset fits the picture, and fear is sometimes seen just prior to the fit.
Belladonna
Another remedy where suddenness is a feature, together with the violence of the convulsions. There is great sensitivity during the fit, and the slightest external stimulus will keep it going. The attack usually involves a single fit rather than a cluster. As it is the acute of Calc carb, it is often of use where that is the indicated constitutional remedy.
Bufo
This has the reputation of the keynote of fits occurring during sleep. In actual fact, the link is to night and sleep combined. The other feature is worse in a warm room. There is often a howl at the start of the fit.
Cicuta virosa
A distinctive feature here is that during the spasms, the head is thrown back and to the side, so that the muzzle rests on the shoulder blade facing towards the tail.
Cocculus
A very useful remedy, its connection with vertigo gives it its place in this context.
Hyoscyamus
Related to Belladonna and Stramonium, this is also an excellent "local" remedy. Its picture is characterized by excessive movements of the face, both prior to a fit and at other times.
Kali brom
As Potassium bromide this is used as a conventional anti-convulsant and it is also employed as a homeopathic remedy. The timing of the fits is often linked to estrus, and there is marked excitement before they start.
Silica
Silica, having both convulsions and "ailments from vaccination" in its picture, is extremely useful when seizures are vaccine induced.
For additional holistic treatments, I was interested in what this article "Holistic Treatments for Epilepsy in Dogs" had to say.
I hope you will find the information as useful as I have.
Natural remedies for seizures in dogs – conclusion
Whether you are a staunch believer in "natural" all the way, or you've been hearing a lot about holistic care and are curious, I do hope that you found this post on natural remedies for seizures in dogs informative and perhaps even eye opening.
Does your dog experience seizures? Do you treat him with medication or holistically? Has the information presented here gotten you curious about a more natural approach? I would love to hear from you so please share your story in the comments section below, or on my Facebook page.