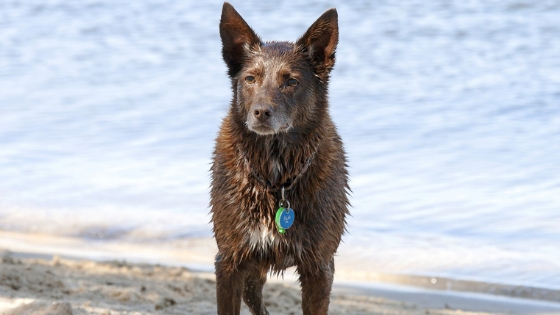 It's scary dealing with any health issue, but seizures in senior dogs is a whole other frightening category, at least it was to me. Nothing freaked me out more than hearing Red having a seizure. That's right I said "hearing" because the first time it happened I only heard it, and that was enough to stop my heart.
Before I talk about my experience, let's see what seizures in senior dogs is all about.
**There are affiliate links in this post. If you buy something I may receive a commission, which has no effect on the price for you.**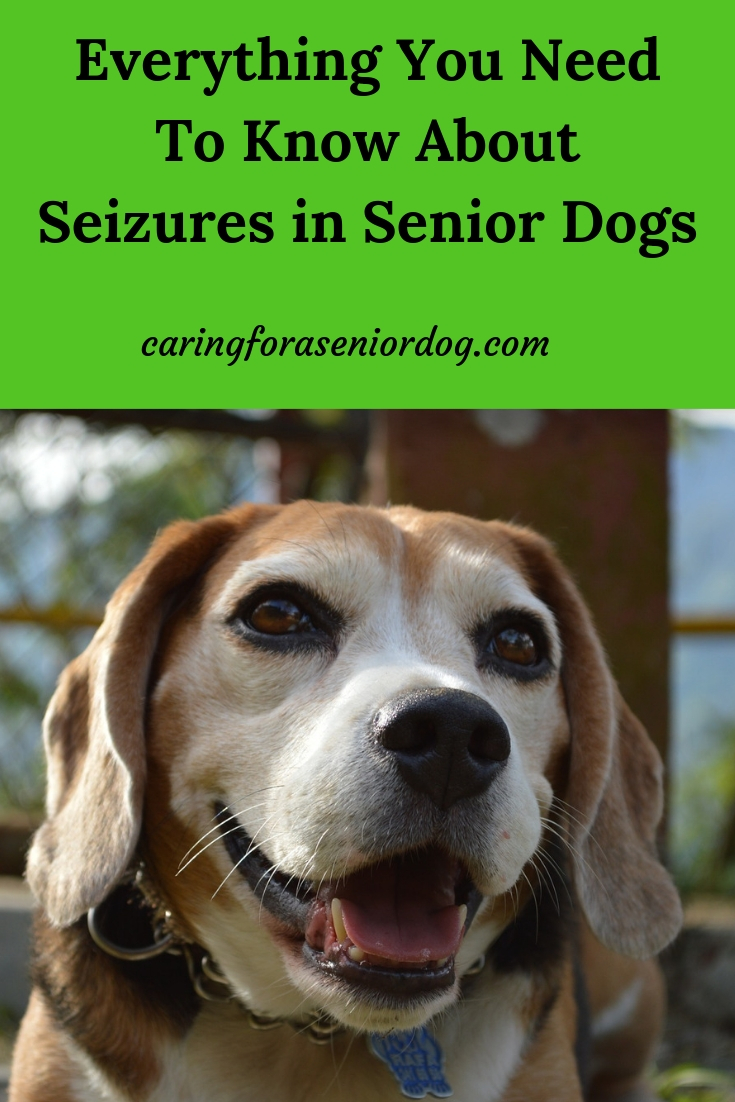 What is a seizure?
A seizure, as explained by Dr Karen Becker is an "abnormal unanticipated electrical activity that happens in your pet's brain."
What is the difference between seizures and epilepsy
Epilepsy refers to repeated seizure episodes or chronic seizures.
Is it possible for my dog to just have one seizure and never again?
I'm afraid that's very rare. According to the Fitzpatrick Referrals website (a well known specialist hospital in the UK) "It is possible for most epileptic animals to have an excellent quality of life. However, epilepsy is a chronic and occasionally progressive disease that will need to be managed. Rarely, an animal may have a single seizure and not seizure again. An animal that has more than one seizure is expected to have more frequent or severe seizures in the future. There is evidence to suggest that early treatment in the course of the epilepsy can provide a better long-term outcome."
My experience with seizures in older dogs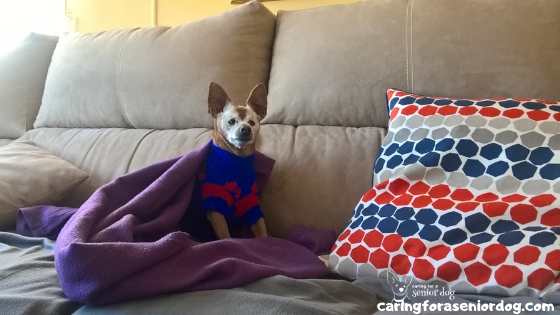 I may not recall the date of Red's first seizure, but I'm very clear on the rest of the terrifying details. I was watching TV in the living room around 11:00pm, and Red was on her bed just on the other side of the couch, out of my line of sight. All of a sudden I heard a loud bang, and horrific cry so I jumped up and saw Red lying in her bed shaking. Instinct took over and I picked her up to comfort her. She seemed partially awake, peed all over me and the carpet, and after a few seconds she was fine and went back to sleep like nothing happened. Of course I ran and woke my husband, then called the emergency hospital. They calmed me down and assured me there was no reason at that point to rush her in, unless she had another seizure. They told me to call my vet in the morning which I would have done regardless.
I asked them what to do should it happen again, and it turns out I did everything wrong but with great intentions. I was told not to pick her up while she was having a seizure, and to turn the lights off. Needless to say I watched her like a hawk that night.
I was such a wreck every day for weeks after that first seizure. I constantly wondered if today would be the day it would happen again, and I would hear that blood curdling scream. Over time I finally stopped expected her to have a seizure, but I still worried. She only ever had a few thankfully, and they all followed the same pattern. Each was late at night while she was sleeping, starting with a heart wrenching cry, peeing on her bed, then carrying on sleeping.
Until late Satruday night Dec 17th 2016 I had only ever seen her mid seizure, never from before it actually happened.
That Saturday we were driving from England to Spain, and close to midnight we stopped at a hotel overnight. The dogs were with us in bed (I wasn't going to let them sleep on a hotel room floor!!), and Red was lying next to me. All of a sudden I noticed her starting to twitch and I immediately said to my husband "Red is going to have a seizure." Her head went back, all four legs stretched out in front of her and her body started to shake. As usual it lasted just a few seconds and she carried on sleeping like nothing happened. Thank goodness I had the foresight to put blankets under her.
We never knew why she got them and because they were so infrequent and lasted just seconds, the vet didn't feel medication or further action was needed and I agreed. I did express my worry Red could have a bigger seizure one day, so he gave me a syringe of rectal Diazepam should she ever suffer a more severe episode. I definitely felt so much better knowing there was something I could do to help her quickly.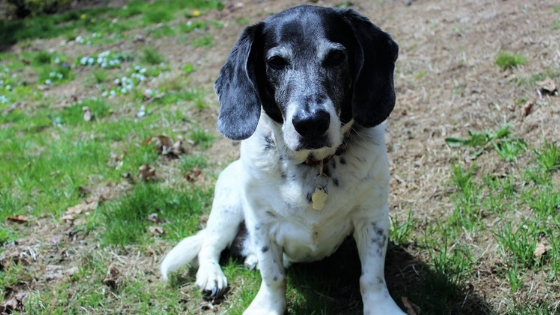 What cause seizures in older dogs
I probably should say dogs of all ages, but some are more common in old dogs.
Parasites

Low blood sugar levels

Trauma

Liver disease

Poor circulation

Calcium deficiency

Genetics

Brain tumours

Rabies

Heat stroke

Exposure to toxins

Blood or organs issues

Underactive thyroid (hypothyroidism)

Some breeds may be predisposed to them
In senior dogs they are most often associated with:
Brain tumours

Liver disease

Kidney disease

Insulin overdose in diabetic dogs

Cushing's Disease (not the disease itself but some of the issues associated with it)
It is not uncommon for older dogs to develop seizures which are idiopathic, meaning there is no known reason for them.
I watched this video by Dr. Karen Becker and I highly recommend you do as well, lots of great information.
Signs your dog may be having a seizure
Uncontrolled twitching

Loss of bladder and/or bowel control

Trembling

Falling over

Leaping in the air

Pacing

Drooling

Disorientation

Vomiting

Paralysis

Temporary loss of sight

Inability to understand commands
A seizure doesn't look one way. It could be nothing more than a slight twitch that lasts a second, to full on uncontrollable shaking that lasts minutes.
What to do and what not to do when your dog is seizing
Don't panic. Easy to say, hard to do. When Red had her first seizure I was completely clueless, and boy did I panic. When I called the emergency hospital they told me not to pick her up in the middle (too late, I already had!), and turn off the lights, which I can't imagine would help because Red was blind.
In an article written for the American Kennel Club website called "Seizures in Dogs", Dr. Jeff Grognet recommends the following if your dog is having a seizure –
Keep yourself safe. Seizing dogs can bite without warning.

Do not pull the tongue. Dogs don't swallow their tongues.

Using a hind leg, pull the dog away from furniture and stairs.

Cover with a blanket to reduce the light, and turn down sources of sound.

If the seizure continues, put an ice pack on the spine at the back of the ribs.

For transport to the hospital, use a blanket like a hammock to keep the dog, and yourself, safe.
The 3 stages of a seizure
Pre-Ictal
There are many possible signs that indicate a seizure will be coming and can include:
Whining

Fear

Aggression

Clinginess

Barking

Crying

Howling

Losing their balance

Pacing

Drooling
In Red's case each one started with a heart stopping (for me) horrible high pitched cry. My vet said it was because she knew something was happening, but didn't know what.
Ictal
This is the stage when your dog will experience a seizure, the symptoms of which will vary depending on its' severity. They can be anything from growling and twitching to violent spasms and convulsions.
Post-Ictal
This is the recovery stage, when your dog will feel the seizure's effects.
He may be:
Disoriented

Weak

Sleepy

Temporary blindness
The amount of time he will be feeling the effects will depend on how severe the seizure was.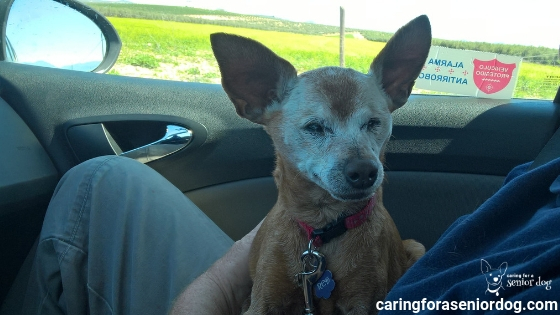 Are seizures painful or dangerous?
They are painful for us to witness, but not painful to the dog. Having said that, here is what the VCA Hospitals have to say in an article on their website called "Seizures in Dogs."
"Despite the dramatic and violent appearance of a seizure, seizures are not painful, although the dog may feel confusion and perhaps panic. Contrary to popular belief, dogs do not swallow their tongues during a seizure. If you put your fingers or an object into its mouth, you will not help your pet and you run a high risk of being bitten very badly or of injuring your dog. The important thing is to keep the dog from falling or hurting itself by knocking objects onto itself. As long as it is on the floor or ground, there is little chance of harm occurring.
A single seizure is rarely dangerous to the dog. However, if the dog has multiple seizures within a short period of time (cluster seizures), or if a seizure continues for longer than a few minutes, the body temperature begins to rise. If hyperthermia (elevated body temperature) develops secondary to a seizure, another set of problems need to be addressed."
Effects of a seizure
Here is what Dennis O'Brien, DVM, PhD, Diplomate, ACVIM, Specialty of Neurology, University of Missouri, College of Veterinary Medicine has to say about the effects of seizures.
"Most seizures are brief, and with proper treatment, the pet can lead a normal life. None-the-less, seizures are serious business and even short seizures can cause brain damage. That damage tends to be cumulative over time. If the seizures are short, the main effect is an increased chance of another seizure in the future. Thus, there is a tendency for epilepsy to get worse over time, especially if left untreated.
If a seizure goes on for more than 30 minutes, the pet is liable to suffer serious permanent brain damage. This can be manifest as a change in personality, or loss of memory for things such house breaking. Occasionally the pet may be left in a coma from the seizures. The seizure also creates a tremendous stress on the heart and other organs. The body temperature may get very high from all the muscle activity and the animal may not breath adequately. Sometimes the stress is too much and the pet may have a heart attack and die. Fortunately this is rare."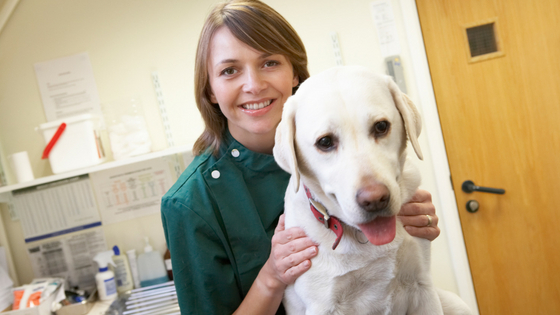 What to expect at your vet appointment
Naturally you'll be seeing your vet as soon as possible after your dog's first seizure. I was on the phone the next morning the second they opened and was in my vet's office not long after.
I am a big believer in making notes ahead of an appointment, no matter the reason for it. We're stressed and afraid because of what our vet may tell us about our sick dog, combine that with knowing he or she has only a limited amount of time to spend with us, and we find ourselves forgetting crucial facts or questions.
As soon after the seizure as you can (assuming it wasn't severe enough to rush your dog to the vet), write down as much information as you can.
Time

Date (so you and your vet can track frequency)

what you witnessed

What you heard if you didn't see anything

What was your dog doing right before it happened?

How long it lasted

How did he act after it was over

How long did it take him to get back to his usual self

Have you noticed any unusual behaviour in the hours or days leading up to this seizure?

Have there been any changes in your dog's environment lately? His schedule? Diet?

Any new supplements or medications your vet may not know about?
Once you've discussed what happened, your vet will examine your dog. That may include taking his temperature, as well as blood and urine for testing, especially if it's been awhile. Some tests can produce results in just a few moments, so it's a good idea to wait.


How to diagnose seizures in older dogs
Seizures in senior dogs are often the result of an underlying medical condition so your vet will decide what kind of tests, if any, he feels are required. They can be things like blood and urine, as well as CT or MRI.
Whether he starts investigating immediately or prefers to adopt a "wait and see approach" is something you will discuss with him. In Red's case it was "wait and see" and no testing was ever done.
Treating seizures in elderly dogs
Whether or not you are prescribed medication is of course up to your vet, a decision based on frequency and severity of the episodes. Red did not take any, yet a friend's senior dog was given something daily.
According to Dr Ernest Ward in his article "Seizures in Dogs" I referenced earlier, dogs are given anticonvulsants if –
A dog has more than one seizure a month

Had clusters of seizures where one seizure is immediately followed by another

Grand mal seizures that are severe or prolonged in duration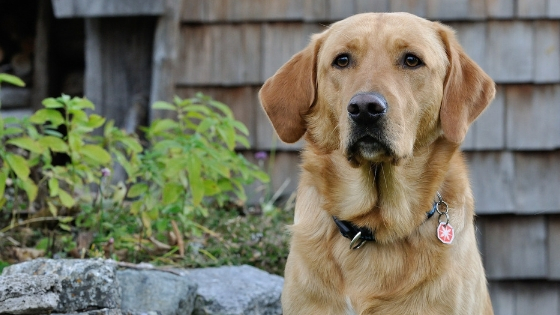 Treatments
Phenobarbital (PB) – Long term use can damage the liver, so blood tests will be needed to check function. This article "Phenobarbital" will tell you all about this medication.  
Potassium bromide (KBr) – To learn more visit this article "Potassium Bromide: Is It Safe for Dogs?" published on the FDA website.
Diazepam – According to "Benefits and Uses of Diazepam" on the Diamondback drugs website "As an anticonvulsant, diazepam may be used in veterinary medicine for the treatment of seizures, whether due to toxic shock or status epilepticus. However, since dogs develop a tolerance rather quickly, diazepam is not typically selected for the continued management of seizures."
Gabapentin – A drug I know is used by so many senior dog parents to help manage pain, it can also be helpful in this case when used in combination with other treatments. Here is a resource for learning more about Gabapentin and the abstract of a study called "Improving seizure control in dogs with refractory epilepsy using gabapentin as an adjunctive agent."
Felbamate (available under the tradename Felbatol®) – An anticonvulsant which isn't typically given as the first option, only after other drugs have been tried and not been effective. For more information – "Using Felbamate to Treat Epilepsy in Cats and Dogs."
Keppra – A prescription medication used alone or in conjunction with other anti seizure drugs, it is considered relatively safe and doesn't seem to affect the liver or kidneys. Learn more about it in this post "Side Effects of Keppra for Dogs."
NuLeaf CBD Oil – It's hard to miss all the talk about CBD oil, and some of the incredible success stories from dog parents who have seen amazing results. They report dementia symptoms lessened, mobility increase and pain decrease, but from what I gather it is less well known as a seizure management option.
One of my FB friends posted a video of her dog having a seizure, and after putting a couple of drops on his gums it stopped. I know going near a dog's mouth while he's having a seizure is dangerous, but she managed just fine. It obviously wasn't her first time.
With the sheer volume of companies producing CBD oil how do you know which one to buy? They are definitely not all created equal but I do know many members of my FB group have used the brand NuLeaf and love it. I did a podcast with a rep from the company, and although it's a bit lengthy (she was very excited about the product!!) there's some great information. If you would like to purchase NuLeaf CBD Oil.
This article, "CBD Oil For Seizures in Dogs" is a good place to start. 
Here is an interesting study of the efficacy of CBD oil in humans 
Belladonna 200C – You may have heard of Belladonna the toxic plant? Did you know it could also help manage seizures in dogs? This abstract called "Clinical Management of Idiopathic Epilepsy in Dogs With Homeopathic Belladonna 200C" is very interesting and encouraging. It's about a one minute read and time well spent.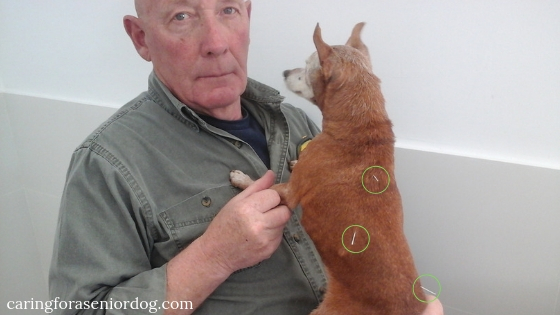 Acupuncture – I took Red for twice weekly acupuncture sessions over the course of 3 months. It wasn't for seizures but rather as part of an overall wellness plan created by her holistic vet. During the treatments she seemed like the same dog I'd always known, but when we stopped them I noticed an obvious a loss in vitality.
There is some good evidence that acupuncture can help dogs with seizures, and you'll find more about it in these articles –
"The Problem With Seizure Medications and a New Therapy to Consider"
"Acupuncture therapy for the treatment of intractable, idiopathic epilepsy in five dogs"
Important things to consider 
If you do decide to add natural treatments no matter what condition you're dealing with, and you will be dealing with more than one vet, communication is key. Everybody involved in your dog's care must be aware of what's going on because failure to keep everyone in the loop can harm your dog.
Don't suddenly stop giving an anticonvulsant to your dog, you need to speak with your vet if you're having issues and he will advise on what to do.  
What you can do to help your dog
Give him as much love as you've always given him
Don't drive him crazy by smothering him because you're so worried
Do be aware of any changes that are happening, and with experience (hopefully not too much) you'll recognise the signs earlier and earlier
If he is about to have a seizure turn the lights off, turn the tv and radio off and remove any sharp objects or anything in the area he could possibly hurt himself on
Keep a seizure diary for you and your vet and include the following information –
Date

How long it lasted

Severity

Anything obvious that may have brought it on

His behaviour post ictal (after the seizure was over)

Seizures in senior dogs – conclusion
I know how scary it is, particularly when you know nothing about seizures (like me) and are feeling so helpless you don't know what to do (like me again). I know this article is long and intense so take your time, read through it and save it as a reference.
If I could give you one bit of advice based on my experience (other than reading this article of course!), it would be to not spend your time waiting for the next seizure to happen. Live your life, enjoy every moment with your fur baby and the next time, which hopefully won't be for a very long time, you will be better prepared.
Additional resources
My fellow pet blogger, Dorothy Wills-Raftery is a wonderful source of information. Her website is called fivesibes.com, and I have linked to all her posts regarding canine epilepsy, therapies and treatments.
If you'd like to learn more about how to help your dog in a more natural way, here is a list of Traditional Chinese Veterinary Medicine practitioners.
To find a holistic veterinarian visit the American Holistic Veterinary Medical Association.
Has your vet been able to determine the cause of your dog's seizures? Is he or she on medication? Sharing helps others so feel free to share in the comments below.
Get your FREE report – Tell Tail Signs Your Dog May Have Dementia
I am pleased to announce my new One on One Senior Dog Care Support Service. It is a private session tailor made to your concerns – behaviour, nutrition, health challenges, quality of life, pet loss and grief.
**I would like to invite you to join Senior Dog Care Club, my Facebook group for senior dog parents. It is a wonderful community where you will find lots of helpful tips and advice, a place to ask questions and share experiences. I look forward to welcoming you.**
For lots of great advice from the "experts" please subscribe and tune into my senior dog care podcasts. New episodes are always being added so check back often.