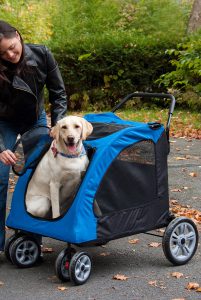 The Pet Gear Expedition Pet Stroller is worth looking into if you have a large dog. Sometimes it seems most of the strollers are made for small dogs, so it's always nice to see a stroller that will help a bigger one get around. Advertised as suitable for up to 150lbs, I had to do some further investigating.
Let's look more closely at these features.
Get more information and buy now on Amazon.com >>>
Rides low to the ground
It's quite easy to pick up a small dog and put him in a pet stroller, but try that with a dog weighing 150lbs!! This low riding stroller means your dog can walk in on his own. If he is too lame even for that, a folded up blanket placed on the floor in front of the opening should do the trick.  
Easy to assemble
Another key feature is ease of assembly. I am hopeless at putting most things together (mainly from lack of patience or interest), so having a stroller that I can easily put together is a definite bonus.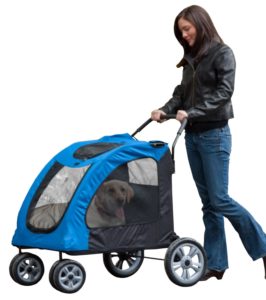 This point is often commented on by other purchasers as well.
Features and Specifications
Large protective pet compartment

Sturdy frame

Rides low to the ground for easy entry

Waterproof floor

Adjustable height handle

Adjustable stroller height to handle 40 ¼" to 42"

Internal pad

One pocket with snap and one small net pocket

Easy fold mechanism

Front swivel plastic wheels (front wheel 8 ¼", back wheel 11 ½")

Rear brakes

Bug proof mesh that provides air circulation

Ideal for pets up to 150-pounds
Get further details and buy now on Amazon.com >>>
Customer Scores
I found 210 customer reviews at the time of writing and they had awarded the Pet Gear Expedition Pet Stroller 4.1 stars out of a possible 5 on average.
What buyers are saying
"This is a GREAT Stroller. Assembly Extremely Easy. Maneuvers well. Spacious."
"I continue to LOVE this stroller. The wheels are just fine. They have enough "bounce" to withstand a few big root bumps along the walking paths in our village, and can make it over curbs and up and down several short sets of stairs throughout the village."
"My dog is 11 years old and has horribly arthritic hips. This stroller has changed our lives. She absolutely loves going for walks. I push her for about a mile, then take her out at the park so she can go potty and walk around and smell everything. Then she gets back in and we walk another mile back. I can't say enough good things about this stroller!"
"It has been a godsend for our dog."
Drawbacks
No parent tray or cupholders

No storage basket

Some users have had issues with wobbly wheels, and an axle too flimsy to support such a wide stroller

Entryway is a bit on the small side, so a bit awkward for a large dog to fit through

Realistically it cannot accommodate a dog of 150lbs 
Conclusion
I must admit I was very pleased to come across the Pet Gear Expedition Stroller, mainly because of its' claims of being able to transport dogs of up to 150lbs. If you do, indeed, have a dog of that size, this is probably not the right choice. The most satisfied users either used it to transport a few puppies, small dogs or dogs of no more than 85lbs.
All in all, the majority of users were satisfied with their purchase, and would recommend it, but again, for a dog (or dogs) that weighed no more than 85lbs.