The BestPet All Terrain Extra Wide 3 Wheel Pet Stroller is definitely worth a look if you're a fan of 3 wheels, and wanted the extra roominess to bring more than one pet on your walks. I confess I was first drawn to the leopard pattern – something different from the plain, solid colours I've been used to seeing.
Let's look in more detail at the features offered.
Get more information and buy now on Amazon.com >>>
Extra wide compartment
Now that I have 2 dogs in need of a pet stroller, the extra wide compartment is a bonus. Although they do fit in the one I have now, with Jack's spinal surgery we have to be careful how he sits/lies.
The width would make it easier for both dogs to lie comfortably, if they have to be taken out together.
Free rain cover
You can buy a rain cover for the stroller you have, but with all the money we spend caring for our pets, isn't it nice to get a little something included? You can protect your pets as much as possible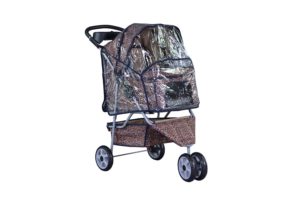 by zipping the stroller up, but the mesh will let the rain through if it's heavy enough. Having the cover is added protection, meaning the weather will no longer determine if you can take the animals out.
Features and Specifications
Holds up to 30lb

Easy fold – opens and folds in 5 seconds

Large storage basket underneath

Parent tray with 2 cup holders for treats, keys, phone, water bottles…

Access from the front and back

Front and back mesh windows for added ventilation, visibility and to keep bugs out

Canopy has mesh that can be left open to see your pet, or closed with velcro flap if too sunny

Easy zip

Easy assembly

Pad for pets to lie on

Large 6″ wheels glide easily over smooth or rough terrain

Made of tough and water resistant nylon

Free rain cover

Open Size: 33″L x 14.5″W x 38.5″H – Folded Size: 33.5″L x 17″W x 8″H – Cargo Measurement: 21″L x 13.5″W x 20″H  
Get further details and buy now on Amazon.com >>>
Customer Scores
I found 432 customer reviews at the time of writing, and they had awarded the BestPet All Terrain Extra Wide 3 Wheel Pet Stroller 4.6 stars out of a possible 5 on average.
What buyers are saying
"This is a fabulous product! The dogs & I love it!! When I ask if they want to go out in their pet buggy, they get really excited. It packs into the back of my Subaru Outback without folding down. The 2 dogs together weigh 21 pounds so they are fine sitting nicely together. I can walk through stores like Walmart & Lowe's without even zipping them inside."
"Omg the best Leapord Pet Stroller ever! I love it, I mean my lil ones love it very much????????. It was super easy to assemble in minutes. Perfect for my two pupz❤. Great purchase."
"I love this and the price was affordable. So great for my dogs to be able to go walking with me, and they can ride when tired."
"Perfect stroller for our two Shih Tzu's . Accommodates all our needs while transporting our furry friends around the community or to the restaurants. Perfect in every way."
Drawbacks
The biggest complaints have been concerning the wheels, more specifically the post that holds the front wheels came off due to rust.  
It is advertised as an all terrain stroller, and many users have not only jogged with it, but also had no trouble wheeling it over snow, ice and bumpy roads. However there are others who feel it is not truly an AT stroller, mainly because the wheels are plastic.
If your pet is elderly with arthritis for example, or recovering from surgery, think about the type of surface you will be rolling over. If you will be walking on mostly bumpy terrain, air filled tires and strollers with shock absorbers may be a better choice.
Conclusion
For being able to transport two smaller dogs at the same time, with room enough for each, this is an ideal solution. I'm always bringing supplies when I'm out and about, so having the parent tray for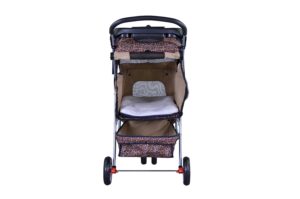 treats, and cup holders for my water bottles, means the items most used are close to hand.
The storage basket underneath can hold plenty – I bring a sun hat, binoculars, small pack of Kleenex, snack for myself, leashes, toys, raincoat just in case and there's room for more.
Plastic wheels are not the best for very rugged conditions, but you shouldn't have a problem if part of your walk sometimes takes you over bumpy roads. I would stick to smoother surfaces myself, but that's because one of my dogs is blind and I don't want to frighten her, and the other shouldn't be jostled around because of surgery.
Almost every real buyer of this product is extremely pleased with their purchase, and would recommend this stroller to others.