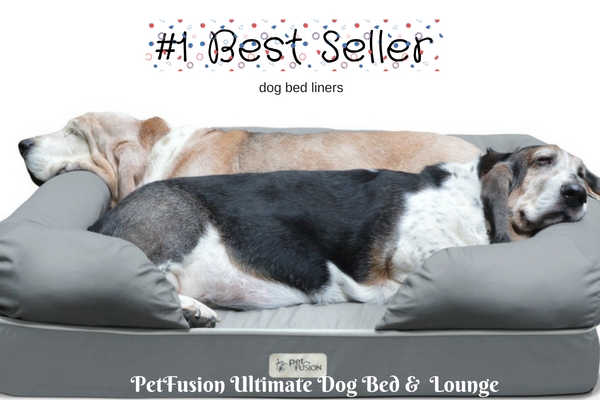 Product: PetFusion Dog Lounge and Bed
Specifications: Small: 25"L x 20"W x 5.5"H (weighs 4lbs – supports 50lb dog); Large: 36"L x 28"W x 9"H (weighs 11lbs – supports 100lb dog); X-Large: 44"L x 34"W x 10"H (weighs 19lbs – supports 150lb dog); 65% polyester 35% cotton twill; 30 day return policy; 100% customer satisfaction guaranteed
My rating: 9.5/10
Features
Solid 4" memory foam base

Recycled support bolsters (couch arms)

Water resistant and tear resistant cover

Non-skid bottom

Removable cover is machine washable

Easy to spot clean and remove hair

Easy assembly  

30 day return policy

100% customer satisfaction guaranteed
Product Overview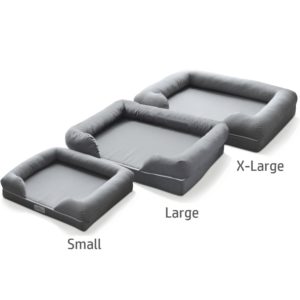 The PetFusion Dog Lounge and Bed is made from memory foam and comes in 3 sizes – small, large and extra large, a size to fit pretty much any dog.
The cover and foam insert are separate, so all you have to do is put the cover on and your dog is ready for his or her new bed. I recommend doing as the directions suggest and put the cushion into the cover immediately. Doing it before the foam fully expands makes it a lot easier because the cover is such a snug fit.
The bolsters are sturdy so any size dog's head will be nicely supported.
Suitable for all dogs, but especially therapeutic for older dogs, and any sized dog with arthritis, hip dysplasia or other joint problems that make it difficult for them to move around or get up easily.
Very spacious so one bed could accommodate multiple dogs, saving you money, just check the measurements of the sizes.
The headrest (bolster) goes almost the entire way around so lots of support. I know that's important for my pets because most of them love to rest their head against the side of a bed.
There is an opening at the front to help your dog get in and out easily – no having to climb over headrests which would be too painful for many dogs.
The water resistant cover is 65% polyester/35% cotton twill and can be removed and washed.
Solid enough to support a Mastiff or St. Bernard.
Easy to travel with because you can remove the memory foam from the cover, fold it up and take it with you.
Hypoallergenic and resistant to dust mites.
Benefits of memory foam beds for dogs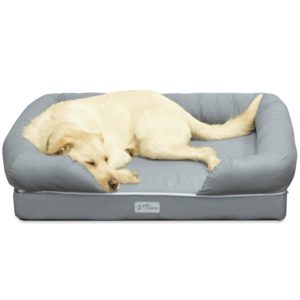 I know we're talking about dog beds, but I thought I would talk briefly about my recent experience with a memory foam mattress. I spent one week sleeping on one, and I admit that when I first saw it I wasn't too hopeful about my prospects for a good nights' sleep. Well guess what? I had 7 great nights and I couldn't believe it! It was super comfortable, conformed to the shape of my body, and I didn't do as much tossing and turning as I normally do.
So why shouldn't it be the same experience for your dog?
Pros
So popular in dog beds because of its' ability to relieve muscle and joint pain of all size dogs

Great support

Memory foam contours to the body, eliminating pressure points and providing joint support

Molds to the dog's shape yet springs back when he/she gets out

Resilient – can withstand a lot more wear and tear than a regular dog bed

Very breathable

Because it's so comfortable, it eliminates the need to toss and turn to find a comfortable position. This is important as twisting around can cause pain
Cons
Except for a few users expressing concerns over the suitability of the bed for their size dog, and a couple of stuck zippers, I can't find any faults with this bed.
Conclusion
I have found that sometimes with a "typical" dog bed, over time the cushion flattens out and there's very little support left. 
With The PetFusion Dog Lounge and Bed made from memory foam, you won't experience that problem.
With a size to suit pretty much any dog, a head rest, a lower front to make it easy for arthritic dogs to get in and out of, the health benefits of using foam, big enough to accommodate your dogs that like to sleep together, and all the other features we talked about, this bed is a great purchase. You can't go wrong.
Where to Buy