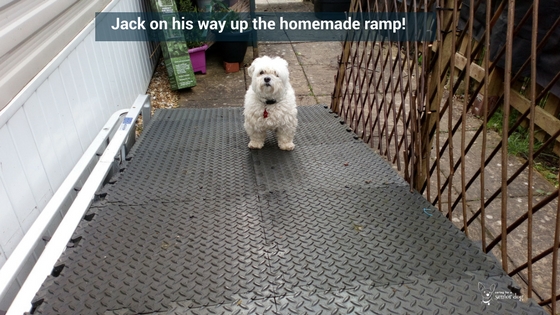 I've piqued your curiosity haven't I? Excellent!
As someone who lives with senior dogs, and dogs so neglected they have no idea how to use stairs, I love these products and would never be without one or both. I try and take pictures as much as possible, but unfortunately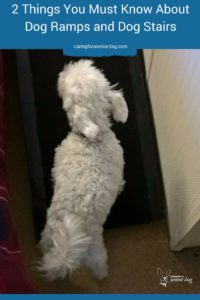 have none to show you of them being used in my house.
So what are the 2 things you must know?
What a difference they will make in the life of your pet

How much easier things will be for you.
How you ask? Keep reading as we talk about the benefits of both.  
Benefits of ramps and stairs for your dog
Help arthritic dogs get on and off the couch or bed, and in and out of the car

Senior dogs who are slowing down and could use that extra bit of help

Stops your pet from putting undue pressure on joints when jumping, reducing wear and tear, preventing injury now to hopefully avoid problems later

Dogs too small or too young to jump can still have access to the spots they like

Perfect for pets recovering from an injury or surgery who have to take it easy

Makes it easier to get into a bathtub at the groomers, or at home

Your dog no longer has to wait for help from you, and avoids injury if you aren't around and decides to jump on his own

A ramp is perfect for a dog who doesn't know how to use stairs, or has trouble using them
Benefits for you
You no longer have to lift your dog in and out of the car, or on and off of the couch

You have a giant breed that is just too big to pick up

Back or joint problems may make it difficult for you to lift even a small dog, and now you won't have to

You don't have to constantly monitor your dog, to make sure he's not going to hurt himself by jumping when he shouldn't

Even if you have nothing preventing you from picking your dog up all the time, why should you have to? 
My experience using a ramp
A few years ago we rescued Saffy, a puppy mill dog who had been kept in a chicken coop for 8 years, breeding. It became apparent quite quickly she had never seen stairs, or had any idea how to use them. Rather than try and put her paws on each step, she would literally just fall down them. Getting back up was no better.
You may be asking yourself why I didn't just pick her up and carry her. She had been so traumatised by her ordeal, being picked up freaked her out, so I certainly did not want to scare her more than she already was.
Naturally she ended up hurting her leg, not seriously thank goodness. It did, however, cause me to increase the frequency of the pleas to my husband to build a ramp for her. Because of the position of the door, no store bought ramp would fit, so it had to be custom built, and it was perfect. The incline was very gradual and she had no trouble walking up and down.
We did use a folding store bought one for the bedroom, so she could get onto the bed. That incline was a bit steeper, again because of the amount of room but it worked perfectly.
Those ramps made a huge difference in Saffy's life, and ours.
Which is better – a dog ramp or dog stairs?
The question isn't so much which one is better, but rather which one is better for your particular needs.

The main advantage of stairs over a ramp is they take up less space. They can go right up against a bed in a small space where a ramp cannot.

Stairs may not be as stable as a ramp

Depending on a dog's mobility issues, stairs may be more difficult to use

A ramp, particularly one with a very gradual incline, is likely easier for an arthritic dog to manage
Features to think about when choosing
Once you've decided whether you want stairs or a ramp, these features will help you narrow down the options, and ultimately help you choose the right one. Most of the features listed will apply to both.
Do you need something for indoor use, outdoors, or both?

What will you be using it for – getting on and off the couch? In and out of the car? On and off a boat?

Height the stairs or ramp has to reach

Maximum weight it will support

Ease of assembly

Can it be folded and stored

Portability – how easy is it to carry

Stability when set up – something that wobbles can be dangerous for your pet to use

Non slip surface – having your pet slip, especially if used outdoors in wet weather, or with muddy paws, can cause injury

How steep the slope of the ramp is   

Width

Number of steps

Height and depth of each step

Type of material

Style

Budget
Dog Ramps
Dog Stairs
2 Things You Must Know About dog ramps and dog stairs – conclusion
Anything that makes a dog's life easier and more comfortable makes me very happy. Knowing how many options there are to help senior dogs who have mobility issues makes me even happier.
Have you decided on a ramp or stairs? What made you choose one over the other? I'd love to hear how it has helped make things easier for your dog…and you. Share your story in the comments section, and feel free to send pictures of your happy pup.
I would like to invite you to join Senior Dog Care Club, a new Facebook group for senior dog parents. There you will find lots of helpful tips and advice, a place to ask questions and share experiences. I look forward to welcoming you.