So much of the way we live as humans is tied up in our ultimate demise: we vow at the marriage altar  "til death do us part, we make estate plans and write wills, and give a great deal of thought to how we want to be remembered after we pass.
Despite all of this time we spend focused on our own mortality, many of us avoid thinking about (and planning for) the eventual deaths of our precious pets.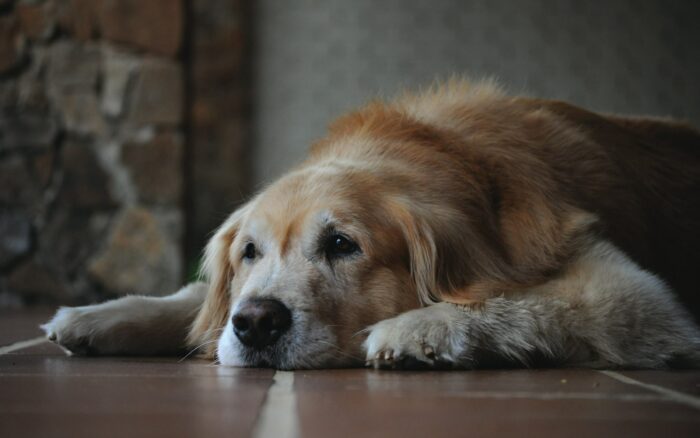 Let's face it: no one WANTS to think about this, and most of us want to believe our dogs will live forever (or at the very least outlive us).
Even if you spare no time and expense in giving your dog the best possible care, keeping them as healthy as possible with nutritious food, long walks, a cozy place to sleep, and plenty of love and affection, the day will inevitably come when it is time for you to say goodbye.
I want you to have the information to help you recognize when your dog is dying of old age so you can better prepare for it.
Since some of your dogs will pass of old age at home and not in a clinical setting, I also want to mentally prepare you for that.
Trust me, I don't like talking about this anymore than you like reading it but it's crucial information for every senior dog owner.
10 Signs Your Dog is Dying
Before we dive into the signs to watch for to know your dog is dying, let's assume this:
we are talking about dogs that have led a generally healthy life and are making it to the average lifespan of 10 to 13 years (or even longer).
These ten signs your dog is dying are specific to the natural aging process, and this list is not about looking for signs of disease or distress in younger dogs.
There are plenty of other circumstances outside of the normal aging process that could lead to death in younger dogs (such as accidents, malnutrition, or illness), but we are already tackling enough here just by looking at natural death. I won't break your heart any more than I have to by tackling those other sad circumstances!
Most dogs will exhibit some or all of these signs as the end approaches.
By preparing yourself to recognize these signs in advance, you will be better equipped to stay focused on providing the best possible care and comfort in the final days and weeks of your pet's life.
1) Decrease in Appetite
As is often the case with humans, we see a decrease in appetite as part of the natural dying process.
This may be the first clue you notice – your normally ravenous-at-mealtime dog has started leaving food behind in his bowl (or not touching it at all).
Let me reiterate that this is in relation to a mature dog; a puppy not eating her food could be a sign of other problems you should discuss with your vet.
When a dog stops eating at the end of her life, it is because her bodily organs begin to shut down. The dog no longer experiences the feeling of hunger.
This can be incredibly hard for dog owners to watch, and we may be tempted to try and "force" food down, but that will not help.
If you do want to try some "tricks", check out my article – How to Get An Old Dog to Eat.
Talk to your vet about what to do if and when your older dog stops eating.
In some cases, the vet may be able to give the dog an appetite stimulant, but this will depend on your dog's age and specific circumstances.
2) Weight Loss
With the decrease in appetite as the end approaches, dogs will naturally lose weight.
You might notice your dog is looking slimmer than usual before you actually notice they are not eating as much, especially if you have numerous pets.
Weight loss is an expected circumstance of a dog's natural death, but it should be discussed with your vet in younger and otherwise healthy dogs to rule out other problems.
3) Lethargy
Another telltale sign that an older dog is nearing his death time would be a general sense of lethargy.
You may notice your dog is less active and spends more time napping on his favorite cushion than any other activity.
The dog who once sprang up at the sound of his leash jingling as it comes off of the kitchen wall hook may now seem completely disinterested.
You may also notice your dog has abandoned her usual hygiene practices, neglecting to lick her paws and fur as frequently as she once did.
This kind of lethargy is commonly associated with a dog's final days.
4) Detachment
Along with lethargy comes detachment, when dogs seem to start "keeping to themselves" rather than engaging with their owners and families as much as they once did.
This is, of course, one of the most crushing aspects of the aging process. It is heartbreaking to see the dog who once greeted us with sloppy kisses virtually ignore us as we enter a room.
If you have children in your household, it is especially important to discuss this with them openly and help them understand why it is happening, encouraging them to be gentle and loving with their pets but not smother them in this phase.
Remember that your dog may be experiencing complete and utter exhaustion as their organs begin to fail. They simply lack the energy to be as "social" as she was in her younger days.
As hard as it is to accept this new dynamic, be sure to approach your old dog gently and calmly (setting an example for the kids) and offer affection without overwhelming them.
Imagine your dog is telling you the classic breakup line: "it's not you, it's me," and try your best to give her enough space, no matter how hard that is for you.
5) Incontinence
As is the case for humans, dogs also face incontinence as they age.
Despite how well they were once trained to "hold it," an older dog simply loses the ability, and their muscles weaken, making it harder for them to control bladder or bowel movements.
The same pads you used for puppy training may be a necessity in your household once again in your pet's final days.
You may also need to add protective liners to their bedding and be prepared to wash dog bed covers often.
The same goes for any furniture your dog sits or sleeps on. You will want to keep everything protected with waterproof coverings at this late stage.
6) Gum Color Changes
This one is a surprise for many dog owners: the color of your dog's gums may change as they approaches the end of life.
A healthy gum is normally pink (think bubble gum pink), but as a dog dies, its gums may fade to a palish white or even blue.
If you sense your dog is ill, pulling back their flews (the flaps of skin that hang over their mouths) to inspect their gums may help you determine this.
The gums will change color as a dog is dying due to decreased or reduced circulation.
This can also occur when dogs are anemic, which can be a result of a bleeding cancer. Vets should be consulted for the best course of treatment in such cases.
Speak to your vet about these gum color changes and be sure they are also checking them at each visit.
7) Decreased Thirst
While you may notice the decrease in your pet's appetite first in many cases, a decreased amount of thirst is also likely to follow.
While you should continue to make fresh water available in a clean bowl, placed within easy reach of your dog should they need it, do not be surprised if your old dog stops drinking.
The energy it takes to drink and swallow may be too much for your pet in their final days.
However, be sure your dog always has that clean water if they want it.
8) Restlessness
While some dogs will simply lie still and sleep as they die, others may show restlessness as they are simply uncomfortable as their bodies age and their organs begin to decline.
If you have ever spent a considerable amount of time in bed while sick, this feeling is familiar.
No matter how often you turn from side to side, adjust your bed pillows, or add or remove sheets and blankets, you simply cannot get comfortable.
Imagine this is how your dog is feeling.
If your older dog seems restless, try making a sleeping or resting area that is as comfortable as possible.
Try adding or removing blankets or pillows until you see that they have finally snuggled into what looks to be a comfortable position.
9) Pain
While it is incredibly hard to watch our pets experience pain, the reality is that pain will be present for many of them in their final days.
Your vet may be able to provide medications to minimize pain.
This is an important topic to consider and discuss with them long before it is needed (more on that below).
10) Labored Breathing
Heavy or labored breathing is another common sign that your older dog may be in the natural stages of dying.
You may notice that your dog's breathing pattern seems different than normal or they may seem winded even with little to no activity.
Any or all of these signs should indicate to you that your older dog may be close to dying.
Talk to Your Vet in Advance About End of Life
When any or all of the signs above occur, you want to be prepared to make your pet as comfortable as possible and work with your vet as needed to treat and medicate them.
Rather than making such decisions in a panic, you should think about how you want to handle your dog's final weeks and days well before they begin to show these signs.
As morbid as it seems, you should have these discussions with your vet at routine and regular checkups.
Ask your vet these important questions:
Are diagnostic tests necessary when a pet is passed a certain age?
What sort of things can your office do to help mitigate pain in older animals?
Do you provide euthanasia services at home if requested? Do you also coordinate pet removals from homes?
What are the main signs you look for to determine when to suggest to the client that euthanasia is the best possible response?
While these are not conversations many pet owners want to face, they are important ones.
Additionally, it offers you a chance to better understand your veterinarian's treatment and care philosophies and make sure they are a good match for you.
Just as we often seek second opinions from doctors or leave a medical practice if we do not feel good about the quality of the care offered, you can and should feel empowered to do this for your pet.
You can tell a lot about a veterinarian by the way he or she discusses the death of pets!
What to Expect When Your Dog Dies at Home
While the obvious answer is grief (and plenty of it), we will get to that below.
I want to first take you through a sort of practical exercise to prepare you for things that may happen when your dog dies, so you will not be surprised or unprepared.
Your number one priority will be care and comfort in the final days and hours of a dog's life.
Their bodies will cool, and you will want to keep them covered with a blanket.
Be sure you are not smothering them, though, with a heavy blanket. Lighter blankets are best for comfort.
Just before and when the death occurs, you will probably see the following:
Bowels and Bladder Empty
In many cases, a final emptying of the bladder or bowels will occur just before or exactly when the dog passes away.
As the body dies, all muscles relax, which means that the bowel may empty even if the dog has not been eating.
Bodies still produce waste that needs to be eliminated, so you should not be surprised if your dog has some diarrhea in her last moments.
This is why you want to keep plenty of towels and sheets on hand in those final days and hours, keeping either the dog bedding or furniture protected.
Nerve Reflexes
Many dog owners will see their dogs twitch or jerk in the moments after death, which can be extremely disconcerting. This is a completely normal part of the death process.
Energy remains in bodies even after they die; think of it as the body expelling that last bit of energy is saved.
This can come out in the form of a twitch or jerk, and it can also be expelled as a sigh or a gasp.
These are normal reflexes and occur as dogs die, just as they do many times when humans die.
Eye Changes
Be prepared that most dogs will pass with their eyes open.
What may surprise you is that a few minutes after death, the eye's cornea will typically change to glassy.
While it can be a difficult test, this is one way you can determine for sure if your dog has indeed died.
If you touch their cornea and do not blink, they have lost consciousness.
Heart stops
One way you will know the dog's heart has stopped is when you see no more chest movements that suggest the dog is breathing.
You can try to listen for a heartbeat with your ear or use a stethoscope if you have one available.
It is important to remember that every dog's scenario is unique.
Some will remain active right up to death; some will languish in bed for weeks.
Some deaths will be quiet and peaceful; others will be marked by restlessness and whimpers.
What I have covered here are most of the common signs and occurrences to prepare you for most of what you are likely to see; no matter how unpleasant the task (for me to write this or for you to read this), my hope is that it helps you to stay calm and prepared when the time comes for you and your special furry friend.
Cremation and Burial Options
You should go ahead and research options available to you, which could include everything from "house call" vets who will remove the animal from your home and even make an impression of her paw if requested to sites where you can (and cannot) bury your pet.
If your pet dies at home, you should expect that rigor mortis (stiffening) will occur within a few hours of death, and if possible, you should wrap your pet in old sheets or blankets that can absorb fluids or leakage.
Also, keep your pet in a cool, dry space until she can be removed from the home.
Consult a mobile veterinarian, cremation service, or animal control for assistance in removal.
If you plan to have your dog cremated with the ashes returned to you, you can expect to pay anywhere from $200 and up, depending on your location.
In most states, it is legal to bury your pet in your own backyard, but you should always check first for any specific regulations in your area.
Some owners want the pet buried in a family cemetery plot or an urn of the pet's ashes added to the casket when the owner dies.
Just be sure to research these options in advance to ensure your wishes can be carried out.
Managing Grief After Your Dog Dies
Now that I have covered so much of the practical and clinical information related to a dog's death, I want to touch on what is for many the most challenging part: the crushing grief.
The loss of a pet can be debilitating for some owners. The love and companionship our dogs give us are a sustaining force in our lives.
For many of us, dogs are an antidote to loneliness, a cure for the blues, and a way for us to find purpose.
Dogs can lift our spirits when we feel down, and they can improve our physical health just by making us more active when they are around.
Once your beloved pet dies, you may feel a sense of helplessness.
Grief is completely normal, and you should allow yourself to feel every stage, which may include:
Shock
Denial
Anger
Sadness
Give yourself plenty of time to work through these phases and remember that it is okay to experience a range of emotions.
However, to work through the grief and regain some sense of normalcy in your life, you also need to be proactive about healing.
This could take on a variety of meanings, and you can consider some of the options below:
Get out of the house as much as possible, for short walks or movies or visits with friends. Staring at an empty dog bed will only prolong your pain.
Even if you are not ready to part with your dog's bed, food and water bowls, toys, and other items, move them out of view into a garage or storage closet if possible.
Open up to friends, family, and neighbors and allow them to help you through the grieving process.
And finally, if and when the time is right for you after pet loss, consider a visit to your local animal shelter and rescue society to see if there is a furry friend just waiting to be welcomed into your home and your heart.