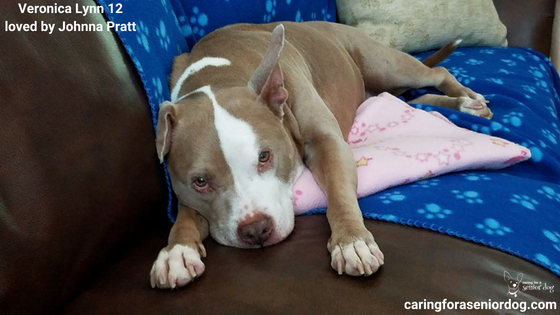 I loved my senior dog Red more than anything, and when she died I fell apart. I would be lying if I said it was always easy caring for her, and I'm honest when I say at times I wished it was over.
I know these are sentiments shared by many senior dog parents, particularly those of us who were and are dealing with serious health issues.
We love them, they're part of our hearts and souls, and we're blessed to have them another day. Many of us give up a lot to keep them comfortable and safe. You'll hear a lot of people say they don't go on vacations, would rather stay home with their dog than socialise with friends, and spend money on their senior dog's care rather than on themselves or that they don't really have.
I feel it's important to write a post about the challenges of caring for a senior dog for one main reason, and that is so no one feels alone, like they're the only one that has these challenges and finds it a struggle. That is also one of the reasons why I created my Facebook group Senior Dog Care Club.
Let me clarify – I am not suggesting every senior dog is difficult to care for, no way. This is specifically about those who are ill.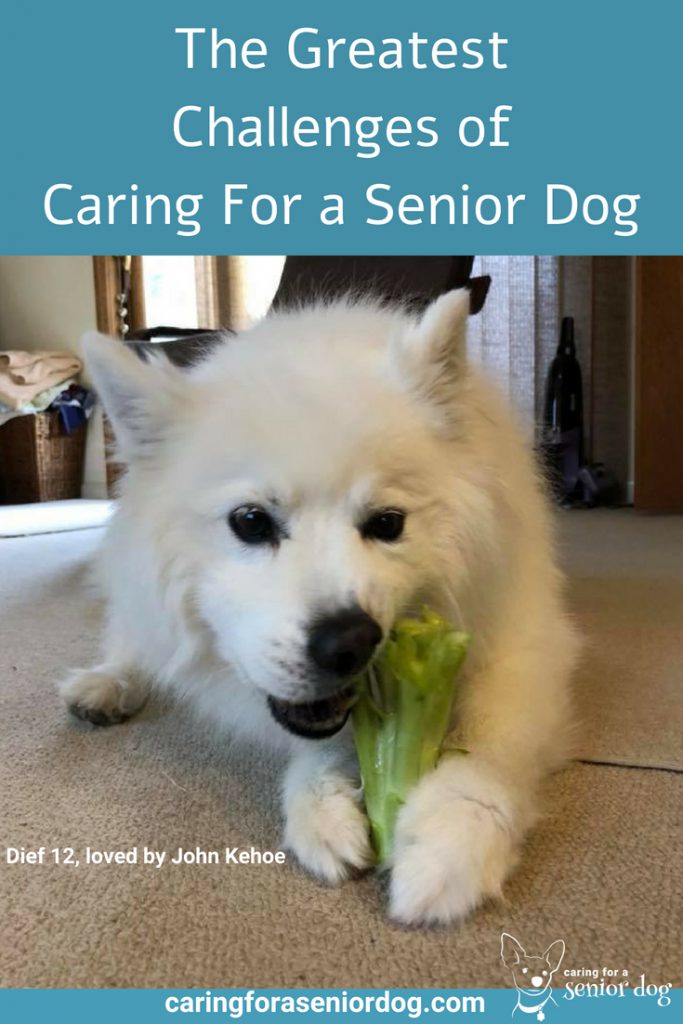 My biggest challenges caring for Red
In the last few months of her life, when chronic pancreatitis and kidney issues were making it tough for her to eat, and tougher for me to know what to feed her I found those times extremely challenging.
If I want to go further back the really tough times started 2 ½ years before she died when I realised she had dementia. The lead up to that – constant pacing, peeing on the floor, never settling even after hours of wandering. Trips to the vet and tests showed no explanation, and my vet never mentioned the "D" word until one day it popped into my head and I knew.
Times were so tough I would have to leave the house and let her wander. She was safe but I was losing patience and that was not fair to her, because none of this was her fault. It was the feelings of frustration, having no idea how to help her because I had no idea what was wrong with her. I would go for a long walk to the beach, or leave my husband in charge and go shopping for a couple of hours. Those breaks made me a better caregiver.
I would call this next point a stressor rather than a challenge but…my vet is amazing and I couldn't have asked for anyone better. Red was a very complicated case, one of the most he had ever dealt with, but he is so excellent he did a great job helping me. The stressor? He didn't work every day, he would take vacation or go back to his home country and lecture at the university. I was petrified every time she didn't feel well in case he wasn't there to help. Yes there are a couple of other vets at his practice, but none of them could help me with Red if it was anything more complicated than an IV, or perhaps prescribing diarrhea medication. I didn't trust them with more than that.
There are a couple of other practices in my small town but I wouldn't take her there even if her life depended on it. So yes, that was a huge stressor for me, worried that we would need him and he would not be around. Thankfully he was there to help me when it was time for her to get her wings, and I was so grateful for that.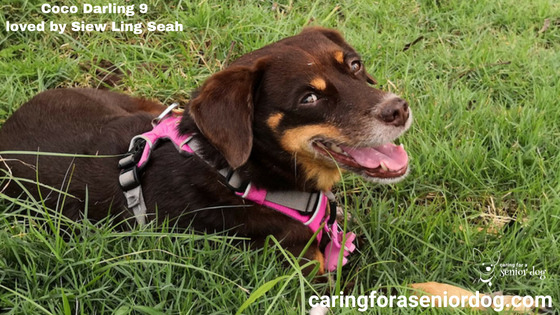 What are some of the challenges facing others who care for old dogs?
The incredible members of my Facebook group very graciously shared their challenges for this article as a way to help others, so thank you everyone!!
Here they are
Caring for two at once that have major, serious illnesses (seizures, heart disease, kidney disease, stroke), keeping all the medications, foods, vet appointments straight, cleaning up after them and hoping I'm giving them good qualities of life. But knowing the time I have with them is not long is probably the worst. If I could have them forever, I would gladly take all the work involved; and that's something I have to keep reminding myself.
Right now, in these early stages, it's everyone getting a good nights sleep. One of us sleeps in the living room with Buck every night. His worse time is between 12 and 5. This is in spite of the meds he takes. During the day, he's pretty much his normal self but in a slower mode. His tail still wags and his eyes still sparkle.
I think my biggest challenge is remembering that this is uncharted territory for him too. We're both having to learn and adapt as we go. Also, trying to make sure I see the forest for the trees.
Incontinence and keeping her skin healthy around her back end. Getting to know the correct level of exercise needed to help arthritis but not exhausting the heart.
Besides facing the reality 'that day' is getting closer…. CCD is a sad emotional roller coaster.
For me like many others it's the anxiety I feel every day, never knowing if I'm doing enough, wondering when she will go or need to go. I can't even face the fact that one day she will not be with me. Wilma is very unsettled around 4pm and can pace and whine for 2 – 3 hours, I never know why but it's the same most days. She's great in the mornings and sleeps soundly through the night.
There are so many things but mostly am I doing right by them and doing everything I can. I research and research in case there is something new to try. One has dementia and the other has cancer. Some days are exhausting for sure but I just love them both so much.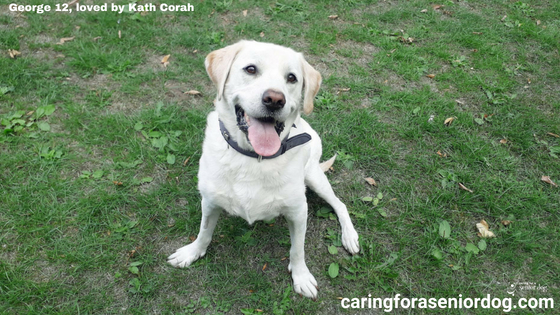 Getting them to finish their dinner
Getting them to keep their dinner in????
Having accidents on herself & her not even knowing she did. Struggling to walk due to arthritis. Not wanting to take her medication. And knowing our time grows shorter every day with new struggles. Seems to be good one day and then completely different the next day.
Seems like ever since my boy got older he thinks rules don't apply to him anymore. Like when we sit on the couch with any kind of food he will get up next to our face & stare. He never did that til about 6 months ago. We tell him to get down & he just goes to the other side of the couch. Lol stinker
Guinness does that with his CCD, it's like his brain short circuits because the focus is on "what's that!?" and disregards boundaries/tasks. He does it on our walks outside too, so if a leaf blows you can bet he's not going to do his business. Ha!
Deciding on when is the right time for them to go to the rainbow bridge…. hoping it happens while he's sleeping … no pain , just an old man ❤️
Not worrying too much about how much longer I will have them????
I sometimes get impatient with my girl Hanna, she has incontinence and have to let her out often! Also worried that she's in pain, but I don't think she is yet!
Being patient .. it's like it was when I was my mother's care giver .. you do not get angry at them you get angry about the situation.. and you have to learn to accept that some days are harder then others.
Figuring out what mixture of treats and food will convince her to eat her breakfast. (2) Feeling new and growing bumps every time I give her rubs even though every one tested has been nothing more than a simple lipoma (3) knowing that she's 10 and she won't be here forever (4) every new white fleck on her face equates to another day older.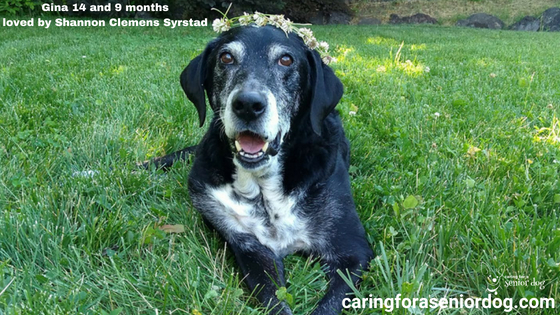 Sleep! I have had several senior dogs before, but none of them had CCD. Thanks to this group and the CCD one, we are doing much better overall, but the thing that is still the hardest for me to manage, is the lack of sleep. With all the herbal support we are getting, on our good nights, about 5 hours, if we are lucky sometimes 6 hours. On our bad nights we get from 30 minutes to a couple hours of sleep. This started back in October last year. With all the things I have learned here, things have improved. But since you asked, the hardest thing for me to manage is the lack of sleep.
Lack of sleep and worrying about making the final decision
Heavy panting middle of the night, waking up to take her out 2am, missing the days where she could run across fields, trying to get her to walk just a little bit longer, watching the deterioration, always rushing home from work and worrying about her, crying when I think of life without her one day… but there is the joy of how loving and sweet and devoted she is, and how blessed we are to have her so long.
Every time those tears come when you think of not having her, make it a point to make one memory with her and take a photo of it. Get her pawprint in plaster, sit with her on the grass, even just looking into her face and telling her how much you love her.
The niggling thought in the back of my mind as we enjoy the sun, love and joy of a perfect day of how many such days we may have left. The wonderful days win – I would do it a million times over always together no matter what now and forever after.
Just knowing that I am doing all I can to give him a good quality of life.
Patience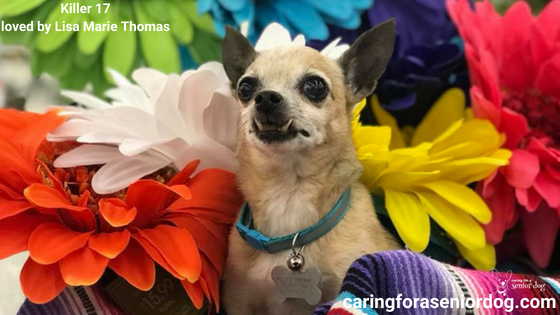 Biggest challenge is when they start failing physically but still have a lot of life left. I wish I had known of the things that make things easier! Belly bands to help with incontinence and lift straps and harness with handles. A nice doggy stroller is a must!! Just like with people, you don't stop living because of some physical problems. There are so many things out there now and many people don't know about them..
Knowing where it ends. I let no moment pass. No treat withheld. I lost the sister of my sibling pair 2 months ago. I regret nothing. Not the vet bills. Not the missed work. But the end….that was hard. I'm a nurse, who once was a paramedic. I'm no stranger to death. I knew what was coming and I had to be strong anyway. That's the hardest. The end.
Never knowing if I'm providing the help they really need, instead of what I think they need.
Dealing with the slowing down and changes associated with her aging. And trying to figure out the best solutions for these problems as they arise. She has arthritis and trying to determine when we have walked enough, when she might be in pain, and how to best care for her.
Definitely eating, general nourishment and taking medication he may be on. Just when I think I found a consistent food he likes, he stops eating it!
I don't even know where to begin. My baby boy has bone cancer which the vet said is aggressive and gave him a few months to a year. He's big and I live on the second floor and what will I do when he can't do the stairs but he is otherwise ok?? I have cried so much and each day is a challenge. I say this is my new norm. This is my life. It's mentally and physically exhausting at times and I feel guilty saying that. Finding this group has been the best thing for me. I will need support of others who can identify with me. ????????
Getting my senior not to climb out of the "chair "she has to eat in because of her Mega Esophagus.
Especially with my CCD guy who is unknowingly annoying at times – and sadness as I watch him decline – and hoping we have more time????????❤️???? feeling Helpless too. I can't "fix" him????????
Seeing my mostly healthy dog struggle with some physical stuff without an answer to really help. Also preparing my kids that our dog won't be here forever – she was here before them ????
Long hair between paw pads on timber or smooth floor, failing eyesight at night on stair an inability to run and play like used to with her younger sister????❤
Reading all these posts makes me so grateful to be part of this group. I know it will make the next few years with Hope better for both of us. Thank you again for adding me.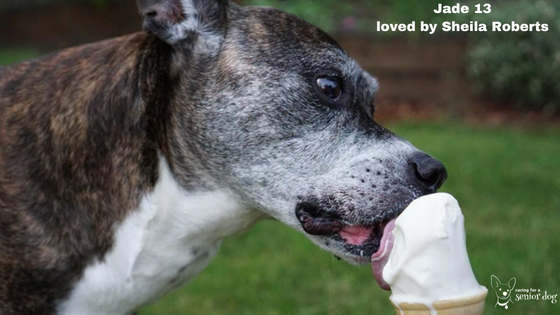 My 15 year old toy poodle Rocky becoming blind almost a year ago. Seeing him bumping into things and going around in circles a lot, stepping on his own poop when I'm not home and coming out positive for heartworms and not afford to get treatment. He has dental problems that needs teeth to be extracted. Everyone says I'm selfish that he's "suffering" to just put him to sleep
Wondering if her panting means she is in pain.. Worrying worrying
My beautiful 17 yr. old Gigi is mostly blind past few months. Hearing still good but wanders around now bumping into walls, furniture, etc….softly, but still bumping. Can't leave her alone on my bed…she walks right off. So sad but we cope & support her with love.
Just accepting that my babe is elderly and right now feeling like we are on borrowed time
Dealing with her dementia…it really hurts to see her not hardly ever herself anymore.
I'm having difficulty accepting her mortality. She's like a kid to me and shouldn't die before I do.
Getting good pictures. ????
Hardest part for us is that Miss Gretel doesn't like to be cuddled anymore as she "never" stops walking these days …… I would love to cuddle up in bed with her :'( :'(
Keeping my worries to myself so Shadow doesn't feel them. But, she's been doing great mobility-wise since the stem cell infusion, which has given her back her youthful spunk and sassiness. My other big challenge is not so much with her as it is with hubby, who has some dementia and can't always understand that Shadow's super-sensitive GI tract cannot handle all the "people food" he sneaks to her when I'm not there to stop him.
$$$
Not knowing if I am doing the right thing and/or if I am giving her what she needs.
My 18 1/2 year old is starting to dribble/wet at night. I have him on a pee pad. I got diapers i didn't like them. Now i got belly bands i like them but they get wet on the sides. Kotex with them??
Could you relate to some of what was said?
It's tough reading what so many people are going through, yet I am happy there is a community for everyone to share their experiences, ask for and offer support, and discuss treatments and options that have helped.
Are you experiencing something similar? Why not share your story in the comment section below.