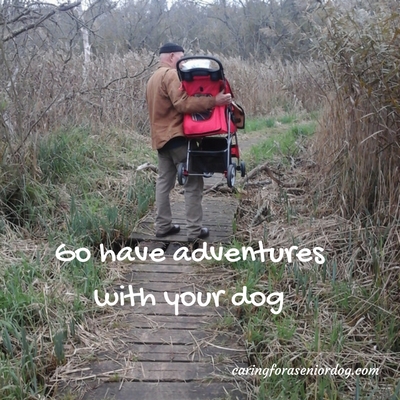 I have a hard enough time explaining the importance of physical exercise, but the importance of mental stimulation for old dogs?
That's a whole other matter.
Never heard of it. What is it?
When I mention the words "mental stimulation" people stare at me with a blank expression. They've never heard of it, and quite frankly don't seem terribly interested when I explain what it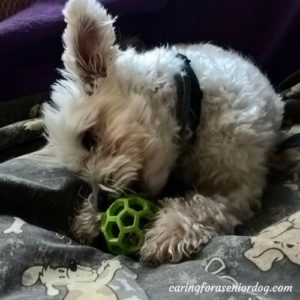 is.  
Simply put, it is about keeping the brain active and is an important aspect of keeping our dogs healthy. Did you know that working their brain will tire them out as much as a game of fetch? Good to know, especially for those who may not be as physically able as they used to be, or unfavourable weather keeps dogs of all ages indoors more.
Who needs it?
That's simple – all dogs no matter the age, size, health status, activity level, injured, recovering from surgery… you get the point!
When do they need it?
Every day.  
How do they get it?
Simple – games, interactive toys, training
Anyone in your family can do it, it doesn't have to cost anything, won't take up a lot of time and can easily be incorporated into your daily routine.
A few quick notes
I am stating the obvious but… use low fat/low calorie treats so your dog doesn't put on weight. Make them "high value" meaning something he loves but rarely gets. Save them for training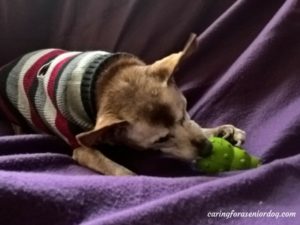 sessions as extra motivators.
Set your dog up to succeed by keeping games easy at first, then gradually increasing the level of difficulty. Too challenging from the outset and he'll get frustrated and walk away.
Keep sessions to a few minutes and end on a high note, meaning when he's successfully completed a task or activity.  
There is no "right" way to play a game. I've presented you with a few ideas, you can change them, add to them and come up with your own versions. The key is to find ways to interest and challenge your dog.  
Here are a few ideas
Find the treat in the muffin tin
Hide a treat in only a few of the cups, but put a tennis bowl in each. You want your dog to dislodge the balls so he can reach the prize.
How to teach him you ask? It's easy, and here is one way.  
Put a treat in one cup then praise him when he eats it. Do it a few more times. Now put a treat and add the tennis ball. When he moves the ball and gets the treat, praise him. After doing that a few times, put a treat in one cup and add a tennis ball to two.
If you use a small 6 cup muffin tin for example, put treats in 3 or 4 but a ball in each.
Don't increase the level of difficulty until you're sure he "got it" and don't do it all in one session. Maybe spend 3 or 4 minutes and end before he loses interest.
The shell game
Remember this one? Hide something under a plastic shell, move them around then select the one that holds the prize? Same thing here, only your dog is the player.
Have your dog sit and stay (if he doesn't know those commands then teaching him is another great mental stimulator), take 1 cup light enough for your dog to knock over and a favourite treat. With your dog watching, place the treat under the cup and let him find it and eat it! Use a cue like "find it" or "take it" so he learns what you're asking him to do.
Once he's mastered it add a second cup, but place the treat under only one. Keep putting the treat under the same cup and when he's consistently finding it, move the cups around. If he doesn't select the right one, he doesn't get the treat. Try adding a third cup if he's no longer being challenged.  
Treasure hunt
Put your dog in a "sit/stay." If he doesn't know those commands, now would be a good time to teach him. If it's difficult for him to sit for whatever reason, just get him to stay or have someone help you.
Using a delicious treat or favourite toy, hide it where your dog can see it. Use a cue like "find it" in a very excited voice, and when he does praise him. Do it a few times so he understands the point of the game, then start slowly increasing the level of difficulty. Hide it in the same area but under something, further away, even another room.  
Name that toy
I had a neighbour's dog stay with me a few years ago, and she brought over several of his toys, all of which he could name. I don't remember how many she said he knew but it was an impressive number – 8? 11? Anyway I thought I'd add that game here.
You don't have to aim for so many, even a couple is amazing.
Pick one toy, let's say a soft toy in the shape of a pig. Hold it in one hand, say the word pig as he grabs it, then give him a treat. Repeat this a ton of times until you're sure he understands.
Next put it on the floor, say pig and reward when he picks it up. Repeat until he "gets" it.
Now take the pig and set it down on the floor next to a completely different toy, a rubber toy or ball for example. Say pig again and when he chooses it praise him like crazy. If he picks the other, ignore it, put it back and say pig again.
Once he's mastered that, teach him the name of another toy. When he's learned it put them both down and ask him for one. Again reward him when he gets it right, don't say anything when he doesn't just put the toy back and try again.
Do it with different toys and see how much fun and challenging it is!
Hide and seek
You had fun playing hide and seek as a kid, why not recreate those happy times by playing it with your dog!
If it's you and the dog playing, ask him to sit and stay, hide then call him. Reward him when he finds you. If playing with 2 people one hides, the other stays with the dog then "releases" him out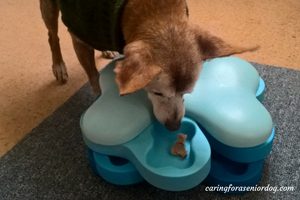 of the sit/stay to seek.  
Get the food out of the bottle
Hide dry food in an empty plastic water bottle, and let your dog figure out how to get to it. Feed him an occasional meal that way and make it last longer.
Cat dancers for dogs
My cats always went crazy for cat dancers, but did you know they're great for dogs as well? Moving it quickly helps drain energy, and slowly forces him to learn impulse control and "stay." 
Interactive toys
Store bought interactive toys teach your dog puzzle solving and adds variety to the activities you can offer him.  
Organised dog sports
Work their bodies and minds by signing your dog up for one of the many organised dog sports offered in your area. Options may include agility, flyball and tracking to name just a few. Of course the one you choose will depend on your dog's physical ability.
Training
Training is another great way to work your dog's brain. If he knows every trick in the book, then a refresher will still get him thinking. If he doesn't now is the time to teach him a few. Can he lie down? Give you his paw? It doesn't have to be a fancy trick, even something simple will do, it's about learning.
The importance of mental stimulation for old dogs – conclusion
I've presented you with a few ideas to give you a starting point, but the number of games and toys is unlimited. Get creative and have a good time.
I hope you realise the importance of mental stimulation not only for old dogs but dogs of all ages.  
How do you provide mental stimulation for your dog? Have you come up with your own games? I would love to hear about what you do, and any pictures or videos could be posted on my Facebook page if you like. Sharing helps others.