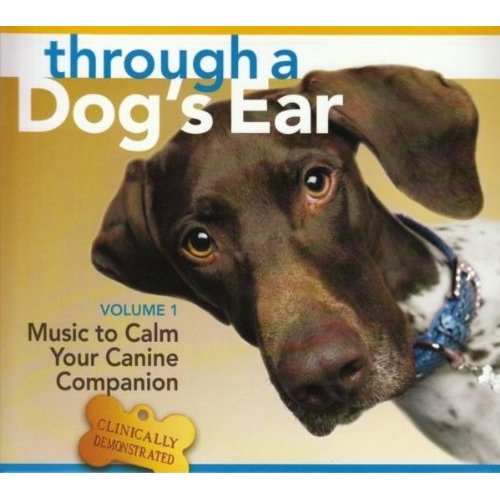 Through a Dog's Ear: Music to Calm Your Canine Companion Review
The CD called Through a Dog's Ear is incredible, and it helped me during some rough times. If, like me, you have a dog suffering from canine cognitive dysfunction (doggy dementia), your dog gets extremely stressed during thunderstorms, he's cowering under the bed every time fireworks go off, or he's suffering from separation anxiety, you're going to want to read this review. Then you're going to want to order this CD immediately!
If you run/work/volunteer at a shelter or rescue facility you'll want to keep reading as well. It has not only helped my dog Red calm down significantly, it has helped me relax as well.
I am so amazed by this product I simply had to share my experience with you.
Get more information and buy now on Amazon.com >>>
Bio acoustically engineered music
Through a Dog's Ear is one hour of classical music (Bach, Rachmaninoff, Mozart, Schubert, Chopin, Beethoven, Schumann) played on a piano, solo. Amazingly it has been bio acoustically designed to calm your dog, and clinically tested on more than 150 dogs in a variety of settings, with very impressive results.
This particular project came about when a pianist named Lisa Spector, who helped raise guide dog puppies, noticed how calm they all became when she would play. She contacted a bio acoustician (someone who studies the effect of music and sound on the human nervous system) about making a musical album for dogs. And that's how the story began. More about that later!
I would like to share the benefits it has brought to my life
I discovered this music just over two years ago when I was at the end of my rope, watching my dog Red wander for hours without any way to get her to settle. While researching things I could do (the vet had no explanation when all test results came back fine), I came across a 13 minute sampler of Through a Dog's Ear on YouTube. I played it and I am not exaggerating when I say that a dog who would wander for 4 hours without stopping was sleeping in less than a minute.
A fluke you say? Definitely not! I played that CD for weeks, and while there had been the odd occasion when it took her longer to settle, it typically takes just a couple of minutes. What a relief for Red to be able to rest! Once I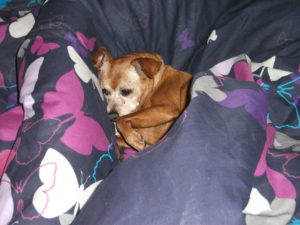 found out she had dementia and started her on medication I didn't need to rely on it as her only relief, but I still play it because it's so calming for her…and the music is incredibly beautiful! 
Get further details and buy now on Amazon.com >>>
Features
The feature is that it works for all of us!
The CD comes with an interesting booklet that explains the background of this endeavour, the studies undertaken, and how it came to be.
Advice on how to get your dog used to the music, as well as handling some of the common anxiety producing events like thunderstorms, fireworks and separation anxiety is also included.
Background
A 2002 study conducted in shelters in San Francisco and Belfast found that classical music relaxed dogs, while heavy metal made them agitated. No surprise as I'm sure the same can be said for many humans!
Four hours of "specially orchestrated and arranged music" was created, and clinical testing was done by a veterinary neurologist. More than 150 dogs from shelters, vet clinics, groomers, service dogs, as well as pets were the "test" subjects.
After two years and two rounds of testing, it was determined that not just any classical music, but bio acoustically arranged classical music was the most effective over pop and heavy metal. 70% of dogs in stressful shelter environments, and 85% of dogs in their homes were noticeably calmer after listening.
To read more about the study here is a summary called "BIOACOUSTIC RESEARCH & DEVELOPMENT (BARD)"
For best results
It is recommended to play this music for your dog when he's in a relaxed state, on at least four separate occasions. This creates a positive association between the music and his calm state, so when he's anxious and hears it he should get back to that relaxed state. If you don't see results, play it a few times when he's calm and then try it.
When I first stumbled onto the music it was on YouTube so I wasn't aware of this advice. I just turned it on and it worked. The creators are the experts so you might want to follow their suggestion, but that is entirely up to you.
Drawbacks
Curious about how other peoples' experiences compared to my own, I read a lot of reviews. As you would expect, there have been dogs who did not benefit, but that is to be expected. It would be unrealistic to expect everyone to benefit to the same degree.
From my experience I cannot think of a single drawback.
Customer reviews
"I love this CD! And so do my dogs! Wow, it's so great. Very relaxing music, so I can enjoy listening to it too. Within 20 minutes of putting this in, all three dogs – even the hyper puppy – are laying down and chilling (: And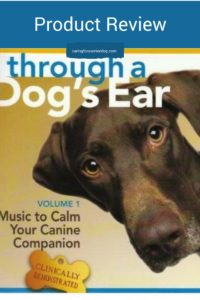 believe me that is a rare moment in a house with 3 dogs. What a great tool for problems like separation anxiety too."
"This CD is sensational. The music is beautiful and our 2 high-strung terriers relaxed very quickly when we put the CD on. We played it in the car as well as at home, and after only a few weeks they seem calmer even when the music isn't playing. It should be a part of every dog owner's essential care kit."
"I used this first on the 4th of July. The worst day of my dog's life. I put on the music, turned on the fan for a little block out noise and she lay down quietly right by the music. The whole night she would wake up a little look around then lay back down. This really works. Then I tried it out on the next thunderstorm. Same thing. Incredible. I'm telling you, try it, you will not be disappointed."
"My nine year old dog has recently developed separation anxiety when left alone at home. Unfortunately, she chooses to show me how she feels by peeing inside when I'm gone! I bought this CD and played it on a loop for my dog while I was gone a couple of hours. For the first time in ages, there was no mess in the house when I returned. Now I play the CD every time I have to leave the house. I had been taking my dog in the car with me everywhere but can't do that now that the weather is getting warmer so this CD is a real blessing!"
Through a Dog's Ear is a lifesaver!
Caring for a senior dog with dementia, or any dog with anxiety issues, can be challenging. We want to do the very best we can, and if there is a product out there that can help, why wouldn't we buy it?
I believe Red would be much worse off without Through a Dog's Ear. Thankfully she now has a lot more calm and peaceful moments than she would have without this product. I'm grateful I found it.
Conclusion
As you can tell I highly recommend this product, and I do believe every household would benefit, no matter the circumstances causing anxiety.
I have experienced its effects personally, read glowing reviews from many satisfied listeners, it is created by experts, and tested in a variety of situations with impressive results. What more can you ask for?
I would love to hear about your experiences, so please leave a comment below.
If you share your life with a senior dog I would like to invite you to join my Facebook group Senior Dog Care Club. There you will find lots of helpful tips and advice, a place to ask questions and share experiences. I look forward to welcoming you.