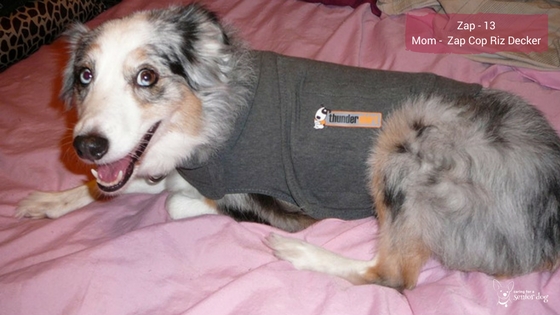 Does any of this sound familiar?
Your senior dog has dementia and can't stop circling or pacing

Separation anxiety/general anxiety

You are about to start campaigning for a ban on fireworks

The sound of rumblings in the sky sends you into a panic

Your dog is left out of family fun days because he can't handle a car ride

It's a wrestling match trying to take him or her to the vet

Your dog is destroying your home when left alone

You can't find the "off" switch when he starts to bark
Don't worry because help is finally here!
My dog Red has been living with dementia for over two years, and until recently her condition has been stable. Unfortunately her treatments are no longer working and I've been searching for an alternative…preferably drug free! I came across this anxiety wrap called a ThunderShirt, and with an over 80% success rate, backed by science and a 100% money back guarantee, I was intrigued and had to learn more.
Features and Specifications
Easy to use, no training required just put it on your dog

Available in 7 sizes

Over 80% success rate

Claims are backed by scientific support and customer feedback

Rated most effective solution for anxiety by vets in a 2011 survey

Safe to leave on your dog for extended periods of time when needed

Made from a thin, breathable fabric

Can be washed in cold water on regular cycle using regular laundry detergent, and hung to dry

Money back guarantee
If you like supporting companies that do good in the community, then you're going to love this next feature. Thunderworks, the company that created this product, donates ThunderShirts to adoption organisations around the country. Selections for recipients are made monthly. How fab is that!
Customer Feedback

"I've spent a fortune over the years on plug ins, pheromone sprays and prescription medications and nothing has helped with LuLu's anxiety. I put this shirt on her and no more panting and pacing, she lay on the sofa next to me all night!"
"My dog has had dementia for the past 2 years and it's been a struggle trying to find something to calm him down. He's anxious all the time – paces, circles, barely rests. I am on a tight budget, I don't sleep well and I was feeling desperate so I ordered one. I had to try it 2 or 3 times before Charlie started to relax, but the difference in him now is incredible. He's like a new dog. Thank you, thank you!"  
"This was a great choice for our big move! We had a 7 hour car ride with my senior dog who has quite severe anxiety if she's in the car too long. It worked like a charm and she slept most of the way."
"ThunderShirt absolutely 100% works."
Drawbacks
The only "drawback" is there is no guarantee it will work for every dog, but they never claim it will. With its' high success rate in treating dogs for a wide range of anxiety issues, and personally knowing many people who have seen amazing results, I highly recommend giving this product a try.
Buy now at Amazon.com >>>
When you have a dog that suffers from anxiety, no matter the cause, it is heart breaking to watch, and you're willing to try anything to help. Personally I love the idea of a drug free solution, and with the number of satisfied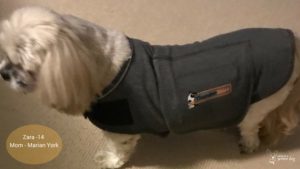 customers and pups as a testimonial, the ThunderShirt is that solution.
With so much potential reward, how can you not take the chance? If it turns out it doesn't help your dog there is a money back guarantee. They'll even give you a refund if you donate it to an animal shelter…as long as you can prove it!
I am happy to recommend this product to anyone who lives with an anxious dog, and am particularly encouraged by how much it has helped dogs suffering from dementia (canine cognitive dysfunction).

*There are affiliate links in this post, which means if you purchase anything I may make a commission. This has no effect on the price for you.