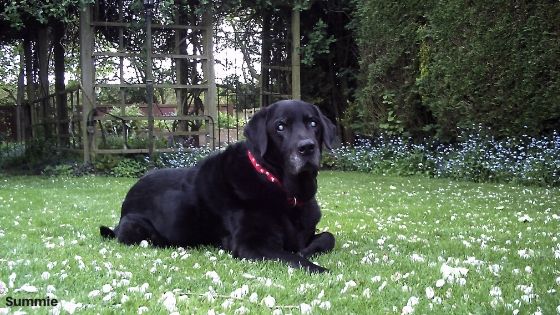 Food is a critical aspect of maintaining a diabetic dog's health, and that means the type of food they eat, the amount and even the timing.
Diabetic dogs don't tend to eat too much. In fact, most senior dog parents are looking for advice on how to get their dogs to eat.
But a dog may overeat if they have diabetes, but the condition has not yet been diagnosed, or it has been but isn't yet stabilized.
Disclosure: Some of the links in this article are affiliate links, which means that I may make a small commission on qualifying purchases.
What is Diabetes in Dogs?
The most common type of diabetes in dogs is diabetes mellitus, and here's what that means:
The pancreas, an organ near the stomach, produces insulin which helps control blood sugar (glucose) levels.
When a dog eats, the glucose levels rise – how high depends on the sugar content of the food.
The pancreas makes insulin to get those levels back to normal.
When a dog has diabetes, the pancreas cannot produce enough insulin to normalize glucose levels, so they remain too high, and that is known as hyperglycemia.
When that happens, a dog's body produces extra urine, causing your dog to pee more often.
Since they are peeing more often, they will drink more often, but it won't be enough to prevent dehydration.
Over time, this combination of very high blood sugar and dehydration will hurt the brain's ability to function normally, which can cause depression, seizures, and coma.
The good news is that diabetes is often caught before these severe side effects occur.
Early symptoms of diabetes usually warrant a trip to the veterinarian, allowing the condition to be diagnosed and managed before their health can deteriorate to that level.
Early warning signs of diabetes in dogs include:
Excessive drinking
Increased urination
Weight loss (even if they are eating normally)
Change in appetite
Cloudy eyes
Recurring infections (skin infections and urinary infections)
Call your veterinarian if you notice any of these signs or suspect something may be "off" with your dog.
They can run the necessary tests and recommend the best course of action to prevent any of these more serious complications.
What Happens When a Diabetic Dog Eats Too Much or Not Enough?
With diabetes, it is all about balance.
Eating the same type and amount of food at pretty much the same time every day
Taking insulin on schedule
Maintaining the same level and amount of exercise every day
Too much of either/all of the above can be dangerous.
Mild hyperglycemia (high glucose) is always better than hypoglycemia (low glucose), so it's extremely important for your diabetic dog to eat.
Too much food can elevate glucose to higher levels than are safe, causing what we already discussed – more peeing – more drinking – dehydration.
By the same token, failure to eat (a big problem with diabetic dogs) leads to low levels which can put your dog at risk for:
Blurred vision
Disorientation and confusion
Weakness, low energy, loss of consciousness
Seizures (rare)
Anxiety, restlessness
Tremor/shivering
Heart palpitations
Exercising your dog too intensely can also cause a drop in glucose levels.
Is Your Dog Really Overeating or Is He Just Hungry?
One of the signs your dog has diabetes is that they are always hungry, and no matter how much they eat they always want more.
Not only that, but they may also be losing weight even if they are eating more.
This is because the glucose your dog's body needs for fuel cannot enter the cells, meaning the body cannot effectively use that fuel for energy.
The body is always hungry and cannot be satisfied.
Take a moment to reassess the food you are currently giving your diabetic dog.
Many lower-quality commercial dog foods, even those for senior dogs, are packed with fillers.
This means your dog needs to eat more to get the nutrition they need from each meal.
For older dogs, this is even more important. Their systems can't digest and process food as well as they did when they were younger, causing them to absorb fewer nutrients.
Consider switching your dog to an easily digestible food that offers more nutrients in each bite.
This may mean feeding a higher-quality commercial food or transitioning your dog to a properly balanced homemade diet.
Fat Dogs and Diabetes
What about overweight dogs that have been diagnosed with diabetes?
It is critical for the management of this disease that you focus on getting them to a healthy weight.
This will help their cells better use insulin and make it easier for their body to turn food into fuel.
Plus, carrying that extra weight increases your dog's risk for several other health complications, including heart disease, hypertension, urinary bladder stones, arthritis, intervertebral disk rupture, and some forms of cancer.
Your veterinarian will advise you what that healthy weight is and what steps you can take to get them there.
Be sure they give you a schedule not only for meal amounts but also exercise.
How to Maintain Blood Sugar Levels
♦ Dogs should get the same amount and type of food every day
♦ Meals should be given 12 hours apart
♦ Give insulin after meals so the dose can be lowered if they don't eat as much as they usually do.
♦ Feed your dog before you give an insulin injection. Once the injection has been given, you can't take it back. If your dog chooses not to eat or to eat less than usual, you can adjust to give a half dose of insulin. If you notice that this is becoming a pattern, contact your veterinarian.
♦ Do the same type of exercise, level of intensity and length of time every day at roughly the same time
♦ Try and avoid putting your dog in a stressful situation. For example, sticking to your usual route and the familiar can help if they become anxious due to vision loss.
What Foods Should a Diabetic Dog Avoid?
Simple carbs, which are sugars like corn syrup, fructose, maltose and dextrose, cause a rapid rise in glucose levels and should be avoided.
Check the ingredients on your dog's wet food to see if it contains any.
If you feed commercially made snacks, it's also important to check those ingredients.
If you prefer to make food and treats at home, I have included some recipes below to get you started.
Food Requirements for a Diabetic Dog
According to the 2018 AAHA Diabetes Management Guidelines for Dogs and Cats:
Note: Remember, DM stands for diabetes mellitus.
"Dogs with DM can do well with any diet that is complete and balanced, is fed at consistent times in consistent amounts, and is palatable in order to achieve predictable and consistent intake.
For dogs, diets that contain increased quantities of soluble and insoluble fiber or that are designed for weight maintenance in diabetics or for weight loss in obese diabetics can:
Improve glycemic control by reducing postprandial hyperglycemia
Restrict caloric intake in obese dogs undergoing weight reduction
Some clinicians recommend that owners supplement with canned pumpkin, green beans, or commercial fiber supplements containing psyllium or wheat dextrin."
What does this mean?
It means you don't need to buy a prescription diabetic diet for your dog.
You can carry on/switch to a good quality nutritious food (remember to check the sugar content).
Carry on if you prefer or have already been cooking for your dog.
NOTE: Your vet will help you figure out how much food they need for each meal, depending on weight and activity level. A qualified and experienced canine nutritionist can help you with recipes and provide you with a list of foods you can try.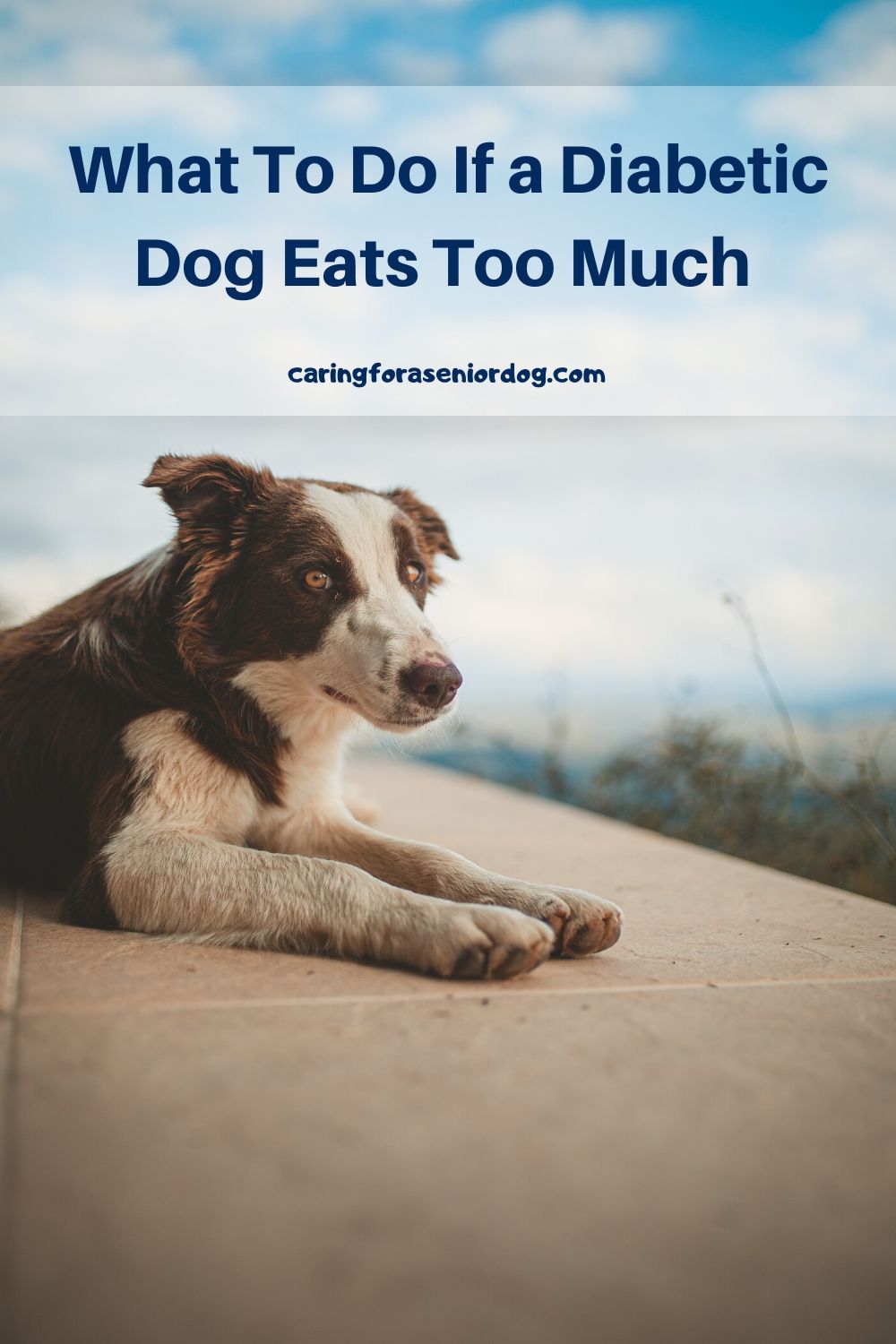 What Should You Do if Your Diabetic Dog Eats Too Much?
If you are feeding your diabetic dog a high-quality diet, but they are still eating too much or always hungry, there are a few steps that you can take to manage their appetite better.
This may mean changing your dog's feeding routine or daily schedule.
Some steps you can take at home include:
Feed your dog smaller meals multiple times each day, helping to prevent the hunger crash after waiting too long between meals
Add high-fiber food toppers to your dog's meals, adjusting their caloric intake accordingly
Switch to healthy vegetables in place of commercial treats (these will help your dog feel "full" without the added calories)
Consider supplements to make sure your dog's nutritional needs are met
Always offer plenty of cool, fresh water
Offer more mental enrichment to prevent any "boredom eating"
Of course, there is always the risk that your dog's appetite is a sign that you need to adjust their insulin schedule or that there are other underlying health problems to consider.
The best way to rule out health-related reasons for overeating is to contact your veterinarian.
What Vegetables Can a Diabetic Dog Eat?
A diabetic dog can eat most vegetables that are safe for dogs, including:
Broccoli
Cauliflower
Celery
Cucumber slices
Green beans
Kale
Spinach
Squash – pumpkin, acorn, butternut
Zucchini
100% pure canned pumpkin
What Human Food Can I Feed My Diabetic Dog?
There are a lot of human foods you can batch cook and freeze, to be used in place of commercial dog food, or if they are getting fussy, used as toppers to their existing diet.
If your vet recommended a prescription diet or other brand and your dog won't eat, check with your vet and ask if you can try homemade.
Remember, it's all about balance, and you may need some advice on getting the amounts right. If they can't help you, consider speaking with a canine nutritionist.
Again, always keep your vet informed of what's going on.
Homemade Diabetic Dog Food
Ingredients
6 lbs lean beef
1 broccoli, fresh
1 package of fresh spinach (10 oz.)
2 cups of chopped celery
3 cups of rye
4 cups of brown rice
165 oz. of liquid (1/2 broth and 1/2 water)
Preparation
Simmer the lean beef in the liquid for 20-30 minutes and then remove it.
Mix all other ingredients in a pot and put it on a stove until liquid is absorbed.
Mix the beef and vegetables and put the hot rice and rye over the mix, then mix it all together.
You can keep all leftovers in your fridge in an airtight container.
You can also use any other protein source instead of beef, like chicken or turkey, and you can also use any other green vegetables.
You can use this for treats too.
This recipe makes about 2 gallons of food, which is about 30 servings for a large breed dog.
You can vary both the meats and vegetables depending on what is inexpensive and your dog's prefrences.
You can also add other proteins as toppings for the food – hard-boiled eggs, cottage cheese, meats, etc. You might just try a little of that on the current food you are using.
6lbs lean ground beef, chicken, or other lean meat
5 cups uncooked pearl barley
5 cups uncooked brown rice
2 cups minced celery, green beans, chopped spinach or green vegetables
24 cups water
Put ingredients in a large pan, bring to a boil, lower heat to simmer and cook until all the water is absorbed.
(18lb terrier mix)
2 large skinless whole chicken breasts
1 bunch of broccoli
2 cups brown rice (dry)
Preparation
Boil the chicken in at least 5 cups of water.
Remove the cooked chicken, cool, and cut into small pieces and set the broth aside.
Cook the rice in 4 cups of the saved broth (about 20 to 25 minutes).
Cook the broccoli separately and mash well.
Combine all ingredients and mix well. If it looks dry, add more of the saved broth, or add water.
You can freeze the mix in portions and thaw in the microwave before feeding alone or as a topper to commercial kibble for diabetic dogs.
Ingredients:
2 chicken breasts (no skin or fat)
1 garlic clove, thinly chopped
1 cup asparagus, cut into ½" pieces
1 cup raw broccoli
3 cups low-sodium chicken stock
1 tsp fresh parsley
2 cups cooked brown rice
Directions:
Slice up the chicken breast into 1" pieces.
In a large saucepan, combine the garlic, asparagus, chicken, chicken stock, parsley and broccoli and bring to a boil. Simmer for 1/2 hour or until the vegetables are tender.
Add the cooked brown rice to the saucepan and mix all the ingredients together. (Add more brown rice if it seems too soupy)
Pour the mixture into a glass dish and cool down before serving.
All-Natural Diabetic Dog Treats
We've talked about the importance of avoiding simple carb-laden foods, and being consistent with type, amount and feeding schedule.
So how do dog treats fit into that scenario? Well, you'll have to speak to your vet about how much food/what type in between set meals are allowed.
I know of senior dog parents who won't feed snacks because it messes up sugar levels, but others have managed to find the right type and amount.
Here are some simple treat ideas for diabetic dogs:
Turkey/Chicken Breast and Kale Meatballs
(I found this recipe on the diabetic dogs FB page)
1lb ground turkey or chicken (turkey is less fat)
1 cup of kale, diced
1/3 cup of egg whites
1 tbsp of pumpkin
Roll into small balls and bake at 350F for 25-28 minutes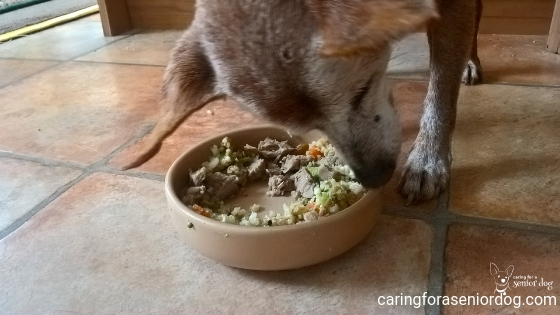 Dehydrated Turkey, Spinach, Carrots and Pumpkin Jerky
Ingredients:
1lb chopped meat (turkey, chicken, or beef)
1 tbsp pure pumpkin
1/4 cup fresh spinach, chopped
1/4 cup fresh carrots, grated
1/4 tsp cinnamon
Directions:
Combine all ingredients in a large bowl and mix together.
Spoon the mixture into a Jerky gun.
Using the jerky gun form rows of stick-like treats directly onto the dehydrator pan.
Set dehydrator for 6 hours at 160F or overnight at 125F.
How to Get a Fussy Diabetic Dog to Eat
While I said that most diabetic dogs are always craving food and want to eat, that is not the case for all of them. Some become fussy, picky eaters that don't eat much.
Bit it's important for stable blood sugar for your dog to eat regularly. So what do you do if your diabetic dog turns their nose up at food?
One of the reasons your diabetic dog may have become fussy is because they don't like the new food they are eating (assuming that you switched after a diabetes diagnosis).
Since this is a serious problem, the best strategy is to come up with as many possibilities as possible to increase the odds.
You must do this with your vet or canine nutritionist since maintaining balance is always important.
When choosing food bear this in mind – many diabetic dogs also have pancreatitis, so if that's the case with yours be very careful of the fat content.
Ideas –
Add some boiled chicken or scrambled eggs (do not use oil) – Read this ⇒ Are Eggs Good for a Diabetic Dog?
Stir a small spoon of wet food into their existing food
Add homemade food or treats to their meal
If your dog is on a prescription diet, changing brands might help
Warm up canned food
Pour hot water over kibble to make gravy
Save the water from the chicken you boiled, freeze it in ice cube trays, then defrost and pour over their meal
Diabetic Dog Food Suggestions
Since most foods are okay for dogs with diabetes, the list of suitable foods is endless.
Here are a few brands I kept seeing when researching, including what senior dog parents in my FB group are feeding.
Acana Regionals Grasslands Dry Dog Food
Ketona Chicken Dog Food
Merrick Grain-Free Dry Dog Food
Orijen Six Fish Dry Dog Food
Royal Canin Glycobalance Dry Dog Food
Wellness Core Natural Grain-Free Dry Dog Food
Blue Buffalo Freedom Grain-Free
Halo (formerly TruDog) Meal Bites Freeze Dried Raw Dog Food
A mix of kibble, Weruva and home-cooked proteins
Prime100 crocodile roll (Australia – available from a veterinarian only) 
Final Thoughts
Feeding a diabetic dog can be tricky.
While a few dogs will turn their nose up to a new food when you change to a diabetic-friendly meal, a log of dogs with diabetes will act like they are always hungry.
If your dog is in the former category, the trick will be to entice them to eat to help keep their blood sugar levels from dropping too low.
If your diabetic dog eats too much, their blood sugar could spike.
To help keep blood sugar levels stable, you may need to adjust your dog's insulin, break two meals a day into 3, or add more protein and fiber to meals.
No matter what, if you are having trouble keeping your diabetic dogs blood sugar levels stable, please consult with your veterinarian about the best plan of action.