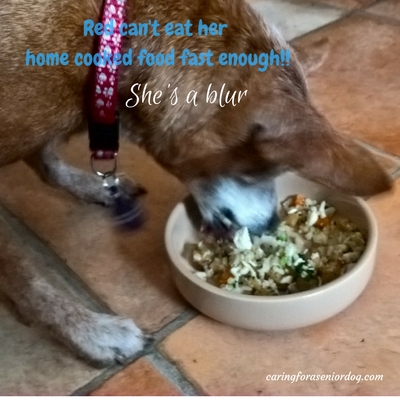 I know I say this a lot, but knowing what to feed a senior dog is so confusing!!
I could add it's confusing no matter what age your dog is. For me it's because of the amount of conflicting information out there. I finish reading about how good dry food is to help keep teeth clean, when the next article says it's a myth, and by the way, dry food is nutritionally dead. And that's just one tiny example!!
You're not helping!!
Sorry about that, I tend to get on my soapbox a little bit when it comes to this topic. I know I've made so many mistakes in the past when it came to choosing food for my senior dogs.
Before I became slightly more "enlightened" (and I do mean slightly), I focused more on the brand than the type. Since I rely on my vet to help me do what's best for my animals, I've listened when certain foods were recommended, yet at other times felt frustrated by their lack of knowledge in the field of nutrition, and questions went unanswered.
One vet I had, who was an amazing vet by the way, actually told me whatever I bought from the supermarket would be fine. He believed anything a pet food manufacturer churned out contained all the necessary nutrients.
I must say I was shocked!!
All my vets would stack a few main brands, and that's what they would recommend. Only once I started learning about reading labels and understanding ingredients did things get really muddled.
Senior food for senior dogs
I believed that, so that's what I fed my seniors. When Red's heart murmur became louder than a murmur, my vet put her on a prescription heart diet. When her kidneys started playing up she was switched to a kidney diet. My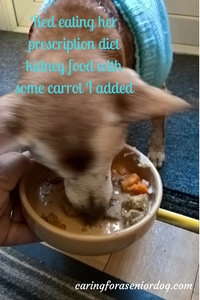 vet was convinced she was doing well as a result, yet there I was reading articles about how shockingly nutrient poor those diets were.
I did nothing when it came to changing her diet because, for awhile, Red was having all sorts of issues, and I was starting to panic it was the beginning of the end. Everything was being managed, but she was walking a bit of a tightrope. I wasn't going to upset that precarious balance for anything.
Curious about alternative treatments
I've wanted to take Red to a holistic vet for quite some time, but I didn't for a few reasons:
My vet does not have a holistic vet on staff
There were no holistic practices where we lived

Because of the "delicate balance" we call Red, I would have been too afraid to rock the boat and make any kind of change

I am a firm believer in continuity of care, and even if there had been a vet nearby, I would not have taken Red there for natural treatments, and my vet for the rest. Of course they could communicate, but that would be a big ask if the vets are extremely busy. I wouldn't want a crucial piece of information to get lost between two practices
What's going on now you ask?
Well, we've relocated for a few months, and since I needed a new vet anyway this was my chance to go holistic. Yes it's a bit of a pain to get to distance wise, but it's worth it. I won't go into details since this post is, specifically, about nutrition so I'll only discuss that facet of Red's new treatment plan.
Our new vet was not at all happy about her being on a prescription diet. He's a firm believer in healing with whole foods (that's one important aspect), so after seeing Red's blood test results he created a recipe for a whole foods,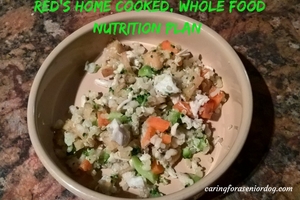 home cooked diet. At first I was feeling a bit resistant because I hate cooking, but since it's for my sweetheart Red, I was willing to do it. When Dr Ortega said I could make big batches and freeze, I was more than delighted.
She now eats a mixture of boiled chicken, brown rice, quinoa, cooked broccoli, raw carrot, raw apple and olive oil. She's loving the food, and hubby thinks she's doing much better overall.
Obviously I'm so happy we've gotten to this stage, and I no longer have to be concerned about types and brands. So what are you going to do?
Some words of interest
In an article I came across recently entitled "Do You Know What Food is Best for Your Senior Pet?" there are some helpful pieces of advice, including words of warning that are important to hear. I hope you'll find that post of interest.
Of course there are other posts on this site you will find informative as well, and I will list them at the end of this article.  
What to feed a senior dog – conclusion
Figuring out how to satisfy the nutritional needs of our senior dogs can be a bit of a minefield, so I always advise researching the various types (not brands) first. It will give you a good understanding of your options, so you can make the best decision for your dog.
Yes you will find lots of conflicting information but that's okay. Take note of where the advice is coming from, speak to your vet, speak to a holistic vet if you're interested, then make the decision that seems right to you.
I hope you have found this post on what to feed a senior dog helpful, and if you'd like to share what you feed your dog, let us know in the comment section below or my Facebook page.