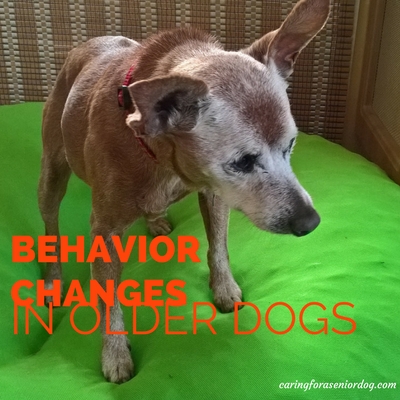 Did you know many behavior changes in older dogs are the result of a medical condition?
I cannot impress upon you enough, the importance of taking behavior changes seriously. Too many people assume they're a natural part of the aging process and do nothing. Not only can this lead to a condition worsening so much that it is no longer treatable, but it's likely your dog is living in pain, and that is never acceptable.
Let's take a look at some common behavior changes and what to do about them
Separation anxiety
One of the most common behavior problems we tend to see in senior dogs is anxiety when separated from their humans. Some dogs may experience it when away from a specific person, while others aren't picky. There are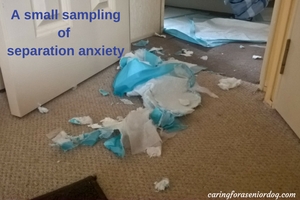 degrees of severity ranging from some barking, to peeing and pooping in the house to all out destruction. Trust me when I say, it is heart breaking to witness.
Here is a very important fact – your dog's anxiety starts long before you leave the house!
We're so used to the routine we have when leaving, we don't think about all the cues we're giving off that our dogs witness. Where or how we put our coat on, in which order we pick up our purse and keys etc… Your dog recognises the signs even before you start, and panic starts to set in. Then factor in how many people go over to the dog, give him a hug and kiss (even pick her up like a baby like one of my neighbours does), and just plain make a fuss. When they come home they do the same thing again.
So, I'm just telling him I'll miss him!
Hey, I understand that but your dog is understanding that you leaving the house is a huge deal, and definitely worth being anxious about. That's right, that's the message you're reinforcing.
What do I do?
At the end of this section there will be a link to an article that goes into separation anxiety in greater detail, including how to help. Here I will briefly list a few key points.
Change the order you do things – For example, if you normally grab your coat and go, put it on and sit on the couch for a minute.

Never make a big deal out of coming and going, just leave.

Be sure you give your dog lots of exercise before you go out.

How about playing some relaxing music…on low. Through a Dog's Ear is one you should seriously consider.

Dogs should not be left alone for hours on end. Hire a pet sitter, ask a friend or neighbour to take the dog for a walk, or sign him up for doggie daycare.
Read this ⇒ Separation Anxiety in Older Dogs
Compulsive behavior
A compulsive behavior is something like: constant licking of a particular spot, chasing a tail, air biting, staring at walls etc… Although some medical conditions like dementia can be responsible, it's often the result of anxiety which, if left untreated or unaddressed, develops into compulsion.
If you can identify the source of the anxiety (a conflict between your pets perhaps?) you can eliminate/manage it before it becomes a compulsion.
It's hard to say what the treatment will be as it depends on the cause, but they can include something as minor as a change in routine to medication/natural therapies and/or the help of a behaviorist.
[bctt tweet="If you notice any change in your dog's behaviour, no matter how small, take him to the vet. " username="petcrusader"]
Canine cognitive dysfunction (doggie dementia)
You may notice your dog wandering aimlessly, getting stuck behind doors or under tables, forgetting his housetraining and not recognising the familiar. These could be signs your dog is suffering from dementia. There is no test to diagnose it, rather it is made through a process of elimination.
There is no cure but drugs such as Selgian (UK) and Anipryl (US) can help with the symptoms by increasing blood flow to the brain. Red has been on Selgian for quite some time and it has been a big help. A CD called Through a Dog's Ear has also worked wonders to help her relax.
Read these ⇒ All About Dementia in Dogs & Diagnosing Dementia in Dogs
Increased vocalization
Your otherwise very quiet dog may suddenly start to bark, whine or howl. It could be stress, separation anxiety, generalised fear or anxiety, not feeling well, pain or discomfort, loss of hearing, dementia or just plain attention seeking. Before we can help we have to know the reason.
Ask yourself some questions to help narrow it down
Has there been a recent addition to the household?

Have you moved?

Are you busier than usual and not spending enough time with the dog?

Have you noticed something "off" about him lately?

If you've stopped spending time with your dog, he may be barking for attention and the solution is simple – spend more time with him.
If you've recently moved or welcomed a new family member it is likely stress related, and there are things you can do. Make sure you still spend plenty of time with your dog, provide him with a quiet area when he needs to get away from the hustle and bustle, and look into calming remedies or plug in pheromones to relax him.
Peeing/pooping in the house
Your perfectly housetrained dog may suddenly start peeing and/or pooping in the house, and I know you're not loving that! I suggest you get yourself some pee pads, because they will save your sanity. Okay now to the problem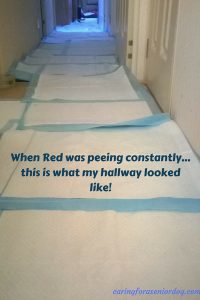 at hand.
He's not doing this deliberately if that's what you're thinking!
There are a lot of reasons why your dog is suddenly using your carpet as a toilet:
Dementia is causing your dog to forget his housetraining

Illnesses that may cause increased thirst/peeing (kidneys, diabetes…)
Mobility issues making it harder for him to go out

Increasingly hectic schedules affecting your dogs break times

Showing his dissatisfaction with changes in environment/schedule/new pets/people…

If it's only when you're out he may be showing signs of separation anxiety
If this list has triggered your "aha" moment and the reason has been revealed, great! You're halfway there, now you need to figure out how to prevent that "thing" from affecting him.
If everything has been status quo, you're probably looking at a medical issue, but don't start panicking. Your first stop is a visit to the vet for diagnosis then you take it from there.
In the meantime you may want to take him out for a quick pee break more often, introduce him to a crate, or block off an area for him to sleep at night and use pee pads.
Read this ⇒ Incontinence in Older Dogs
Aggression
Older dogs who have been sweet and loving can suddenly become aggressive, and we're thrown by something so out of character. Pain is a big reason as is anxiety, a lack of mobility (he can't get away from the annoying other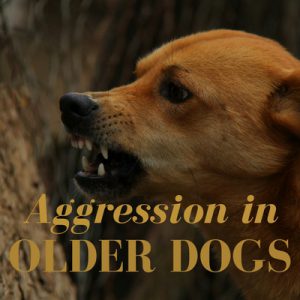 dog he lives with), doggie dementia, vision or hearing loss to name a few.
Signs your dog is in pain include:
Whimpering

Lethargy

Licking one spot on his body

Difficulty getting up and lying down
A trip to the vet will help solve the mystery of what's causing his aggressiveness, and a treatment plan can then be put in place.
Keeping track of when your dog is showing aggression can not only help your vet with a diagnosis, but help you reduce the triggers.
Read this ⇒ Aggression in Older Dogs
Fears and phobias
As with so many behavior changes, vision and hearing loss, dementia and forms of anxiety can all contribute to fears and phobias (like a fear of thunder, or walking on certain surfaces).
As always a trip to your vet is the first course of action, so an underlying medical problem can be identified. It's possible that treating the condition will eliminate, or at least reduce, the fear or phobia.
To help your dog cope here are some things you can do:
Dogs thrive on routine and consistency, so don't make changes if you can help it. You may like to redecorate, but your dog won't appreciate it if it involves his stuff. Leave his bowls, blankets and beds where they've always been. Keep walking and feeding him at the same time as always.  
Try keeping him away from what he fears, if that's possible. It doesn't mean it will always have to be this way, it might just be until the treatment kicks in.
If he's become more sensitive to noise, some calming music like "Through a Dog's Ear" may help.
Desensitisation can help overcome fear of noises like fireworks or thunderstorms for example. Play a recording of the sound (you can find it on youtube!) on super low volume. As long as he doesn't react give him a treat. Over several days or weeks, gradually increase the volume, rewarding him each time he ignores it. Carry on until he's hearing it at a normal volume and is fine. Don't rush it and if at any point he exhibits anxiety, go back to the volume level he was comfortable at and continue from there – slowly!!  
Pheromone, natural calming agents or anti-anxiety medications may be in order.  
Destructive behavior
Another behavior you've never seen before which could be the result of separation anxiety or something else! If you could have the answers to some of these questions before your vet appointment, they may help with a diagnosis.
Is he destroying one particular thing or anything in his path?

Any particular room, or he's happy to have a go anywhere?

Does this happen at a specific time of day?

When you're home or out?

Has there been any change to his exercise routine? Frequency? Duration? Type of activity?
Treatment/management options will vary depending on the underlying cause of the problem.
To keep your dog, and your things safe, make changes to your home environment based on what he's been going after. If he's decided to chew your shoes all of a sudden, keep them out of reach. Offering new and different types of toys, bones and even treat dispensing toys may help. Remember to never leave your dog unattended when chewing on a bone.
Read this ⇒ How to Correct Bad Behavior in Dogs
Changes in sleep patterns/restlessness
Restlessness, pacing and changes in sleep patterns could stem from:
Confusion caused by doggie dementia

Pain

The need to pee more frequently

Vision or hearing loss

Your dog has started sleeping more during the day, and is now restless and active at night – possibly the result of boredom

Drinking too much water late at night. Taking away the water bowl before bed can help (with your vet's approval)
A visit to the vet will answer the "why" and then the "what to do about it."
You may want to confine your dog to an area away from your bedroom at night, so your sleep isn't disturbed, or conversely sleeping in your bedroom may give him comfort. It could be a case of try one and see how it works.
Increasing the amount/frequency of walks or play time during the day and evening (within his abilities of course), can be the solution. Practice doing tricks, and giving him an interactive toy for some mental stimulation will also help.
Adjusting to interlopers in the house
Before you run out and adopt a new dog, consider whether or not your senior would be happy about it. You think he needs a friend, but he may be happy on his own, living a quiet life. If, for whatever reason you insist, think about your dog's needs, likes and dislikes and take your time to find the right match.
If your dog is having mobility issues, or is obviously not as sociable as he used to be, a puppy or high energy dog is not going to be the right fit.
Behavior changes in older dogs – conclusion
Your older dog may be more easily stressed, have lower tolerance levels than he used to, need more alone time or have a medical issue. It's up to us to ensure changes to their routine are done gradually, exposure to stressors kept to a minimum, and behavior changes brought to the attention of a vet quickly.
You may be faced with behavior changes in older dogs, but with timely medical care and ensuring their needs are met, you can still have many quality years together.  
Have you noticed any behavior changes in your senior dog? What specifically made you take notice? What was the underlying cause and how were you able to help him? Sharing helps others so leave your comments in the section below, or on my Facebook page.