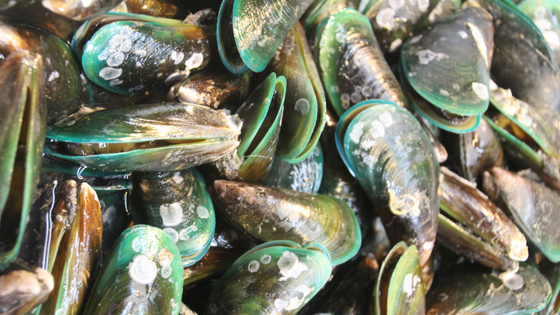 Are green lipped mussels the next "great thing" for our senior dogs? Let's take a look and see!
What are they and are they really green?
Green lipped mussels (or GLM) are a type of mussel found only in New Zealand, and the shell is rimmed in green.
Benefits

 
Natural inflammatory

Reduces pain

Protects joints

Boosts the immune system

Strengthens bones

Helps in repair of cartilage

Preventative
What makes green lipped mussels so powerful?
Just like fish, green lipped mussels contain Omega-3 fatty acids, but it is the combination of fatty acids, minerals and antioxidants found in the mussels that makes them so powerful.  
How much to give
There is no set answer for this one, as the amount of GLM that will be beneficial for your senior dog depends not only on his or her size, but also the severity of the condition. The amount given may also have to be increased or decreased depending on the results you see…or don't see.
Here are some suggestions to help get you started 
Speak to your vet and ask his opinion
Follow the recommendations on the label of the brand you purchase
In a study published in the Journal of Nutrition, significant improvement was seen in dogs given the following amounts –
Dogs weighing less than 25kg/55lbs – 450mg per day

Dogs weighing 25-34kg/55-75lbs – 750mg per day

Dogs weighing more than 34kg/75lbs – 1000mg per day
How to administer green lipped mussels
While it is often suggested the most effective way is to sprinkle it onto your dog's food, the study I mentioned above suggests dogs showed significant improvement whether it was given that way, in a treat or as an ingredient in dog food. The fact it is helpful in various forms, increases the likelihood you will find something your dog will accept.
How long until I see results?
Natural supplements tend to take longer to have an affect than medications, so it may take several weeks for you to notice a difference.
Side effects
There don't seem to be any concerns about side effects, although there is a very slight chance your dog could be allergic to shellfish. If you see any symptoms such as your dog scratching, upset stomach, difficulty breathing or lack of interest in food (possibly due to nausea), please call your vet immediately.
Are all green lipped mussels supplements created equal?
Not all supplements are created equal, and green lipped mussels are no exception. It's important to understand the manufacturing process in order to choose the best brand. Heat destroys the nutrients naturally found in the mussels, so if they are steamed open you want to stay away from that brand. Look for cold extracted instead.
There are also many supplements that contain GLM but it's not always easy to determine how much it actually contains, or the manufacturing process.
You may want to start by checking with your local health food store, and speaking with a knowledgeable salesperson.
Are GLM better than anti-inflammatories?
It depends what "better" means to you. When the "right" medication is found and dosage determined, then they absolutely do help with the pain associated with arthritis. By the same token there are often side effects that come with these drugs, and may be experienced by your dog.
More and more pet parents are looking for natural alternatives, and GLM are definitely worth looking into.
Keep in mind not every drug or supplement will be effective for every dog.
Are other supplements for mobility needed?
There is no definitive "yay" or "nay" answer to that question, but more a matter of the severity of the pain your dog experiences, and what will work best for him or her.
You may find you are able to reduce the amount of pain meds, or eliminate them completely, once you've started GLM
Some dog parents find the greatest effect when taken with glucosamine/chondroitin, while others add fish oil as well.
What the studies show about efficacy
Evaluating Complementary Therapies for Canine Osteoarthritis Part I: Green-lipped Mussel
Effect of a diet enriched with green-lipped mussel on pain behavior and functioning in dogs with clinical osteoarthritis
Improvement of Arthritic Signs in Dogs Fed Green-Lipped Mussel (Perna canaliculus)
Always check with your vet
I always advise checking with your vet before making any changes to your dog's diet, and that includes the addition of supplements. In my case because Red had chronic pancreatitis, it was critical I kept an eye on the amount of oils in her diet and that definitely included fish oil.
If your vet isn't as familiar with alternative therapies as you would like, bring an information sheet with you. If he still isn't able to offer you the advice you seek, a visit to a holistic vet may help. If you do end up with a second vet, communication between all parties is key for the safety of your dog.
Do you give your senior dog green lipped mussels? What condition are you treating? Do you see any positive results? Sharing helps others so please leave a comment below.
Get your FREE report – Tell Tail Signs Your Dog May Have Dementia
I would like to invite you to join Senior Dog Care Club, my Facebook group for senior dog parents. There you will find lots of helpful tips and advice, a place to ask questions and share experiences. I look forward to welcoming you.
*There are affiliate links in this post, which means if you purchase anything I make a few pennies…literally. That money helps me help homeless animals through donations and fostering, as well as keeping this blog running.