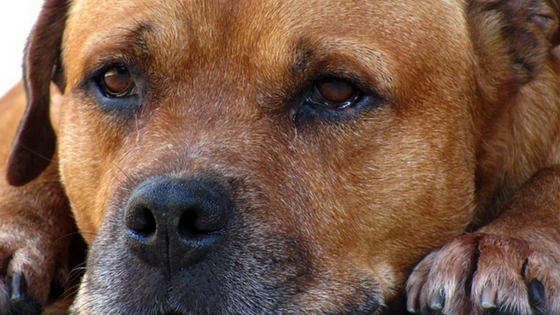 The last thing we ever want is for our senior pups to suffer, so let's take a look at some options for pain relief for dogs with arthritis. 
**UPDATED June 11, 2018**
We're going to be discussing medication in this article, but if you prefer a more natural approach, my article "How to Treat Arthritis Pain in Dogs Naturally" will be of interest. Of course it doesn't necessarily have to be one or the other, as often a combination of the two may yield the best results. 
NSAIDs (non-steroidal anti-inflammatories)
Most drugs used for treating arthritis in dogs, are non-steroidal anti-inflammatories. Aspirin and ibuprofen, which most of us keep in our medicine cabinets, are just two examples.
That was not a suggestion to pull them out and give them to your dog! I just wanted to present a relatable example.
Metacam is often prescribed to help relieve arthritis pain in dog.
How do they work
They help reduce swelling, stiffness, and joint pain.
Side effects
Side effects are rare, side effects are common. Don't you wish things were black and white? Yes or no?
Let's put it this way. When you fill a prescription for yourself, there's always a very long list of potential side effects included in the box. Usually nothing happens, but sometimes they do, so the companies just want you to be aware of potential problems.
Same goes for this!
These medications are very beneficial, with a good track record, but things happen. Monitor your dog for any changes in behaviour – eating, drinking, skin redness, vomiting, diarrhea. If yes, call your vet immediately.
When side effects do happen, they can come on quite suddenly, and by the time you notice them, the problem could be well advanced.
Side effects may include:
gastric ulcers

problems with kidneys, liver, intestines, digestion

bleeding disorders.
Can I reduce the risks associated with NSAIDs?
Don't combine them with steroids.

If you're seeing a new vet who doesn't know your dog's history, be sure to tell him/her all medications your dog is taking, to avoid clashes.

As I mentioned earlier, any change(s) in your dog, no matter how slight, or insignificant you may think it is, call your vet immediately.

Give with food to help prevent gastric ulcers.

Have bloodwork done before beginning treatment. The results will be used as a reference against follow up blood tests, done to monitor liver and kidney function.
Steroids
Steroids may be prescribed if NSAIDs are not having any effect. Prednisone and other corticosteroids will reduce swelling and inflammation, but there are risks, particularly if they are used long term.
Some of the risks and side effects include:
liver damage

gastric ulcers

kidney damage

seizures

pancreatitis

diabetes

increased thirst

increased peeing

further damage to the joints
Unlike some drugs that you stop taking when the treatment is done, you must gradually wean your dog off steroids, in order to get his/her adrenal glands used to not getting them.
Controlled medications (narcotics)
Another groups of medications are known as narcotics.
I don't know about you, but when I hear the word "narcotics" I think heroin, cocaine – maybe that comes from watching too many police dramas on television!
They are the most efficient pain relief, and although they're addictive, they don't have the same potential for organ damage as NSAIDs.
This category contains drugs like: Hydrocodone, Vicodin, Oxycodone to name just a few.
Because narcotics are listed as controlled substances, they aren't available everywhere.
Tramadol
There seems to be many differences of opinion about whether or not Tramadol is a narcotic. Because it's unclear, I have put it under its' own heading. I'm at the vet a lot these days, and it seems every time I'm there, someone is being
prescribed Tramadol.
It provides pain relief, but isn't much help as an anti-inflammatory.

Tramadol is less controversial than narcotics, and generally safer than NSAIDs

It has been known to cause feelings of euphoria, which may reduce anxiety in pets.

It may be unsuitable for use in dogs suffering from liver or kidney disease, seizures etc… but of course your vet will advise you if it's right for your dog.

Like steroids, your dog needs to be weaned off Tramadol. Your vet will advise you on the schedule.
Side Effects
Tramadol doesn't typically cause harmful side effects, unless it's misused, but they can happen:
nausea

constipation

drop in heart rate

dizziness

panting
Pain relief for dogs with arthritis – The conclusion
You've read about alternative treatments, and now you have a better idea of the categories of "traditional" medications available to treat arthritic dogs.
If you have a vet that you really like, he/she shouldn't mind you making an appointment to chat about the drugs available, why a particular one was chosen, and even to discuss alternatives if that's something you're interested in exploring.
Pain Relief for Dogs With Arthritis