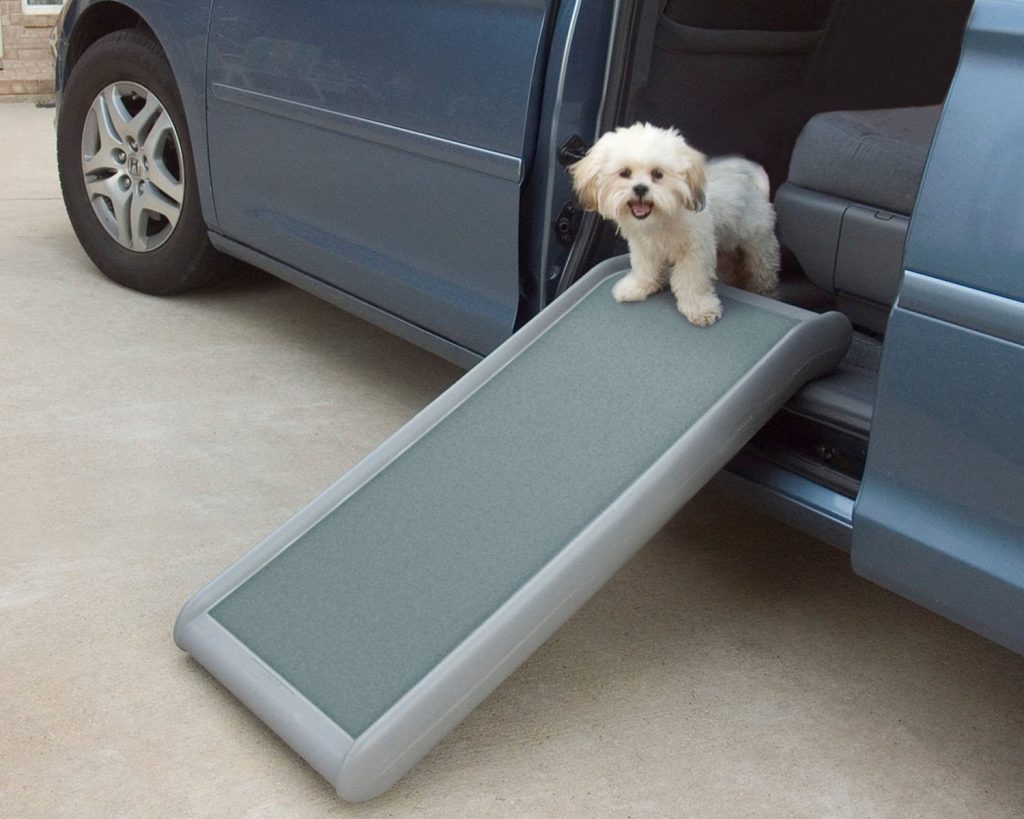 There are 2 things you must know about dog ramps and pet stairs and they are…
I've piqued your curiosity haven't I? Excellent!
As someone who lives with senior dogs and dogs so neglected they have no idea how to use stairs, I love these products and would never be without one or both. I try and take pictures as much as possible, but unfortunately have none to show you of them being used in my house.
So what are the 2 things you must know? What a difference they will make in the life of your dog (or cat), and how much easier things will be for you. How you ask? Keep reading as we talk about the benefits of stairs and ramps.
Benefits of dog stairs and ramps
Help arthritic dogs get on and off the couch or bed, and in and out of the car

Senior dogs who are slowing down and could use that extra bit of help

Stops your pet from putting undue pressure on joints when jumping, reducing wear and tear and preventing injury now, to hopefully avoid problems later

Dogs too small or too young to jump can still have access to the spots they like

Perfect for pets recovering from an injury or surgery who have to take it easy

You no longer have to lift your big dog in and out of the car, or on and off of the couch

Back or joint problems may make it difficult for you to lift even a small dog, and now you won't have to

Makes it easier to get into a bathtub at the groomers or at home

Even if you have nothing preventing you from picking your dog up all the time, why should you have to? 

A ramp is perfect for a dog who doesn't know how to use stairs, or has trouble using them
My experience using a ramp for my dog
A few years ago we rescued a puppy mill dog named Saffy. She was used for breeding and kept in a chicken coop for 8 years. She had never seen stairs, and had no idea what to do with them. She would fall down them, stumble
up them, then she hurt her leg.
You're probably screaming at me wondering why I didn't just pick her up and carry her. The horrors she endure for 8 years meant she was beyond terrified of everything, being picked up included and the last thing I wanted to do was traumatise her any more. No store bought ramp was suitable for our front entrance, so my husband built a ramp to replace the stairs.
We used a store bought folding ramp in the bedroom so she could get onto the bed. Teaching her how to use it was a whole other story, suffice it to say it involved a couple of weeks of leaving trails of food all the way to the top but I did it!  
Those two ramps made an enormous difference in Saffy's life and ours.
Features to think about when choosing
Do you need something for indoor use, outdoors, or both?

What will you be using it for – getting on and off the couch, in and out of the car?

Height the stairs or ramp has to reach

Maximum weight you need it to support

Ease of assembly

Can it be folded and stored

Portability – ease of carrying and moving it

How stable is it – something that wobbles may be difficult or unsafe for your pet to use

Non slip surface – having your pet slip, especially if used outdoors in wet weather or with muddy paws can cause injury

How steep the slope of the ramp is – a longer more gradual incline may be easier for your dog to navigate  

Width

Number of steps

Height and depth of each step

Type of material

Style

Budget
"Note: some of the links below are affiliate links (links to my affiliate disclosure policy on another page), which means that we get a few pennies if you make a purchase, at no extra cost to you, to help support this blog and my rescue work (and we really, really appreciate it!)"
Some of the popular dog stairs and ramps
Portable 

Measures 70" x 17" open,  

37" folded

Supports up to 500lbs

Perfect for vehicles, staircases, and furniture

Rubberized, nonslip walking surface, wet or dry
Easily folded, carried and stored

Low angle of ascent/descent and wide decks makes dog feel more secure

Users have found it sturdier than a ramp and easier to use

Dogs of 115lbs have used them with no problem
20"W and e

xtends from 48"-87"L

High traction walking surface

Dogs up to 150lbs have used it

Carry handle and safety latch to prevent accidental opening

1 year warranty against defects
24" x 16" x 20"

Weighs 5lbs

Safety side rails

Small – medium size dogs

No assembly required except padding you peel and stick on the steps
62"

Supports 200lbs

13" wide walking surface

Simple folding design

1-year warranty against defects
22″L x 20″W x 16″H

Carpet tread removes easily and is machine washable

Rubber grippers on bottom keep step secure and in place

Snaps together very easily
Easy fold for compact storage

For pets up to 200lbs

Rubberized bottom grips for secure placement

Raised edges help prevent slipping off the side

Carpet tread for traction, removable for easy cleaning
Supports weight of 200 lbs

Each step padded for extra comfort

Non-skid bottom helps keep steps in place

Includes handle on the back for easy movement

Cover is removable and machine washable
Easily converts from steps to a ramp

Supports pets up to 130lbs

Covered with soft, non-slip, easy-clean carpeting

Folds flat for storage and carry handle
2 Things You Must Know About dog ramps and pet stairs  – conclusion
I'm comforted by the increasing number of ways there are to keep senior dogs living a good quality of life. Now that you have discovered the 2 things you must know about dog ramps and pet stairs, things will be a lot easier for your dogs and for you.
Pet stairs, dog ramps or both? What would be the most helpful in your home? What would you use it for? Tell us in the comments section below, believe me your experience does help others!!
I would like to invite you to join Senior Dog Care Club, a new Facebook group for senior dog parents. There you will find lots of helpful tips and advice, a place to ask questions and share experiences. I look forward to welcoming you.
2 Things You Must Know About Dog Ramps and Pet Stairs