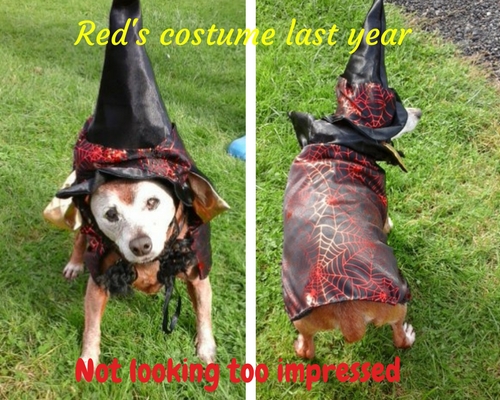 It's just around the corner, so it's time to start thinking about Halloween costumes for dogs.
My dog Red is quite easy going, but so far hasn't liked any of the head pieces I've put on her, so this year I'm going simple. Yesterday I bought a really cute pumpkin sweater, and that's what she's going to wear.
Forget about my other dog Jack. I may be able to put the black cape on him that I used last year, but another one that's not a fan of head wear.
For those of you with dogs who'll let you put anything on them, here are some cute costumes.
Cotton blend ribbed pumpkin turtleneck
Lion mane and tail
Animal Planet peacock costume
Wonder Woman
Tarantula
Pumpkin carrier
Super Hero
Holy Hound
Hot dog and mustard
Glow Bones
Halloween costumes for dogs – conclusion
You decorate your house, you dress up your kids, don't make your dog feel left out. There's lots of great Halloween costumes for dogs to choose from, or if you prefer, why not make your own?  
If there aren't enough treats to get your dog to put on one of these costumes, how about a Halloween themed dog collar?