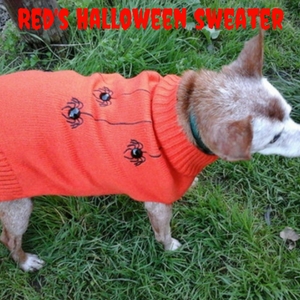 If you're not wild about any of the dog costumes out there, and a collar with pumpkins just won't do it for you, how about if you make your own dog Halloween costumes?
I'm afraid I'm not craft-inclined, but if you enjoy a challenge, or prefer the satisfaction of making something from scratch, I have put together some patterns and other accessories you can use to create your own unique design. If you want to send in some pictures of the costumes you've made, I'd love to see them and might even publish them!
Patterns
McCALLS Pet Costumes 
Available in sizes (length) – Small(6½"-9″), Medium(9″-11″), Large(11″-13½"), X-Large(13½"-16″), XX-Large(16″-18½")]. each pack comes with patterns for a pumpkin, superhero, vampire and a dress.
Simplicity 3952 Dog Costumes
Turn your dog into a Pumpkin, Santa, Princess, King, Hot Dog or Witch in no time. Fits small dogs 8″-10″ body length and 15″-18″ chest, and medium dogs 12″-14″ body length and 19″-23″ chest. 
Simplicity Dog Costumes Pattern 8287

 
Suitable for dogs with 14″-16″ neck, 16″-18″ chest, length 16″-18″, consists of patterns for Santa, devil, witch, pumpkin, ballerina, angel, cow and clown.
Simplicity Pattern 1765 Matching Child and Dog Dinosaur Costumes
Designed and manufactured in the U.S.A., the child's dinosaur and dragon costumes are sizes 3-8; the dog dinosaur costume is available in 3 sizes S (13″), M(15″), L(17″). 
Simplicity 2759 Victorian Dog Costume
If you want to dress your dog in something unique, take a look at this! Definitely adorable, and not something you see, in fact I've never seen this before. Available in XS, S and M sizes. 
Halloween fabric
Take a look at these gorgeous Halloween fabrics! Whether you're using one of the patterns above, or you'll just make a bandana or cape, these spooky looking fabrics are perfect.