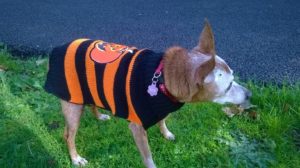 As fun as the upcoming holiday is for humans, pet safety is super important so let's talk about how to keep your dog safe on Halloween.
Keep the candies for the kids
We all leave the candies right near the front door don't we? After all it's the most convenient for us, but is it convenient for your dog as well? My dog Jack is extremely resourceful when it comes to reaching food. He figured out a way to jump from the couch to the ledge to the table to get what he wanted. If this sounds like your dog please put the bowl out of his reach, then a bit higher!! 
When taking handfuls of candy some pieces are bound to end up on the floor, so when you see something fall please pick it up immediately. In all the excitement you likely won't notice, so do your best to check for fallen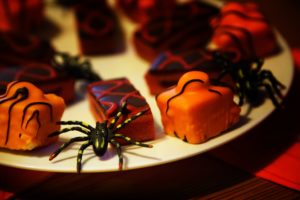 treats because chocolate is poisonous and candies and wrappers are choking hazards. 
If your dog does eat something she should not have, or you even suspect she has, call the poison hotline, or take her to the emergency hospital if your vet is not available.
Lock him up!
Welcoming trick or treaters means lots of door opening, bell ringing, scary costumes and screaming kids. Keep your dog safe by putting him or her in a separate part of the house, a crate or behind a baby gate.
ID please
Even if your dog is safely locked away, it's important for him to be microchipped and have a proper fitting collar with an id tag, containing up to date information. You never know – someone may let him out or he may let himself out, and you want to do everything you can to ensure he gets back home safely.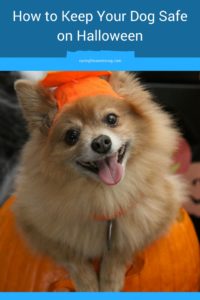 A note I really have to add – your dog should always be microchipped and have an ID tag.
Don't leave him alone in the backyard 
Don't leave your dog alone in the yard. You never know if a prankster will steal or let her out, or even do her harm. If your dog lives permanently outside, which I hope is not the case, bring him in on Halloween.
Keep decorations out of reach
Halloween lights and other decorations should be kept out of reach. Cords can be used as chew toys, and decorations knocked over or swallowed.
Shine the light outside
Lit candles and pumpkins naturally go together, but that combination is best left outside on paths and walkways. if left within reach your dog can either burn himself or accidentally start a fire. As I mentioned earlier, some dogs are determined enough to reach heights you never thought they could reach, and even if you do find the perfect "out of the way" spot for your burning Jack O Lanterns, who can enjoy what they can't see?
Playing dress up
As you can see from this picture of my dog Red, she looks less than thrilled with the costume I put together for her. She wears a sweater most of the year so I know it wasn't the cape that was annoying her as much as that witch hat!! I was not about to leave her unhappy so I took a few pictures then took it right off her.
If your dog is more willing than Red, make sure there is no beading or other pieces that can be chewed off and no part of it restricts his breathing or ability to bark.
If your dog wants no part of it, please don't force him. There are plenty of Halloween sweaters, collars and bandanas he may be happier wearing.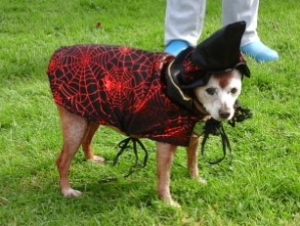 Know your numbers
I recommend always having important phone numbers like poison hotline, 24 hour emergency hospital and of course your vet, in an easy to reach place that everyone knows about. If your dog does eat something she shouldn't have, or you even suspect she has, knowing who to call can be the difference between a happy outcome or a sad ending.   
How to keep your dog safe on Halloween – conclusion
It's so easy to get caught up in the excitement of costumes, parties, and trick or treaters isn't it! Let's not forget these important Halloween safety tips so everyone, our four legged family members included, have a safe and fun night. 
What awesome tips do you have to share that will make this coming Halloween as safe as possible for our pets? Please leave them in the comments section below.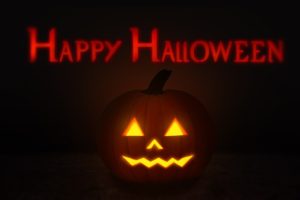 I would like to invite you to join Senior Dog Care Club, a new Facebook group for senior dog parents. There you will find lots of helpful tips and advice, a place to ask questions and share experiences. I look forward to welcoming you.