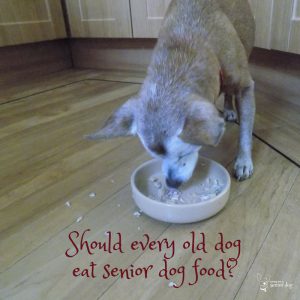 There are many vets who believe the nutritional needs of the senior dog can be met by feeding them senior dog food. There are also many vets who believe they can't!
My thoughts 
I am not a vet or a professional dog food expert, I am however someone who has shared their life with dogs and cats for the past 31 years, and senior dogs specifically for the past 10. I personally don't believe there is a "one size fits all" answer to canine nutrition, nor do I believe every food labelled "senior" is guaranteed to be the best diet for your dog. I also believe it's important to know your dog's health status and whether or not there are ingredients you need to avoid.
Educating yourself is key. While my wonderful vets have done an amazing job at helping me care for my animals' medical conditions, when it came to nutrition they were not as helpful as I would have expected. Plaques on the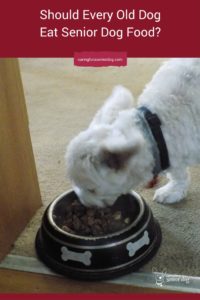 wall informing us of their staff's experience in pet nutrition, were awarded by pet food companies and it was the same brands the practice would stock. 
For many many years I switched to senior food as soon as my dog or cat hit that milestone, blindly trusting that it was the right thing to do. I had no idea it was something I should question, especially when my vets were believers. I remember having a bit of a freak out when I first moved to England with my cats and was shocked to find only a couple of brands made a senior formulation, and they were the cheap brands. I wonder now why it didn't occur to me to look online but it wasn't such a "thing" back then, at least not for me. I was very concerned, okay extremely worried, the odd time when I fed them "adult." I don't know what I thought would happen to them, but I was sure it was something bad.
My awakening
I guess it started a couple of years ago when this website came to be. One of the topics I was planning on writing about was nutrition, and the more I read the more confused I became, the less I wanted to write about it because I was so confused!! 
How could it be that my beliefs about dry food, prescription diets and senior formulations were coming into question after reading so much that was contrary? Was it really true dry food was not necessary for teeth cleaning? Could it be prescription diets contained horrible ingredients? You mean senior food is not "the" answer!! 
My intention is not to get you to stop buying senior food
I believe everyone must make the best decisions they can for their pets, and they need information to do that. There is a lot of conflicting advice out there about so many things, pet nutrition included. My best recommendation is to research and see what makes sense for you.  
[bctt tweet="Should every senior dog eat senior dog food? Let's find out!!" username="petcrusader"]
So what's changing that makes us turn to senior formulations?
While some seniors do remain as active as they ever were, many tend to start slowing down. They don't get as much exercise as they once did, their metabolism is not as fast as it once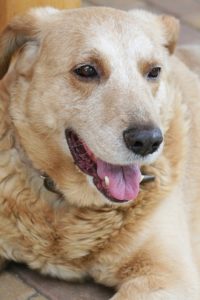 was, and the chances of weight gain and obesity become all too real. Sense of smell and taste can fade, along with the ability to chew as effectively. Smaller kibble size can help, as can smaller chunks of food and small more frequent meals throughout the day. 
What are the characteristics of a senior diet?
lower calorie to compensate for a decrease in activity level and slowing down of the metabolism, helping your dog avoid weight gain

easily digestible higher quality protein to maintain muscle mass and improve palatability of the food

higher fibre for gastro intestinal health, and because older dogs are more prone to constipation

added supplements like omega-3 fatty acids for joints, and antioxidants
How do I know if this is what my senior dog needs?
That's the thing isn't it – you don't!
Not every senior dog has a weight problem, and a calorie restricted diet wouldn't be the best thing for dogs who have trouble eating, aren't interested in eating or are high energy. Then there's the issue of quality – is the ingredient list loaded with corn, by-products and meal? You'll find that on food for dogs of all ages, not just senior. Is that really the best we can offer them?
The protein debate
More protein? Less protein? Depends who you're listening to! It seems to be less about the quantity of the protein, and more about the quality.
This is what I've discovered, and to be frank it makes a lot of sense
There are highly digestible proteins that your dog's body can easily absorb, and those that it can't. Animal parts like beaks, feet, and tails are 100% protein, but not at all digestible. So why is it appearing in pet food?
Soy is high in protein and a very popular dog food ingredient, but is believed by many to be an inappropriate source of protein. It is seen as merely an inexpensive way for pet food manufacturers to increase the protein content of their food.
From what I understand, the recommendation for lower protein diets in seniors came as a result of how the pet food industry made its' food 50-60 years ago (sorry I don't recall the source of that info!). Slaughterhouse waste was combined with discarded vegetables and grains not suitable for human consumption. Because the quality of protein (and of course the food in general) was so poor, it was difficult for dogs (and cats) to digest it, causing strain and stress on the liver and kidneys. As a result, senior pet foods were introduced and as a pet aged vets recommended them for their lower protein content.
On the flip side, many vets believe protein is particularly important in aging dogs. Be advised the protein they're referring to is high quality, easily digestible.
Does that mean a raw diet?
Yes, to many it does! Raw food in its' natural state is considered by many to be the most digestible form of protein, full of moisture with nothing added. Because manufactured food has been dehydrated, pets must drink a lot of water to rehydrate, stressing an older dog's organs. I know many people who swear by a raw diet and have seen noticeable, positive changes as a result.  
Fibre
What about the need for added fibre to prevent constipation and aid in digestive health? Although higher fibre causes dogs to poop more, too much fibre can block the absorption of healthy nutrients. Well, as is the theme throughout this article, plenty of vets believe senior formulas contain the right amount of fibre, while others believe there are healthier ways to get that much needed ingredient.
Healthier ways to add fibre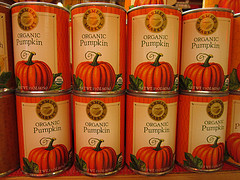 Psyllium husk powder, dark green leafy vegetables, and canned 100% pumpkin are just a few examples.  
Supplements in the food
You read about all the wonderful supplements being added to our cereals, juices, even skin care products. Then you read how they are actually present in such miniscule amounts as to have no positive effect at all. Many believe the same can be said about supplements added to dog food.
Omega 3 for example is sensitive to heat and light, so while it may be technically present in the food (so it can be listed as an ingredient on the label), the manufacturing process has made it useless. It's best to supplement the diet with a good source of it.  
Joint supplements are another additive, but the quality and amounts are unknown. Once again, using a glucosamine or other appropriate supplement like New Zealand Green Lipped Mussels for instance, or Turmeric golden paste would be heaps more effective.
Read this→ Supplements For Dogs: A Whole Foods Approach
The beginning of the end of our confusion
I know the whole "what to feed my dog" issue can be confusing, but I think it would be a whole lot less confusing if we approached it from a different angle. Rather than checking out the hundreds of dog food brands (are there hundreds, or does it just feel that way?), and trying to figure out which one to buy, let's do this…
Step one would be to take your dog to the vet for a health check, so you'll have your starting point. Are there medical concerns? Things his body needs more of? Less of? You may have to schedule a separate visit to discuss your dog's nutritional needs.
If you like the sound of a raw diet, or are interested in the benefits of adding some natural supplements to a branded food, talk it over. Once you have an understanding of your dog's specific nutritional needs, you will find it much easier to assess the brands available, and choose the one best suited. Perhaps a commercial dog food isn't the best option, but a home cooked diet is!! 
How about a chat with a holistic vet
Last year I took Red to a holistic vet for the first time. We had relocated to Spain for a few months and since we needed a vet anyway, it was my chance to "go natural." His take on animal care in general was fascinating to me,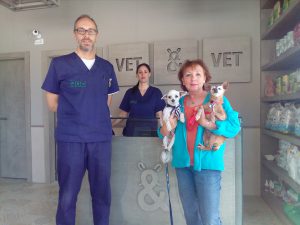 and in line with my views, and in particular when it came to diet.
Unlike my vet's strong belief in the need for Red to eat a prescription kidney diet, my holistic vet wanted her to stop it immediately because of the poor quality of the ingredients. He believed natural was best for her, so after seeing the results of blood tests he created a diet just for her consisting of specific proportions of boiled chicken breast, cooked quinoa, cooked rice, boiled broccoli, raw carrot, raw apple and olive oil. 
Taking your dog to get another opinion on the best diet for him or her could be an interesting and eye opening experience. 
Senior food for senior dogs
If you're happy with the senior diet your dog has been eating, he's loving it and doing well I hope you don't feel any pressure to make any changes. Tons of people (not very scientific but I don't know the stats!!) choose a senior diet and they believe their pups are doing great. What you can do is ask your vet for recommendations on what you can add to make it even better – omega 3s, joint supplements, cooked chicken or fish, some fruits or vegetables…
Should Every Old Dog Eat Senior Dog Food – conclusion
There are many factors besides age that should be used to assess the suitability of a particular dog food. That's why I don't believe when the date on the calendar changes so must the food. Do your research and start educating yourself, it really is fascinating but pay attention to the source of your information and make sure it's reputable. 
Here are some links to get you started
The European Pet Food Industry Federation 
FDA regulation of the pet food industry
Do You Know What Food is Best for Your Senior Pet?
Why 84% of Pet Owners Don't Know What to Feed Their Aging Pets
8 Tips for Feeding Your Senior Dog
What is your opinion? Is your dog on senior food? What made you choose that particular brand/type? Please share your story in the comments section below or on my Facebook page.
I would like to invite you to join Senior Dog Care Club, my Facebook group for senior dog parents. There you will find lots of helpful tips and advice, a place to ask questions and share experiences. I look forward to welcoming you.