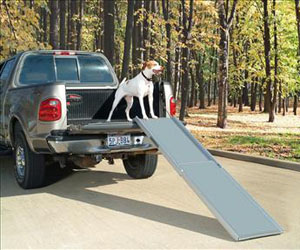 I am always surprised by the number of pet parents who have never heard of dog ramps.
Well, I'm on a mission to change all that!
It makes me very sad when I think of how many dogs have a lesser quality of life simply because they are older, when there is so much we can do to help.
A quick mention – they're great for cats as well!!
Dog ramps – who will benefit?
In addition to the dog stroller I have, a ramp is another indispensable tool to help me care for my senior dog.  
If your dog is having some mobility issues, make it easier for him to access his favourite spots with a smooth walk up a ramp.
Perhaps you have some back troubles, and lifting even a small dog is physically challenging; a ramp is a great alternative. Even if you could pick him up, what happens when he's ready to get down and you're not around?
A ramp is also perfect for any dog recovering from surgery or injury. A ramp will help get them in and out of the car for their vet appointments, especially if they're too big to lift on your own.  
Would you believe they're also perfect for young and healthy dogs? If you have a dog that loves to take a flying leap off the couch, as I do, then you should be aware that over time, that can put a lot of stress and strain on their joints, which can lead to inflammation, injury and arthritis. Having them use the ramp, even if only sometimes, will go a long way to reducing some of that stress.   
Are you a groomer? Do you have dogs that you have trouble lifting onto your table? How about a ramp to help!
When/where can they be used?
Indoors and out…

Getting in and out of a boat, car, SUV

Up and down the steps to your front or back door

Use on a short flight of steps in your home

On and off the couch or bed

Help getting in and out of the pool

Assist dogs getting onto and off of a grooming table
Types of ramps to choose from
Ramps can roll, fold or slide, making them easy to store. Some are very lightweight, easy to assemble, and can hold up to 500 lbs (they have been used to load dirt bikes onto trucks!!).
Tips on choosing the right one
There is such a wide variety of dog ramps on the market, you will find one that meets your needs…but what are those needs?
Of course have a look around, but in order to make the best choice you'll need to know what purpose it will serve.
Consider the following…
Are you looking for indoor or outdoor use, or both?
Do you want a ramp so your dog can get in and out of your bed easier? Your car?
What kind of car do you have? A van or SUV may require a different size/style than a small hatchback.
How big is your pet? The ramp you choose has to support his size and weight.
Incline – larger dogs can typically handle a steeper incline better than smaller dogs, but if you're talking severe mobility issues, even a large dog may need a more gradual incline.
Training your dog to use it
Now that you've decided, you're going to have to train your dog to use it. Some dogs will walk up the ramp right away without a single problem, while others will run and hide.
Best to introduce him to it slowly, because you want to set him up to succeed. 
Even though you know your dog really well, why not start off gradually just in case this is the one thing that freaks him out.
Start by laying it out flat on the floor, and let him walk around and check it out. If he's food motivated (as mine always are thankfully!), put a treat near the ramp. After a few tries of that, put it on the ramp. You're creating positive associations between himself and the ramp, so he'll see that good things happen when he's near it.
Try that a few times and see how he reacts. If he's cool, you're ready to set it up with a very, very gradual incline. Put a treat on it and see how it goes. You'll be gradually increasing the incline until he's happy to walk up it.
As it gets steeper, you can start putting a trail of treats all the way up, to encourage him to get to the top. That's what I did when I was training an extremely fearful dog to use the ramp. She was petrified of a leaf moving, so it was challenging but it worked, so if it worked for her you shouldn't have a problem if you take it in stages.
Now let's check out the merchandise!!
Roll Up Pet Ramp

With a patented roll out, roll up design, it rolls up into its' own washable nylon carry/storage bag, and is highly transportable.
Designed for dogs up to 160 lbs, the links are constructed of durable polypropylene, and strengthened with glass fibres, and the hinges are made of impact resistant polycarbonate.
It is available in two sizes – 10 links and 18 links. The 10 link is designed for vans with sliding side doors, two-door cars, and small sets of stairs, and the 18 link is designed for station wagons, most SUVs and small trucks.
Ribbed rubber footings on both ends provide stability, and textured strips provide added traction to each link.
Comes with a warranty, it is made in the USA.
Where to buy: Pet Street Mall
Wood Bedside Ramp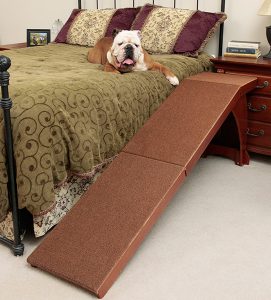 I love this bedside ramp because our animals always sleep with us, so this is the perfect solution that allows them to get on and off whenever they need to.
I like that it's long enough to provide a gentle incline, and fits nicely alongside a queen size bed, even with a night stand beside it.
It's 25" so reaches a taller bed easily, with space at the top to allow your dog to move to and from the bed.
The ramp surface is carpeted, providing enough traction so there's no worry about slipping. The wood and cherry finish should suit any décor, and it is easy to clean with carpet cleaner and wood polish.
It suits any pet up to 120 lbs, and assembles in about 15 minutes.
The dimensions are 70"L x 16"W x 25"H, and it is backed by a lifetime warranty.
Where to buy: Amazon
Deluxe XL Telescoping Pet Ramp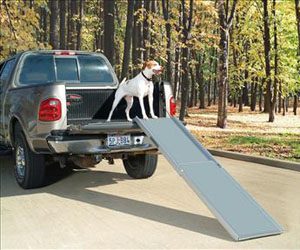 There are so many great features, but for me the best one is the extra length means a flatter angle for easier climbing. The extra width gives bigger dogs more room, and more confidence when using it.
This very stable ramp extends from 47"-87". Open it fully for access into pickup trucks, SUV's, even the grooming table!! Shorten for lower surfaces, or when space is an issue.
In spite of its' size it only weighs 18 lbs, and supports over 300 lbs. 
No folding and unfolding, just slide it out to the desired length, and start using it. It comes with a carry handle and safety latch, so no accidental openings!
Where to buy: Amazon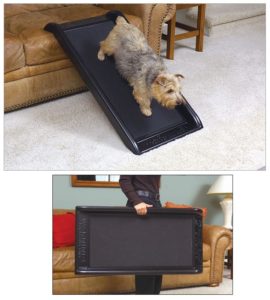 Made with Shur-Foot™ (the same material OSHA requires for indoor/outdoor pedestrian safety), ensures a no slip surface, and the high rails in contrasting colour keeps pets securely on the ramp.
Non-slip feet at both ends keep the ramp in place, and weighing only 8 lbs, it's lightweight enough for easy transport. The built-in handles make it easy to carry with dimensions of 39 1/2″L x 20″W.
Where to buy: Pet Street Mall
While the weather is still nice enough for boating, consider this doggy boat ladder for your next outing with the dog!!
The universal grip means it attaches to most boat ladders with three or more steps, and conveniently detaches and floats next to the watercraft when the boat ladder is needed by the 2 legged members of your party.
The doggy boat ladder is: rust and corrosion-proof; portable, lightweight and durable; UV resistant and easy to wash with soap and water.
It is 16" x 64", folds in half and comes with a handle for easy carry and easy storage.
Although it floats, it should never be used as a flotation device, nor is it safe for human use.
Where to buy: Pet Street Mall
Collapsible Pet Ramp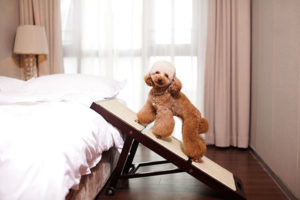 This is not only convenient, but versatile as well! There are 3 adjustable heights, no assembly needed, and folds flat for easy storage under your bed, in a closet or even behind the couch.
Suitable for pets up to 125 lbs, it has a sturdy wooden frame with rubber soles for grip, and wheels for easy transport.
Where to buy: Amazon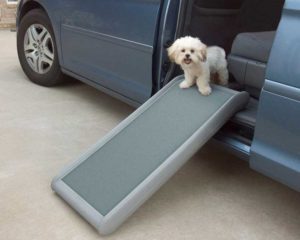 This ramp is one piece construction – no telescoping or folding so it's nice and easy to use, not to mention less expensive. It weighs only 7 lbs, but can support weight up to 300 lbs. Rubber feet at each corner holds the ramp in place while your dog is walking up and down.
Covered in a non-slip carpet, it is comfortable and safe for your pet, not to mention easy to clean!
It is 17″ W x 39″ L and can help your dog reach heights up to 20″ such as a couch, or the side entrance of a minivan.
Where to buy: Amazon
UltraLite Bi-fold Pet Ramp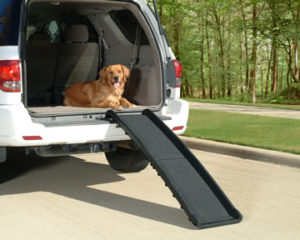 You would expect something of this size to be heavy, but it is the lightest full size ramp on the market! Weighing in at only 10 lbs, this bi-fold ramp supports weight up to 200 lbs, and has a high traction surface.  
It comes with a safety release latch to prevent accidental opening, and four rubber feet for sure footing, not to mention a 1 year warranty.
Made in the USA, it is 62"L x 16"W x 4"D, and helps pets reach heights up to about 24".
Where to buy: Pet Street Mall
Dog ramps – conclusion
Wow! I am really blown away by the incredible selection to accommodate all size pets, in a multitude of situations.
If you don't have a ramp, I highly recommend you get one. Whether your dog is stiff from arthritis, recovering from surgery or an injury, has trouble reaching the grooming table, or is just one of those dogs that takes a flying leap off the couch (anyone named Jack around here!!), dog ramps are the answer.