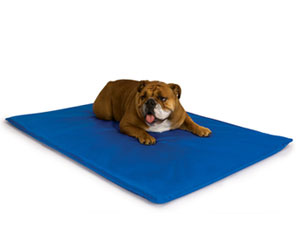 When I heard from my neighbour about this amazing product (the dog cooling jacket pictured below) that helped her German Shepherd stay cool in the heat, I had to share these dog cooling products with you.
I'm always on the lookout to bring you products I know will help not only your senior dog, but can benefit dogs that are recovering from surgery or illness, or just need a bit of extra TLC.
Not only do these items keep your pets cool on hot summer days, but users (I should say their "guardians") have reported lots of health benefits as well. Sounds like a winner all around!  
Let's take a more in depth look at some of the products, and what they have to offer.
Cool K-9 Dog Cooling Jacket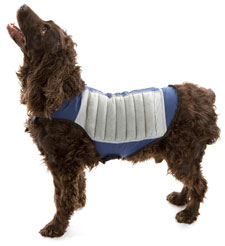 I realise how counter intuitive it must seem, recommending a jacket when all you want is something to keep your dog cool in the heat. Don't worry, because this does what you're looking for.
Aside from all the other satisfied customers who love this product, my neighbour recently purchased it and she loves it, or I should say her dog does.
She has an older German Shepherd who finds it so hard to cope in the heat, she can't always go out with her people because she suffers too much. When away at a show recently my neighbour saw several dogs wearing this coat, so after some investigating, she purchased it.
She couldn't tell me enough good things about how much it has helped her dog, from the moment they put it on her. Now she's able to stay out with them, and doesn't pant at all!
Where to buy: Pet Street Mall
Canine Cooler Cool Dog Bed
The canine cooler is designed to keep your pet cool on hot days. No batteries, nothing to plug in, no maintenance, no gel or toxic chemicals. Simply fill with water (once filled it will feel gel-like), place in a shaded area, and it's good to go.
Only fill with the recommended amount of water, and get the air bubbles out to create a smooth surface.  For best results place on firm ground like the patio, kitchen floor, but not a carpeted area.
In addition to keeping your dog cool, some of the conditions it has helped include…
Panting and restlessness in dogs with Cushing's experience

Comforts animals after chemotherapy

Hip dysplasia

Post-surgery recovery
Where to buy: Pet Street Mall
Pet Dog Self Cooling Mat Pad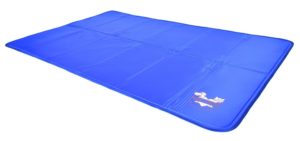 This self-charging solid gel nylon cushion cooling mat, absorbs your dog's body heat for 3 continuous hours. No water, refrigeration, batteries or electricity are needed.
It is weight activated, and after 3 hours of use, it automatically recharges in 15-20 minutes of non-use.  
The fabric is non-toxic, latex free and 100% safe for animals, adults and kids.
Lightweight, flexible, puncture resistant, durable and convenient, it folds for traveling and storage.
Perfect for old dogs, sick dogs, those recovering from surgery, illness or injury, it provides relief from pain and swelling, skin conditions, Cushing's and more.
Cleaning is easy, wipe with a mixture of mild soap and water and let dry.
Where to buy: Amazon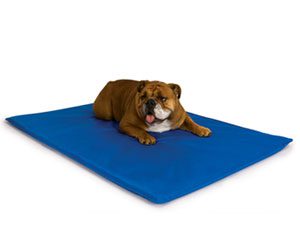 Simply fill the Cool Bed III with water, adjust the comfort level with the valve, and voila, the bed will always feel as cool as a cold tile floor, but nice and comfy. No electricity needed, it has a tough nylon/vinyl exterior, and is easy to clean with a damp sponge and mild dishwashing soap.
Available in 3 sizes – Small: 17″ x 24″    Medium: 22″ x 32″         Large: 32″ 44″
Where to buy: Pet Street Mall
CoolDog Reusable Ice Mat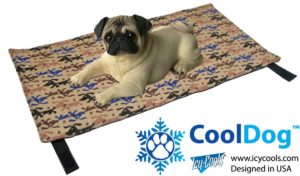 This reusable mat is good for keeping dogs cool, and warm for hours!! Simply freeze (or microwave) and use.  
Durable canvas has a non-slip bottom and comes with the USA made hot/cold insert, which already contains purified water – no gel or dyes so safe for you and your pets.
12″ x 24″ size is great for small/medium dogs, and the Velcro tabs allow the mat to expand to 24″x 24″, 24″ x 36″ and larger!
Rolls up for easy storage in the freezer or cabinet.
Where to buy: Amazon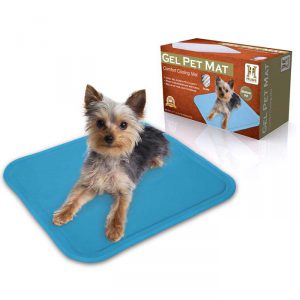 The Pet Gel Cool Mat will keep your pet comfy, on even the hottest days. Durable and puncture resistant, it is great for indoor and outdoor use, and can be used as an insert for your pet's existing bed. Measuring 16″ x 20″, it rolls up for easy storage and great portability.
Where to buy: Pet Street Mall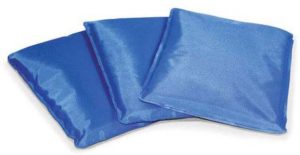 Perfect for indoor or outdoor use, just pop it in the freezer overnight, and put in any pet bed to keep him cool and comfortable.
Where to buy: Pet Street Mall
Chillz Wrapz Dog Bandana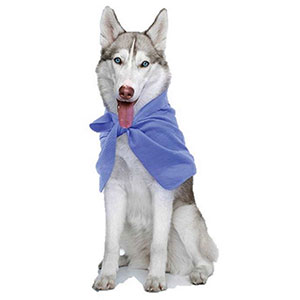 Made of high-tech synthetic PVA fabric, it will quickly cool your dog down, and keep him cool for hours. All you have to do to activate it is to run it under cold water for one minute, and it's ready to use. Tie it around your dog, and re-wet as needed. No dripping!!
Perfect if your dog won't let you put a coat on him (somebody say Jack??), but you want to keep him cool when you're out and about.
It is machine washable and measures 8″ x 21″ x 0.1″
Where to buy: Pet Street Mall
Dog cooling products – conclusion
If your dog is having a hard time coping in the heat, is recovering from an injury, or feeling under the weather, why not try one of these dog cooling products, and see how much better he feels.