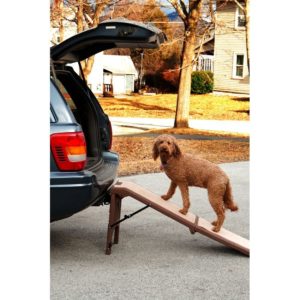 I must admit I'm always surprised by how few people know about dog ramps.
The thing is, that makes me concerned for three reasons
People are lifting some very heavy dogs in and out of the car, potentially injuring themselves

Dogs are missing out on quality family time

Dogs of all ages are putting unnecessary wear and tear on their joints.
What is a dog ramp?
Very simply, it is a ramp for your dog to use to gain access to places he can no longer jump into or onto.
Who needs one?
Every household with a dog
Who benefits?
You
If you've been lifting your dog into and out of the car for quite some time now, I imagine you're either feeling it physically or emotionally. If you have a big dog it's likely taken two of you, and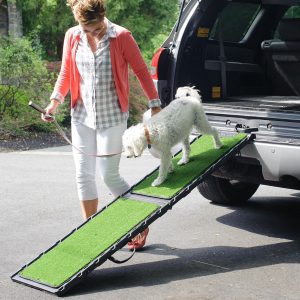 even lifting a small dog can become problematic, especially if you have some mobility issues of your own.
When I say emotionally I mean it can take a toll on us when we see our dogs aging, unable to do the things they used to.   
You and your dog
Everyone benefits by not having to leave the dog behind, keeping him as involved in your lives as ever.  
Trips to the vet with a dog of any age recovering from surgery or injury, are made easier with the use of a ramp. Even if they aren't able to walk 100% unaided, supporting him as you guide him up the ramp is easier than carrying him.
Small dogs
Small young dogs can benefit by reaching places too high for them to jump onto.
Any aged dog
To protect the joints of any age dog.  
**ADDITIONAL NOTE** Another reason your dog may get left behind is, even if you can get him in and out of the car, if he isn't able to walk much when you're at your destination, he'll have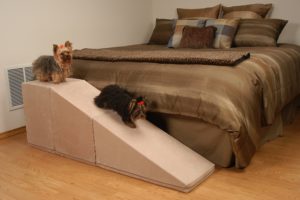 to stay home. A pet stroller is a wonderful mobility aid that can work perfectly in conjunction with a dog ramp.   
Where can I use it?
Anywhere really – car, boat, indoors   
Styles of ramps
Ramps come in a wide variety of styles, to suit any need.
Folding

Rolling

Telescoping

One piece

Free standing

With a platform at the top
Features to consider before buying
Sturdiness
The ramp must be sturdy, no buckling in the middle as your dog walks on it.
How secure is it
Does it casually rest against the couch or open car? Is there a risk of it falling or moving? If it tips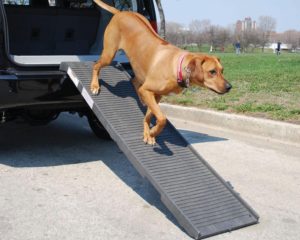 or wobbles, your dog may not only risk injury, it may scare him off using one for good.
Incline
Take into consideration the steepness of the incline before buying. Longer and gradual is easier to navigate than steep.   
Weight limit
I would underestimate when it comes to the weight limit of the ramp you buy. While a 90lb dog on a ramp suited for 100lbs should be no problem, I would look at the next one up, just to compare.
Additional safety features
Things like non-skid surfaces and elevated sides are important safety features to look for. Non-skid should mean exactly that, no matter the weather, and elevated sides prevents your dog from accidentally stepping off when using it.  
Weight
You may only be carrying the ramp from the car door to the trunk or back seat, but some can still have quite a bit of weight to them. Think about how much you'll be moving it, and whether or not you can manage on your own before buying.
Indoor or outdoor use
Know its' intended use, and buy the one that's suitable. A ramp for indoor use will not need to be weather resistant for instance, and that could impact the price you'll pay, meaning it might be cheaper!   
Ease of storage
When not in use, where will you store it, how much room will it take up and do you have the space?
Design
If you need a ramp for outdoor use, what it looks like will probably not be an important factor in your decision making process. If it will be permanently on display, you're likely going to want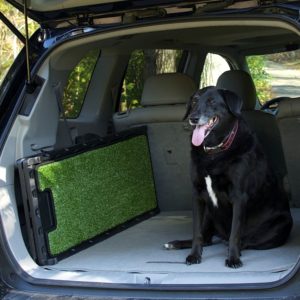 something that at least is not an eyesore.  
Cleaning
Will a simple spray with a hose be enough to keep it clean, a quick vaccum, or will elbow grease be the only way.
Price
Your budget will ultimately determine your selection, so shop around to get the best deal. There are so many ramps available online, you should find the perfect one for your needs and budget.   
Dog ramps – conclusion
Almost forgot…the single most important thing you need to know about dog ramps? You really need one!
Stop by my Facebook page, and please like it, share tips, advice, stories and pictures of life with your senior dog.