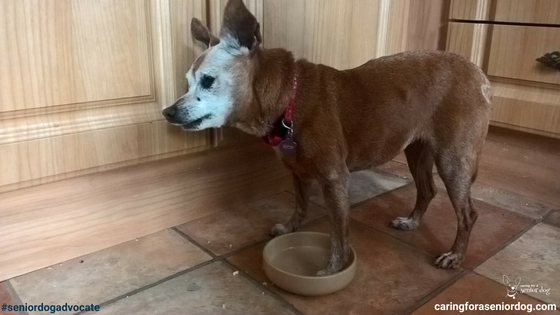 Have you discovered what the best dog food for senior dogs is? If you haven't I assume you're hoping I will reveal the brand…right?  
Well, I don't believe there is a "best" senior dog food for every dog. The "one size fits all" approach many take simply does not make sense to me. Some brands are far superior to others, and dogs have individual needs, some requiring a more specialised diet than others. Various "experts" claim XYZ brand is the best ever invented, while others insist it is ABC. Who's right?
UPDATED JULY 27/18

The first step
If your dog has not been for a check up in awhile, now would be the perfect time to schedule one. A senior dog check is usually pretty thorough and includes urine and blood tests. I recommend this as a first step for a couple of reasons. It's always easier to tackle a problem when it's still a minor one, rather than when it's reached its full blown stage. Should your dog have any health issues that may impact the type of diet you choose, it's best to know before you switch.
The results are in…now what?
Have a conversation with your vet about the results, and whether they have an impact on the type of foods your dog could/should be eating or avoiding. Here is where things can get a bit tricky, and let me explain what I mean.
Not every vet knows as much about pet nutrition as you would expect them to. Your vet may have "nutrition experts" on staff, but if you look at some of the plaques on the wall you will notice most, if not all of the courses, were given by a major pet food company. You will also notice they are usually the brands stocked. Also, your "conventional" vet will have different views from one that practices holistic medicine.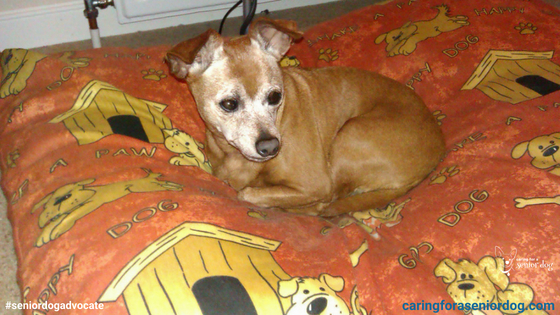 Here is a perfect example from my life…and Red's! 
We adopted Red 8 years ago when she was around 8. The poor thing was blind and morbidly obese, her stomach literally touched the ground. After a visit to the vet she was put on a well known brand weight loss diet, then a maintenance formula. When she no longer needed that kind of help, I bought senior dog food from a pet supply chain. I assumed senior dog, senior dog food and that was that. Although I was not aware of the need to read ingredients or to even understand what they meant, I did at least know there was a difference in quality. I never bought cheap food, or the big brands sold in supermarkets. Of course paying more doesn't necessarily mean getting more in terms of quality, or wholesome ingredients.
When Red started having issues with her heart, my vet recommended a prescription heart food. When she started having issues with her kidneys he recommended switching her over to a prescription kidney diet. To be honest I did as he suggested because he's an amazing vet, and I trust him with Red's life. I never bothered reading the ingredients, and carried on my merry way.
While writing about senior dog nutrition I came across an article about prescription diets, and I must admit I was surprised, okay shocked, by what I read. There were comments from a few holistic vets who felt they lacked nutritional value, or any value, and recommended avoiding them. They then listed the ingredients and highlighted what was wrong with them. Don't think I didn't jump off my couch and run to read the ingredients, and yes I was taken aback by the lack of any "real" food in the can.
The thing is, Red has a number of health issues and we walk a very fine line to keep her balanced, so I was not about to make any changes to her diet. And besides, my vet has been happy with her "progress" so no rocking the boat…certainly not without guidance.
About a year and a half ago we spent a few months in Spain and of course I needed a vet. Since I had wanted to take Red to a holistic vet for quite some time I searched for one in the area. Well, a 50 minute drive wasn't exactly "in the area" but it was worth the chance to finally see one. I make it sound like I was given the opportunity to see an endangered species!! 
Don't worry this is relevant!!
Since Pepe (my Spanish vet) did not know Red, he did a series of blood tests to get a comprehensive picture of her current health. The first thing he did when he got the results was create a home cooked whole foods recipe for her. One of the main principles in holistic veterinary medicine is health through a wholesome diet (the same for humans), and he was definitely not happy with her prescription plan. Well, she loved her new food and hadn't been this enthusiastic about meals in a long time.  Sadly Red died 2 months ago.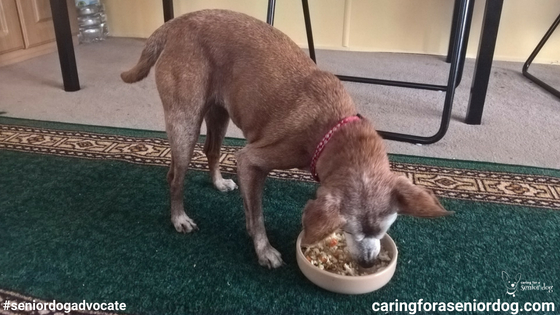 Okay now I have totally confused you!
Sorry it probably seems like things are as clear as mud, but rest assured I will give you the advice you seek! I merely added my experience so you can see where we started, and how we arrived at this point. 
You have options when it comes to choosing the best dog food for your senior dog and they are:
Buy a senior dog food and be done with it
Lots of people buy their senior dog's food off the supermarket shelf, and they'll tell you their dogs are fine, and you can do the same. If you trust that pet food manufacturers would only produce quality products that contain everything you need to meet your dog's nutritional requirements, you're good to go. 
I hope this didn't sound a bit sarcastic, because it was definitely not meant to be, but you know how it is when you write…
Follow your vet's advice
If you're loving your vet, you have the utmost confidence in his skills, and you entrust the health and well being of your beloved dog to him, then follow his advice. You are perfectly entitled to ask why he recommends that particular brand, what ingredients he is impressed by and why this one over others. 
Make an appointment with a holistic vet
If you "believe" in holistic medicine or you've never heard of it, either way you may want to make an appointment to speak with a holistic vet. You could find their perspective on nutrition very enlightening. You are under no obligation to follow their recommendations, just do it as part of your research. A bonus…they don't all charge for that initial consultation.  
Do some research
There is so much information about pet nutrition out there it can be very confusing, especially when much of it is conflicting. It's important to be aware of the source of that information, who wrote the article and what their expertise is. Learn how to read a label, what the ingredients actually mean, and how to interpret claims made on the packaging. 
I will give you an example- more and more pet parents are looking for grain free foods because they find it helps stop their dog from scratching, or they're buying supplements for their joints, skin and coat. You'll find most pet food companies have jumped on that bandwagon and offer grain free formulations, as well as foods with added supplements. When a supplement is added, let's say fish oil for example, it is impossible to tell how much has been added or the quality of the product. Also, most has been destroyed in the manufacturing process so your dog will benefit a lot more from you adding it directly to his diet.
You may also want to read up about the various types of food – dry, canned, raw, dehydrated, home cooked…
What can you do in the meantime you ask?
Whether you're sticking with the food he's on and leaving it at that, or are interested in exploring options, there are things you can easily add to improve the quality of his current diet.
Fruits and vegetables (blueberries, apples, bananas, carrots, broccoli, peas, squash to name just a few)

Brown rice or quinoa

Plain boiled chicken, turkey or fish such as cod mackerel

Supplements – fish oil, New Zealand green lipped mussels, glucosamine and chondroitin…
What ever you decide to do, I always advise speaking with your vet before making any changes. 
You're still waiting to hear about a specific brand aren't you? 
Some senior dogs can eat anything and have no problems, others have health challenges that may affect the types of foods they are able to eat. It's best to find out your dog's current health status, get recommendations from your traditional and holistic vets, do your research and decide what makes sense to you.
If Red had been able to eat any type of dog food I would have fed her Lily's Kitchen with some raw food added, for a number of reasons.
When we first adopted our other dog Jack he was constantly scratching, so I wanted a dog food as natural as possible, not loaded with fillers or non-essentials 

Because I read labels I wanted "real" food in the food

I also wanted limited ingredients, not a list as long as the height of the can!!

Organic would be a bonus

I add raw to Jack's diet because I've read some amazing benefits, but I'm not ready to jump in 100%
How I discovered Lily's Kitchen
Let me start by saying, I am not recommending you start feeding your dog this brand, this is just what I feed mine. It's also only available in the UK except through Amazon but it's very expensive. I started my search for Jack's new food in a pet supply store, reading the ingredients on every single bag and can of dog food. I do mean that literally. I read those from pet food companies I knew had poor quality ingredients, to the brands I had heard were excellent. 
I was sure I would end up with one of the brands considered "excellent" but I read the poor quality brands anyway, just out of curiousity. Imagine my surprise to find how low down the list anything resembling a real food was on the great brands!! I felt things were not looking good. How could I buy a dog food I wasn't happy with, knowing what I know?
Finally I got to the section with Lily's and I knew I found it!! Protein, fruits and vegetables were at the top of the list, and nothing bad on the bottom!! They had a nice selection of flavours, handy because Jack is picky, and it comes in a dry dog food as well, which I like to mix in with the wet. 

Why I would feed it to a senior dog
Here is some information from their website about why I like this brand. 
The bonus factor
As I already mentioned, we went to Spain for a few months so of course I had to bring a supply of Jack's food. I knew I wouldn't have enough, especially since we had no idea how long we would be away, and I was not looking forward to another search. Imagine my surprise the first time I went to see Pepe, and lining his shelves were cans of…you guessed it Lily's!! I couldn't believe it. It's not a massive company you find all over the world like some brands. I was happy with my choice  anyway, as was Jack, but the fact my holistic vet stocked it and gave his seal of approval made it even better. 
Have you found the best senior dog food – conclusion
I hope you have found the information here helpful, as you make your choice of the best senior dog food for your beloved pup. 
What do you feed your senior dog? Are you still using an adult formula, or have you switched to a senior, or perhaps a condition specific food? Have you noticed any differences in your dog since switching? I'd love to hear what's working for you, what hasn't and what led you to choose the brand your dog is eating. Let me know in the comments section below or post on my Facebook page. 
**There are affiliate links in this post, which means if you purchase anything I make a few pennies…literally. That money helps me help homeless animals through donations and fostering, as well as keeping this blog running. **