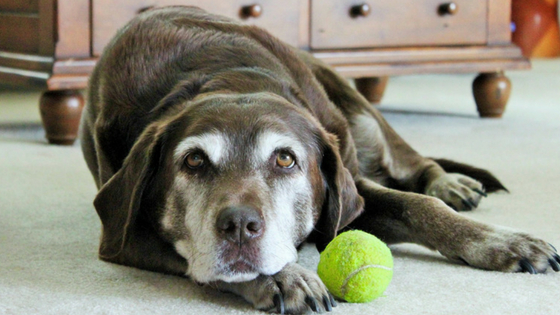 Don't mistake signs of arthritis in a dog for old age. What many pet guardians see as normal signs of aging, may actually be a dog in pain from the effects of arthritis. Dogs slowing down, having difficulty getting in and out of their bed, and a "seeming" loss of interest in going for walks or playing may be caused by many things, and arthritis is one of them. 
UPDATED JULY 28/18
What is arthritis?
Arthritis means inflammation of the joints and there are several types, the most common being osteoarthritis.  Dogs can be pretty good at hiding pain, so you may not realise the extent of your dog's discomfort until his condition has become quite advanced. That's why it's so important to keep an eye out for the following symptoms, and even if you feel they are minor a trip to the vet is recommended. Starting treatment in the early stages will prevent your dog suffering, and significantly improve his quality of life. 
Are some breeds more likely to get it than others?
While some large breeds are susceptible to developing arthritis, the truth is any dog, any size, any breed can develop it.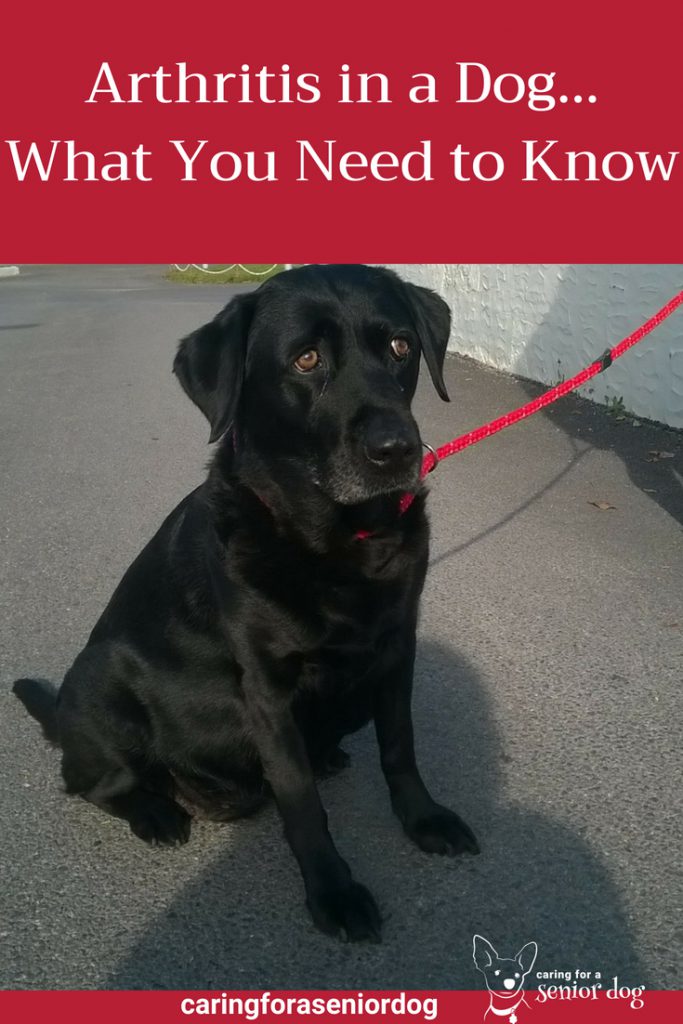 Causes of arthritis in dogs
A few of the causes include – 
Result of a trauma or minor injury a dog sustained in the past, even at quite a young age

Ligament damage

Lack of exercise – dogs need exercise every day, not just on the weekends. Putting an out of shape dog through a lot of physical exertion two days of the week, is an injury waiting to happen

Abnormal cartilage development

Dislocated joint

Rubbing within the joint

Strain on tendons and ligaments caused by excess weight
Symptoms 
Stiffness when getting up in the morning or after a nap

Difficulty lying down

Reluctance to move around as much as he used to

Stopped jumping onto the couch

Prefers shorter walks

Not running around with his mates at the dog park

Overweight dog having trouble walking – it may be more than just his weight

Trouble/avoiding climbing stairs

Limping

Uncomfortable in certain positions

Irritability

Muscle atrophy
Diagnosing arthritis
It is possible you may suspect your dog has arthritis based on the symptoms listed above, but the only way to get a definitive diagnosis is by seeing your vet.
First your vet will have a chat about what's been going on, and ask what signs you've been seeing that have you concerned. I always recommend making notes ahead of an appointment so you don't forget anything, and taking a video as well. Having your vet "see" what you're talking about rather than just relying on a description, can make all the difference.
The next step will be a physical examine where he will likely listen to his heart, lungs, possibly take his temperature and then he will move his hands along your dog's body, checking for any painful areas. He will also move your dog's arms and legs to check his range of motion and if he reacts to anything he's doing. What happens next depends on how your vet works. Some may want blood samples, x rays and even a fluid sample from within a joint in order to get a complete picture, some will just prescribe pain medication and send you on your way, and others will schedule a follow up to check his progress. 
I highly recommend you ask questions, make sure you understand what's going on, and you both have a plan of action. Don't leave things "hanging." 
Treatment options
There are several pain medications and natural options to consider, so here are a couple of articles you should find helpful. 
Pain Relief for Dogs with Arthritis 
Managing Arthritis Pain in Dogs 
Can arthritis be prevented?
Because arthritis can develop as a result of an injury, treating that injury and making sure it heals properly, can help. Hip dysplasia is another cause, but being genetic, you can't prevent arthritis from developing. However, knowing whether or not your dog has it means you can avoid certain activities that can make the problem worse (playing frisbee for example), while focusing on gentler forms of exercise such as swimming. Therapies like aquatherapy, laser therapy and acupuncture, turmeric golden paste and supplements such as Glucosamine/Chondroitin and New Zealand Green Lipped Mussels can lessen the effects. Speak to your vet about which ones he recommends. 
Mobility aids
It is encouraging to know there are so many ways to make your arthritic dog more comfortable. 
A dog ramp can help him get in and out of the car or boat, and on and off the bed. One of the things to keep in mind when looking is the steepness of the incline. Too steep may be difficult for your dog to use, so go for the gradual incline.
Your dog may not be able to go for long walks like he used to, but that doesn't mean he has to be stuck indoors. I recommend you consider a pet stroller, and I can tell you from experience how life changing it can be. Take it with you when walking the dog, and when he's done let him ride the rest of the way. It will prevent him from getting bored or depressed stuck at home, you can still get your exercise if you want, and he gets to see his friends like he used to.  
Pet stairs are a great help for dogs getting on and off the couch. Whether or not yours could benefit would depend on the height of each step, and the severity of your dog's condition. 
A sling provides extra support and can help your dog walk easier, while taking some of the pressure off his painful joints. To help my dog after spinal surgery, I used a sling to hold up his back end while on walks until he regained the use of his legs.  
Yoga mats or interlocking foam mats may not be the most attractive flooring, they will help your dog get around more easily. If your floors are too slippery it may be difficult for your pup to get up from a seated or laying down position, and of course there's the chance he may slip and hurt himself. 
Arthritis in a dog – conclusion 
No matter what issue or condition we're talking about, maintaining your dog's health through proper nutrition, physical exercise and mental stimulation, will go a long way to increasing his chances of coping with whatever challenges he may face.
Does your dog suffer from arthritis? How have you been helping him manage? Sharing helps others so please leave a comment below, or on my Facebook page.
**There are affiliate links in this post, which means if you purchase anything I make a few pennies…literally. That money helps me help homeless animals through donations and fostering, as well as keeping this blog running. **