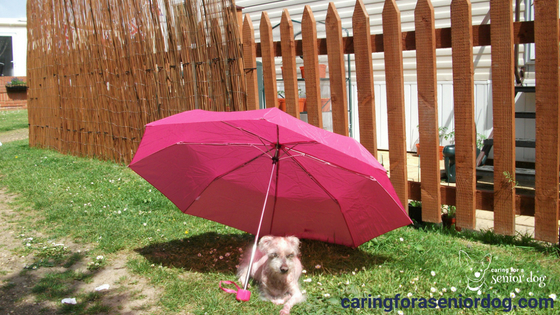 Do you think your senior dog is suffering from arthritis? What signs have you been noticing that have gotten you thinking it's a possibility? Before you continue here, why not have a read of an article I wrote called "Arthritis in a Dog – What You Need to Know."
UPDATED JULY 30/18
Causes of arthritis
Many joint diseases are actually the result of a trauma, or minor injury a dog sustained in the past, even at quite a young age

Ligament damage, the most common being cranial cruciate ligament in the knee

Cervical trauma caused by a walker jerking the leash around a dog's neck in a bid to stop him from pulling, or teach him to walk nicely

Lack of exercise – dogs need exercise every day, not just on the weekends. Putting an out of shape dog through a lot of physical exertion two days of the week, is an injury waiting to happen

Abnormal cartilage development

Dislocated joint

Rubbing within the joint

Problems with the development of bone and joint

Strain on tendons and ligaments caused by excess weight

Trauma

Joint infection

Bone fracture involving a joint

Ageing and natural wear and tear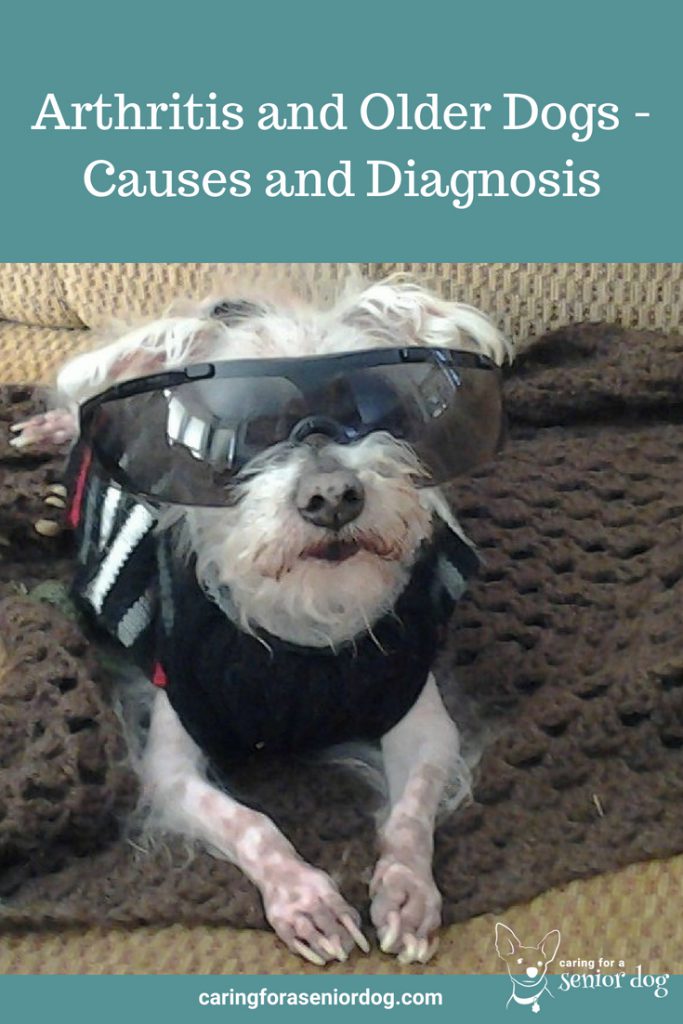 Diagnosing arthritis
You've seen some of the signs of arthritis in your dog, and you know the many factors that can cause it, so let's talk  about what to do next. Even if your dog is only limping slightly, I still recommend you take him to the vet. Dogs are good at hiding pain, and if there are treatments to make him more comfortable and ways to make him more mobile, why not!! 
Depending on how familiar your vet is with your dog, a whole history of any injuries or traumas may or may not be needed. If you adopted an older dog that history may not be known, so just tell him what you do know.
Once he has finished with his questions he will examine your dog. Your vet will likely listen to his heart, lungs, possibly take his temperature and then he will move his hands along your dog's body, checking for any painful areas. He will also move your dog's arms and legs to check his range of motion and if he reacts to anything he's doing. What happens next depends on how your vet works. Some may want blood samples, x rays and even a fluid sample from within a joint in order to get a complete picture, others will just prescribe pain medication and send you on your way. 
I can't tell you the best approach for you and your dog, we each have different expectations of our vets, but I do recommend you ask questions during your appointment –
What diagnostic tools does he recommend using to get an answer

Is each one really necessary

Must they be done all on the same day

Is it possible to do one test and see what results come in, then decide on the next step

How much is this going to cost?
If money is an issue, as it is for most of us, ask if there are less expensive ways to arrive at a diagnosis. Sometimes an examination will be enough to determine it is arthritis, and at least get you started on a treatment plan. You may be able to go back for further tests at a later date. 
If your vet has confirmed arthritis, the next course of action will be to devise a treatment and management plan so your dog is comfortable, and has a good quality of life.
Do you know what caused your dog's arthritis? What tools did your vet use to diagnose him? Sharing helps others so leave a comment below or on my Facebook page.