Product: PetZip Pet Happy Trailer Stroller
Best place to buy: Amazon.com
Specifications: Interior compartment – 28"L x 17"W x 24"H; for pets up to 75lbs; weight – 25lbs; Dimensions when folded (with wheels and handle) – 33"L x 24"W x 20"H; Dimensions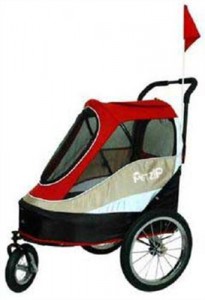 when folded (wheels and handle removed) – 33"L x 20"W x 8"H
My rating: 9/10
Features
Jogger, stroller and bike trailer all in one product

Easy to fold and easy to store

Rubber grip handle for comfort

Removable front mesh panel

3 tether clips to keep your dog(s) secure while in the stroller

Convenient foot brake

Removable pad

Three wheels for easy mobility and maximum stability

Air filled tires for smoother ride (swivel 8" front wheel for easy turning, 15" back)

Easy wheel attachment

Front and back entry with double zippers for quick, easy access

Water-repellent nylon fabric

Durable

Breathable mesh for airflow, visibility and to keep insects out

Rear storage pocket for supplies

Reflective strips for night time use

PVC name card pocket on front of stroller

Sun roof/vent on hood with flap that can be left open for added ventilation and to see your dog or kept closed

Includes bike attachment and flag

Wind and rain cover
Product Overview
I love the versatility of having a stroller, jogger and bike trailer all in one product – something you can't say about too many other strollers. You would typically have to buy a different item for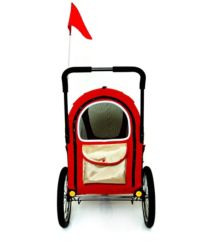 each activity, and now you don't!
Its' ease of manoeuvrability over all types of terrain, mesh for ventilation and protection against insects and the element, not to mention front and rear entry, storage pockets and a wind and rain cover, makes this a must have item.
The air filled tires allow for a smoother ride, making it a lot more comfortable for the dogs than other strollers on the market.
While many users have not found it suitable for a dog of the maximum weight tolerance of 75lb, they were satisfied with how roomy it was for dogs of 50-60lbs. They were even able to put as many as 3 or 4 small dogs inside.
As someone who shares their home, and life, with a senior dog, I rely on my stroller so I can include Red in a lot more activities than she would otherwise be able to participate in.
Whether it's taking her to the beach with our other dog to enjoy a nice stroll, or a day trip on the train, her stroller allows us to bring her along.
Pros
Easy to use, and comfortable on all terrains

Can also jog with it or attach it to your bike for cycle trips with the family

Sturdy construction

Plenty of space for your pet to move around

Rubber tires

Easy to clean fabric

Well ventilated

Wheels are easy to remove

Quick to assemble  
Cons
Unstable if too much weight in rear of stroller

A few users had problems with tires going flat

Problems with PetZip customer service (this came from comments posted by users of this product, not from my personal experience)

The 75lb weight limit is a bit inflated
Conclusion
The PetZip Pet Happy Trailer Stroller is one of the more multi functional strollers on the market. Overall user satisfaction was high enough that 90% of those who reviewed it would recommend it.
Where to Buy
CLICK HERE to get your Happy Trailer Stroller and start, once again, enjoying outings with the entire family, both 2 legged and 4!